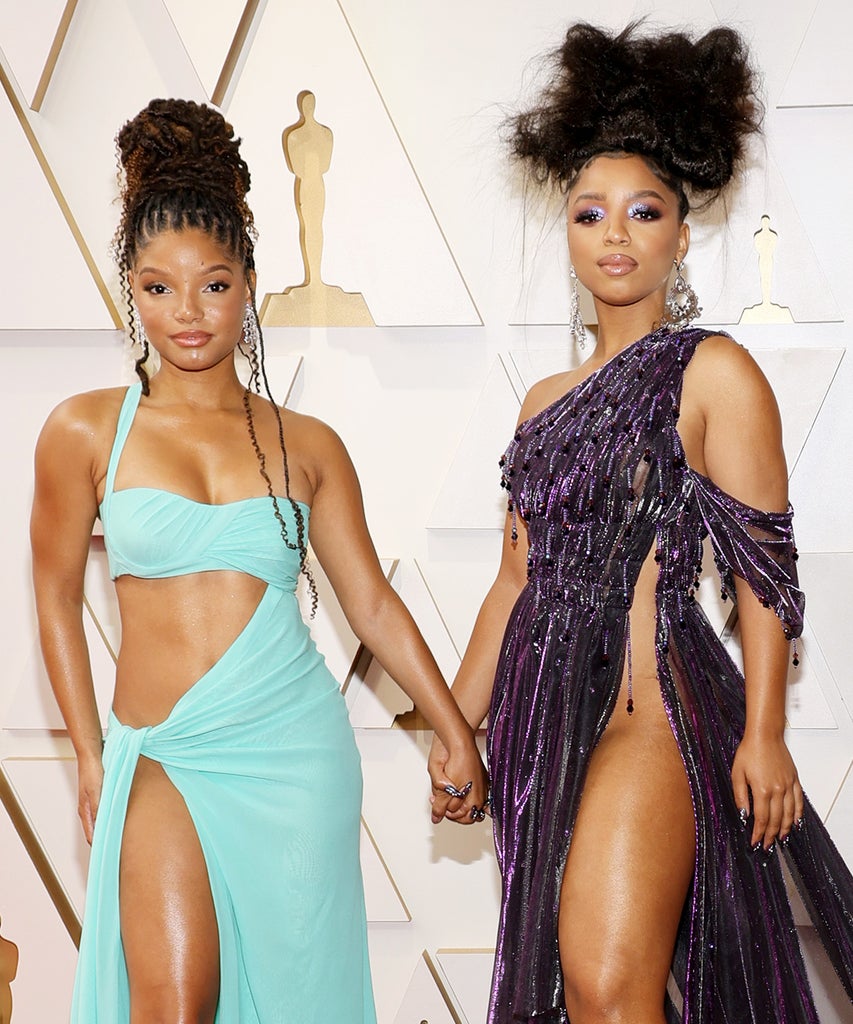 Acne always shows up at the worst time — just ask musical duo Chloë and Halle Bailey. Even for us mere mortals who don't have to be on camera or on a red carpet showing out, the sudden appearance of a pimple or two can send us into a frenzy, totally throwing off a great mood. And it's not just physically uncomfortable; breaking out can also take a real toll on your mental and emotional well-being. We've all been there, and thankfully, the Bailey sisters — the newest faces of global skin care brand Neutrogena — have some tips and tricks for tackling stubborn breakouts, and they want to put us on.
Whether you struggle with the occasional pimple only every now and then, or have been on a perpetual hunt to clear your skin, Neutrogena's new launch has something effective and budget-friendly for you to add to your arsenal. And Chloë and Halle swear by it. The sisters were announced as Neutrogena ambassadors in 2021, making them the first-ever sister spokespeople for the brand. In an interview with Refinery29 at the time of the announcement, the pair shared that their connection with Neutrogena went all the way back to their childhood, when they used various products from the skincare company to tend to their unique skin issues. Years later, Neutrogena still has its place in their respective beauty routines, specifically its latest line aimed at targeting and healing acne-prone, textured skin: the Stubborn collection.
Halle's go-to product from the line? The Stubborn Texture™ Acne Cleanser for Textured Skin, hands down. As a person who's struggled to manage her skin for a long time, her biggest concern is making sure that even on her most stressful days (being on the set of The Little Mermaid and The Color Purple while also recording new music means very long days), its texture is even and as smooth as possible.
"I have very stubborn combination skin," Halle told Unbothered over Zoom. "When I was younger, I always thought it would just remain clear because my family has really good skin; Chloë has super clear skin, as does most of my family, but my little brother and I deal with acne from time to time. So when it came to my skin care regimen, I realized that I really need to just treat my skin nice and do a really good job. And less is more when it comes to my skin — I just need a few products to target the issues. That's when I notice my skin thriving." 
"What's been working for me recently especially has been Neutrogena's Stubborn Texture™ Acne Cleanser for Textured Skin," she continued. "It's so amazing! I put it on after I cleanse my face, leave it for a few seconds, and then rinse it off. Immediately after like the first two days, I noticed that my face looked way smoother. I could really see a difference in just the overall evenness of my skin tone and in the texture of my skin."
For Chloë, a hydrated and moisturized base is the number one priority when it comes to her skin, especially since she describes herself as being "obsessed" with makeup. (A healthy canvas is the key to flawless makeup.) While Halle leans more towards the "clean girl" aesthetic — "If I could beat my face, I would," she giggles self-effacingly — Chloë tends to opt for a full glam, fanned lashes and contour included. But before any makeup goes on her face, she makes sure to grab the cult favorite Hydro Boost Water Gel moisturizer to prepare the skin. And at the end of a high intensity schedule of performing onstage or wrapping up a shoot for her upcoming film Praise This, Chloë always reaches for Neutrogena's compostable makeup remover wipes to start fresh.
"The wipes are so gentle on your skin, and they don't burn," she explained. "They get everything off, including the stubborn, waterproof eyeliner, and that makes my routine so much shorter, especially for those nights when I feel really lazy."
Neutrogena's Stubborn collection is made up of five powerful products created with the specific goal of fighting breakouts with dermatologist tested and approved ingredients. The line includes a facial serum, a cleanser, treatments specifically for the morning and for the nighttime, and a chemical exfoliant — products that can provide significant results in just a week of consistent use in your routine.
What makes Chloë and Halle so excited about the new line of Stubborn products and about Neutrogena isn't just the effectiveness of the products, but also the fact that the brand is both accessible and inclusive to all. The skin care space hasn't always been this comprehensive; after all, it wasn't that long ago that it was almost impossible to find a sunscreen that didn't leave a white cast on people darker than a paper bag. But Neutrogena has been a leader in the movement to make skin care more equitable for all and remains dedicated to making sure that everyone can use its products.
"Neutrogena has amazing products for all of us, no matter what your skin type and skin issues may be," Halle concluded. "It's so inclusive. I love the fact that they really have made it their mission to make products for our skin as well."
Like what you see? How about some more R29 goodness, right here?
Chloe X Halle Become Neutrogena's First Sister Duo
The Brands Changing How We Look At Acne
What "Glowing Up" Means To 5 R29 Editors