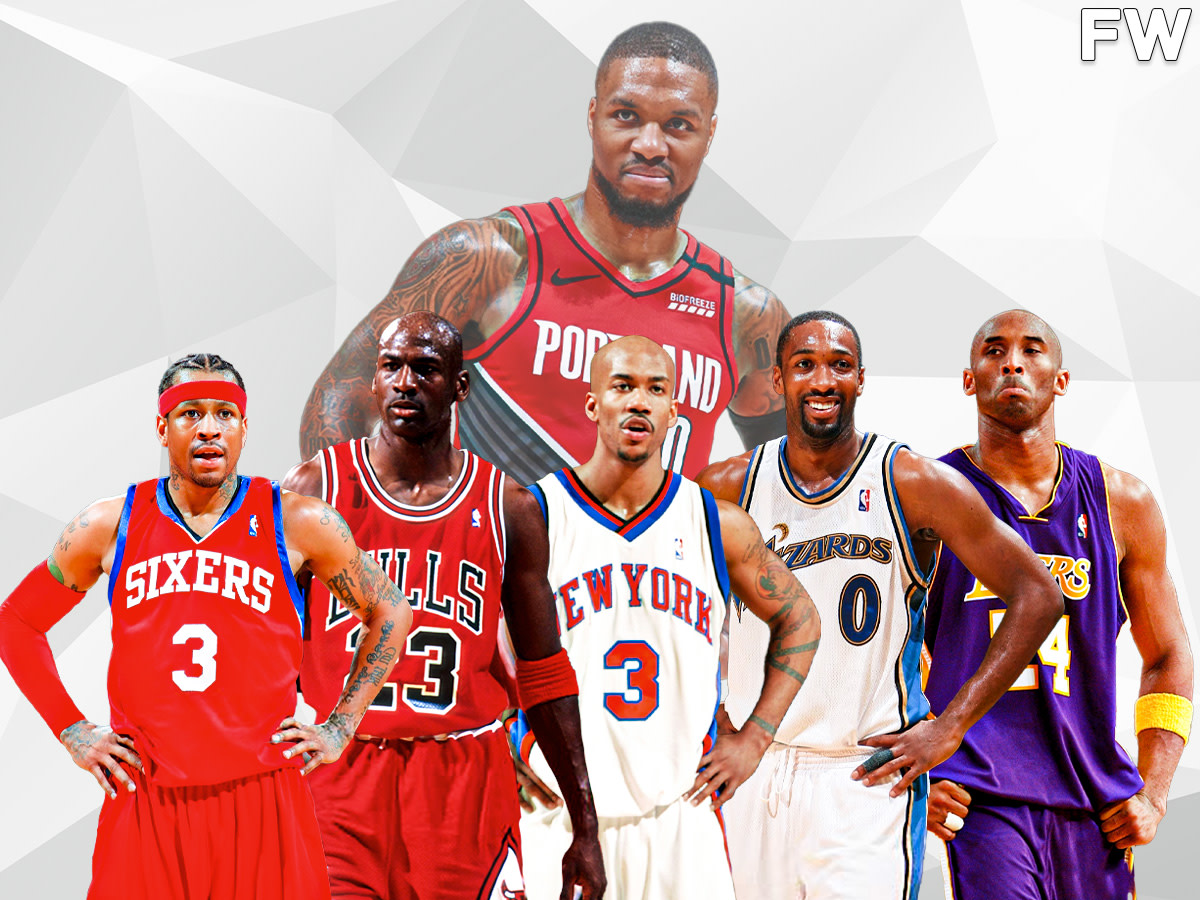 via Fadeaway World
Every NBA player has at some point watched game film of other players in order to develop their craft. Everyone has players that they look up to and try to emulate because they like their game.
That is no different for Trail Blazers star Damian Lillard. In an AMA on Reddit, Damian Lillard revealed his 5 basketball idols when he was growing up, with Michael Jordan and Kobe Bryant being among their number. Lillard particularly loved Allen Iverson, as Iverson reminded him of "a neighborhood kid" and added that the former 76ers superstar was his "number one" basketball idol.
I appreciate that! Some of my idols growing up, as a fan of the game of basketball… I'm definitely gonna say Allen Iverson, Michael Jordan, I was a big Stephon Marbury fan, Gilbert Arenas, Kobe. Those are like all my favorites, and I liked Allen Iverson above all because he reminded me of a neighborhood kid, ya know just growing up in the neighborhood and coming from a real struggle and coming from a real tough environment. I just think you know it when you see it, ya know, the behavior, the body language, the energy, you just know it when you see it, and AI, he possessed that. I saw it in him, and it gave me real hope and something to follow as a kid. It gave me something to follow as a kid. So I would say Allen Iverson is my number one idol as far as basketball.
Damian Lillard has done well for himself in the league, and it's clear that he has followed in the footsteps of his heroes and became a star himself. He has carried the Portland Trail Blazers franchises on his shoulders for many years now, like some of the players on this list did with their own teams.
Allen Iverson has previously selected Damian Lillard to his list of "top 5 killers" on the court, and it's clear that he respects the player who idolized him. Perhaps one day we'll see Damian Lillard have the same impact on another player that his idols had on him, and he's certainly a player many guards could learn from.