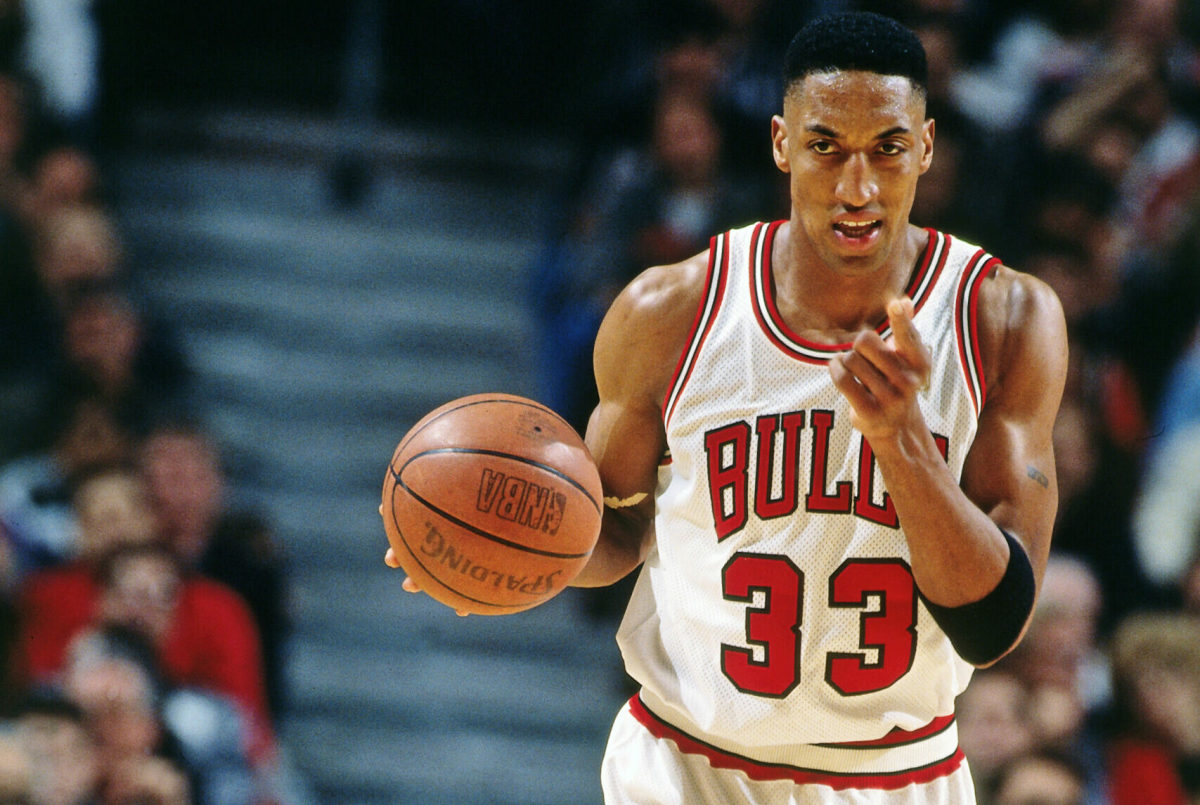 Credit: Sport It Now
After taking several digs at Michael Jordan in his new book, Scottie Pippen has been the subject of major controversy in recent weeks.
Considering his success with Michael Jordan, it's rather odd how he speaks of the superstar now and it rubs a lot of folks the wrong way.
Still, there are some who still hold Scottie in very high regard. Sitting in front of a crowd, former Bulls big man Dennis Rodman spoke very highly of his former teammate, crediting him for reshaping the forward position into what it is today.
(via LifeSpeaks Media Group)
"Scottie revolutionized the position. Point forward. Even though Michael Jordan was a point forward Scottie was that lanky, 6-9 guy that could come down and beat you on the dribble. One two, dunk on the fast break.Lot of guys couldn't do that back then.

Scottie has made these young kids today look good. because you got these 6-9 guys playing point guard. You got Ben Simmons, he's like 6-10. Kobe was 6'8, where was he? The guy in Milwaukee, same thing. Scottie was one of the main guys that really created that position like that."
While Pippen is mostly remembered today for his anti-MJ rants, one shouldn't ignore the greatness he displayed throughout his career.
Indeed, Scottie was a unique player during his time, moving unlike a lot of other guys his size. Through his 17-year career, he was a 7x All-Star, 7x All-NBA player, 10x All-Defensive player, and 6x NBA Champion.
With Rodman and MJ, Pippen helped the Bulls dominate the 90s. Even now, all these years later, Pippen says that he and Dennis remain close friends.
"For sure. I still hang with Dennis," said Pippen. "I still enjoy Dennis today… As much as I did as a teammate. We kick it differently. We're both older, we're more professional now but we still enjoy seeing each other doing well and just communicating. That camaraderie grew strong when me and Dennis came together, he became a man, and I matured as a man. And today, we're friends."
Without Pippen, the Bulls wouldn't have been nearly as successful as they were. His play on both ends of the floor made a huge difference and will not be forgotten by those who witnessed it.
In fact, we still see Pippen's impact on the guys who dominate the position today. In a lot of ways, Pippen inspired stars like Giannis, Ben Simmons, and LeBron James to play the way that they do.
Love him or hate him, one cannot deny that Pippen had an impressive run in the NBA.