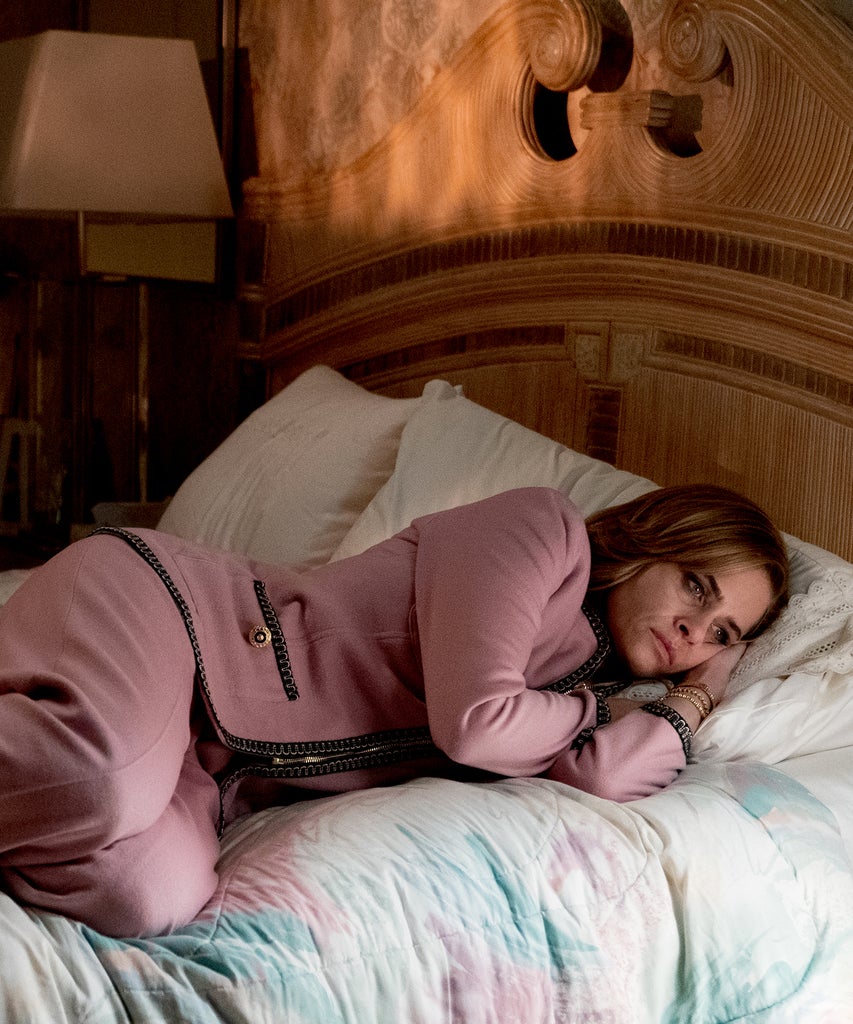 Dirty John: The Betty Broderick Story has bounced back and forth in time throughout its season, showing San Diego housewife Betty (Amanda Peet) first as a bitter divorcee, then as a murderer, then as a devout young Catholic being courted by her med student boyfriend, then as a woman who suspects her husband of cheating, then as a victim of manipulation and gaslighting.
She was a woman pushed to the brink — but in episode 6, "The Shillelagh," Betty careens over the edge, finally snapping and killing her ex-husband and his new wife. It's something we've known was coming since the premiere (or since reading any number of real-life articles about the crime that inspired the second season of the Bravo-turned-USA Network true crime drama), but it turns out that it wasn't something huge, like Dan (Christian Slater) finally tying the knot with Linda (Rachel Keller), that made Betty snap.
It was really all those other events that did it — Dan's gaslighting and manipulation, sure, but also Betty losing full custody of her children, feeling cheated in her divorce settlement, and being so consumed with bitter rage that she was unable to relate to her friends anymore, thereby losing her tether to the real world. Her increasingly unhinged behavior was alarming to the point that seemingly everyone in her life was worried she'd have the urge to do something drastic, but no one thought that she really would.
Since Dirty John is still a fictionalization of the truth, in reality, it may not have been Betty's young son's behavior that set her off to break into Dan and Linda's home to shoot them both in the early hours of the morning, but something like it.
The episode begins with Dan teaching a law class about how being a good lawyer means being able to communicate your client's perception of the truth, and that being a good trial lawyer means defining what the truth is. Which is why Linda's behavior in the episode — saying nasty things about Betty, making fun of her, refusing to offer any sort of olive branch to her husband's ex, and even stealing her diary — isn't necessarily how she behaved IRL. Instead, this is what Betty perceived her as doing, which is ultimately all that matters.
When Betty drops off her sons at Dan and Linda's after a visit, she steals the couple's wedding invitation list and finds herself back in court before she ultimately returns it. She tells her sons about the gun she bought, and they obviously tell Dan about it, but Dan still isn't truly worried because he knew that if she told the boys then she wanted him to know about the gun.
Linda steals Betty's diary in response, but puts it back after Dan's protestations. Betty knows that Linda has stolen it, though, and spirals further as she imagines them reading it and making fun of her. Betty and Dan's 20th anniversary passes as Dan and Linda's wedding date approaches.
Betty's friends are so worried about what she might do at Dan and Linda's wedding that they buy emergency pagers and devise a code for potential problems that could arise. Dan hires security for the event. But one of Betty's friends spends the day with her, telling her sagely as she leaves, "I know this day was hard, but it's over now. You don't have to go through it ever again."
But Betty didn't really make it through unscathed. Linda records the new outgoing message on Dan's answering machine — the court order prevented his "girlfriend" from doing so, not his wife — and the newlyweds take the boys to Indiana to go to the big Notre Dame-USC football game.
Betty watches the game at a bar, reminiscing about how the team won the Shillelagh Trophy on the weekend that she and Dan met. She wonders what the wives of all his friends think about the fact that Betty's been replaced.
Some time later, she runs into her friends having lunch at the club — they didn't invite her, and in fact they haven't seen her in months. Betty immediately starts complaining about how Dan and Linda are going on vacation and they want to leave the boys with the housekeeper instead of Betty.
Betty catches up with her oldest daughter, but she storms off when Betty starts complaining about Linda again. While she's gone, Betty steals her house keys. While Dan and Linda are talking happily about going on vacation and having kids together, Betty's staring into space while at lunch with one of her friends.
Finally, Betty's youngest son tells her the heartbreaking truth that he turned down an invitation from a friend because he wouldn't have been able to see her. As he sleeps later that night, Betty picks up her stolen keys and her gun and drives over to Dan and Linda's house.
The actual act is implied, as Betty's friends and family wake to frantic calls from her about what she did (including her daughters and parents). Dan and Linda are both dead.
Now, Betty's at her murder hearing, and is remanded to jail without bail.
The thing that we knew was coming actually happened. And while we've gotten much more insight into what could've caused Betty to descend into madness, she's ultimately the one who pulled the trigger.
Like what you see? How about some more R29 goodness, right here?
Michelle McNamara Was A Gifted True Crime Writer
Netflix's 'The Search' Tells A Devastating Story
Liz Garbus Explains Her Golden State Killer Doc