/* /////////////////////////////////////////////////////////////////////////////// */
/* EDIT - Do you need a video opener? Set to 'true' if animated video, if not set to 'false' */
var hasVideo = false;
/* /////////////////////////////////////////////////////////////////////////////// */
/* Video loading image, Use image from first frame */
/* Hero, Desktop & Tablet use 8:3, 2000px x 750px squooshed mozJPG at 75% compression */
var desktopHeroImage = "https://www.refinery29.com/images/11234892.jpeg";
/* Hero, Mobile use 720px 1:1,5:6,4:3, 1280px wide squooshed mozJPG at 75% compression */
var mobileHeroImage = "https://www.refinery29.com/images/11234892.jpeg";
/* /////////////////////////////////////////////////////////////////////////////// */
/* Please add accessible alt text */
var desktopHeroAltText = "";
var mobileHeroAltText = "";
/* /////////////////////////////////////////////////////////////////////////////// */
/* EDIT - Desktop & Tablet wide video URL from JWPlayer, use min 1920px x 720px 8:3 wide asset, 6-10 second loop, no audio */
var desktopVideo = "https://content.jwplatform.com/videos/egUk4gwG-r0yi2e87.mp4";
/* /////////////////////////////////////////////////////////////////////////////// */
/* EDIT - Mobile video URL from JWPlayer, use 720px 1:1,5:6,4:3 squre/tall asset, 6-10 second loop, no audio */
var mobileVideo = "https://content.jwplatform.com/videos/9kxBoQrY-YUuIWPFk.mp4";
/* /////////////////////////////////////////////////////////////////////////////// */
/* DO NOT ALTER */
/* Build additional functions here. */
function initOther() {
/* Additional functionality is initialized here */
}
function loadVideo(){var e=document.getElementById("tmp-video-hero-desktop"),o=document.getElementById("tmp-video-hero-mobile");window.innerWidth>960&&(e.src=desktopVideo,e.load()),window.innerWidth>767&&window.innerWidth<961&&(e.src=desktopVideo,e.load()),window.innerWidth<768&&(o.src=mobileVideo,o.load())}function setupVideo(){document.getElementsByClassName("full-width-opener")[0].setAttribute("id","tmp-content"),document.getElementById("tmp-content").innerHTML='
',loadVideo()}function setup(e){1==e&&setupVideo()}function ready(e){(document.attachEvent?"complete"===document.readyState:"loading"!==document.readyState)?e():document.addEventListener("DOMContentLoaded",e)}document.onmouseleave=function(){window.isReady=!1},window.addEventListener("resize",function(){window.isReady=!1}),window.isReady=void 0!==window.isReady&&window.isReady,ready(function(){var e=setInterval(function(){window.imagesLoaded&&(imagesLoaded("#tmp-load",{background:!0},function(){window.isReady=!1,clearInterval(e)}),clearInterval(e))},100);if(!1!==window.isReady)return;window.isReady=!0;const o=setTimeout(function(){clearTimeout(o),setup(hasVideo),initOther()},100)});
Latines love entertainment. For years, we have been the top moviegoers — even though the films we watch rarely reflect our communities. While we represent 19% of the U.S. population, we make up only 4.6% of movie roles and 5.3% of TV roles. When we do see ourselves on the big or small screen, we are often playing one-dimensional characters or are cast in films riddled with stereotypes, tropes, and stories that fail to represent the totality of who we are. So we decided to hold Hollywood accountable. Welcome to La Nota, a column where we measure the (mis)representation of Latines in film and TV and grade projects against a Somos test that looks at gender, race, language, and more. This month, we're grading the Netlix series "Freeridge."
From an early age, Gloria (Keyla Monterroso Mejia) was forced to care for and raise her younger sister Ines (Bryana Salaz) due to her mother's untimely death by cancer. These tragic circumstances result in a strained but loving relationship between the two sisters, who live with their dad Javier (Jean Paul San Pedro) and their tío Tonio (J.R. Villarreal). Gloria and Ines are the main characters of Freeridge, a new Netflix show billed as an On My Block spinoff.
Similarly to On My Block, Gloria, Ines, and their friends Demi (Ciara Riley Wilson) and Cameron (Tenzing Norgay Trainor) are a group of teenagers discovering themselves and the mysteries of the city they live in. In the midst of dealing with grief, discovering their sexualities, and figuring out their own blindspots, the foursome release a curse on themselves when they find an old wooden box with the initials "M.M." at a yard sale. From then on, tasked with ending the curse before someone gets seriously hurt, the teenagers embark on several adventures and get into quite a bit of trouble along the way.
In eight episodes, Freeridge manages to be funny, sweet, and full of mystery. Hearkening back to On My Block, where four teenagers are looking for lost treasure in their Los Angeles neighborhood, Freeridge is an extremely watchable Netflix show with some delightful characters and unexpectedly spooky narratives. 
Gloria, the relatable overburdened older sister, begrudgingly but lovingly takes care of her family because of her mother's untimely death. Gloria's levels of anxiety about family — is her sister's heart broken? Is her dad healthy? How will they appropriately honor their dead mother on Día de Los Muertos? — often clash with her fury over being made responsible for everything. And yet, Gloria can't let go of her eldest daughter syndrome; she believes her purpose is to keep everything and everyone together, to keep doing reproductive labor for the benefit of her loved ones. To me, this was the best part of the show as I deeply related to Gloria's difficult position, and I am sure many Latinas will connect to her plight and inability to let go.
On the other hand, Gloria's status as the responsible child — a position that doesn't waver in her father's eyes even when she's in deep trouble — leaves her sister Ines with significant wounds of inadequacy and insufficiency, which causes her to act out and mistreat the people around her. Ines doesn't quite have her own friends, and tags along with Gloria, Cameron, and Demi. The love-hate relationship between Gloria and Ines is the central pull of the show. As sisters who lost their mother too early in life, Gloria often feels responsible for Ines, while Ines is constantly seeking sisterly love that Gloria is too anxious and furious to give. I'm a sucker for explorations of relationships between girls, and I am dying to see more of Gloria and Ines's dynamic onscreen.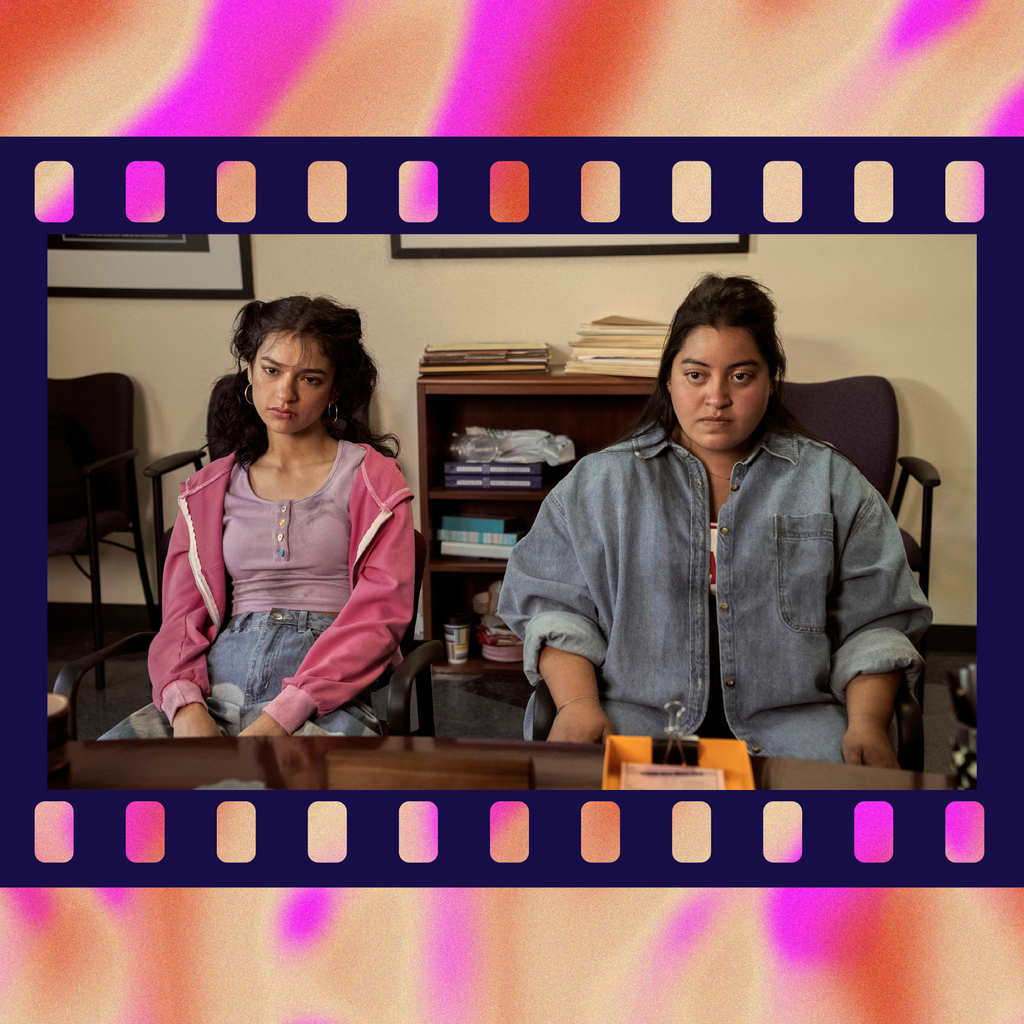 Watching the intricacies of sisterly love in a Mexican-American family was a bonus, and the nuances of how losing a motherly figure so early in life can fracture a family was an essential part of this. I wish the screenwriters had dug deeper into Gloria and Ines's dad's background, as his character didn't feel totally fleshed out beyond his fatherly role. It's unclear why – beyond, perhaps, machismo – Javier leaves so much responsibility to his oldest daughter after such a tragic event. Beyond the fact he seems to be moving on and seeing someone new, there isn't much of a backstory to his decisions, which I feel would enrich the narrative. 
Wonderfully, parts of this show reminded me of the vulnerability and emotional honesty modeled in Jane the Virgin, where conflict between family members was common and usually resolved on screen. Love between the characters always won over difficult conversations. Similarly, the Freeridge characters seek to confront each other when things don't feel right. Cameron, for example, is an out-and-somewhat-proud bisexual high school boy who deals with internalized biphobia because of how a best friend rejected his sexuality years ago. The unfolding of his relationship with Demi, and how Cameron struggles with his own sexual identity and emotional unavailability, is one of the highlights of the show. It was lovely and exciting to see a bisexual boy of color figure himself out.
During all this introspection and amid these vulnerable conversations, the four kids are also solving the mystery of the cursed monogrammed wooden box. This plotline is fun and engaging because it borders on magical realism, with the possibility of the four teenagers, and particularly Gloria, being haunted by a dead woman. Demi, a self-identified witch, discovers the origins of the box while Gloria is obsessed with figuring out how to break the curse. While Ines has a difficult relationship with her sister, she is always willing to help and (mostly) has Gloria's best interests at heart. Cameron is kind of a dead weight in the investigation, but he seems to be happy just being Demi's closest ally. Fans of On My Block will undoubtedly feel nostalgic for the original show and enjoy a new coming of age story that follows a similar plotline to the previous show. 
I had a lot of feelings watching a plus-size Latina girl experience growing pains and show how overburdened eldest Latina daughters can be with reproductive and emotional labor they never asked for. We are assigned these roles because of our gender and the circumstances we are born in, and it's validating to see that portrayed onscreen. Mostly, I was glad to see Keyla Monterroso Mejia do an excellent job in leading Freeridge, and it led me to think about my own experiences as an eldest daughter. The stories behind the burdens girls and women are forced to carry are always worth telling, and are always worth a watch. I hope Gloria and Ines can find understanding between themselves, and that the mystery in their neighborhood is solved and put to rest.
That said, here's how Freeridge fared on our Somos test, La Nota, which grades along areas like diversity in gender & sexuality, race, and region & cultural identity; the authentic use of Spanglish, multilingualism, or accents; the reproduction of stereotypes and tropes; and, well, the quality of the project overall.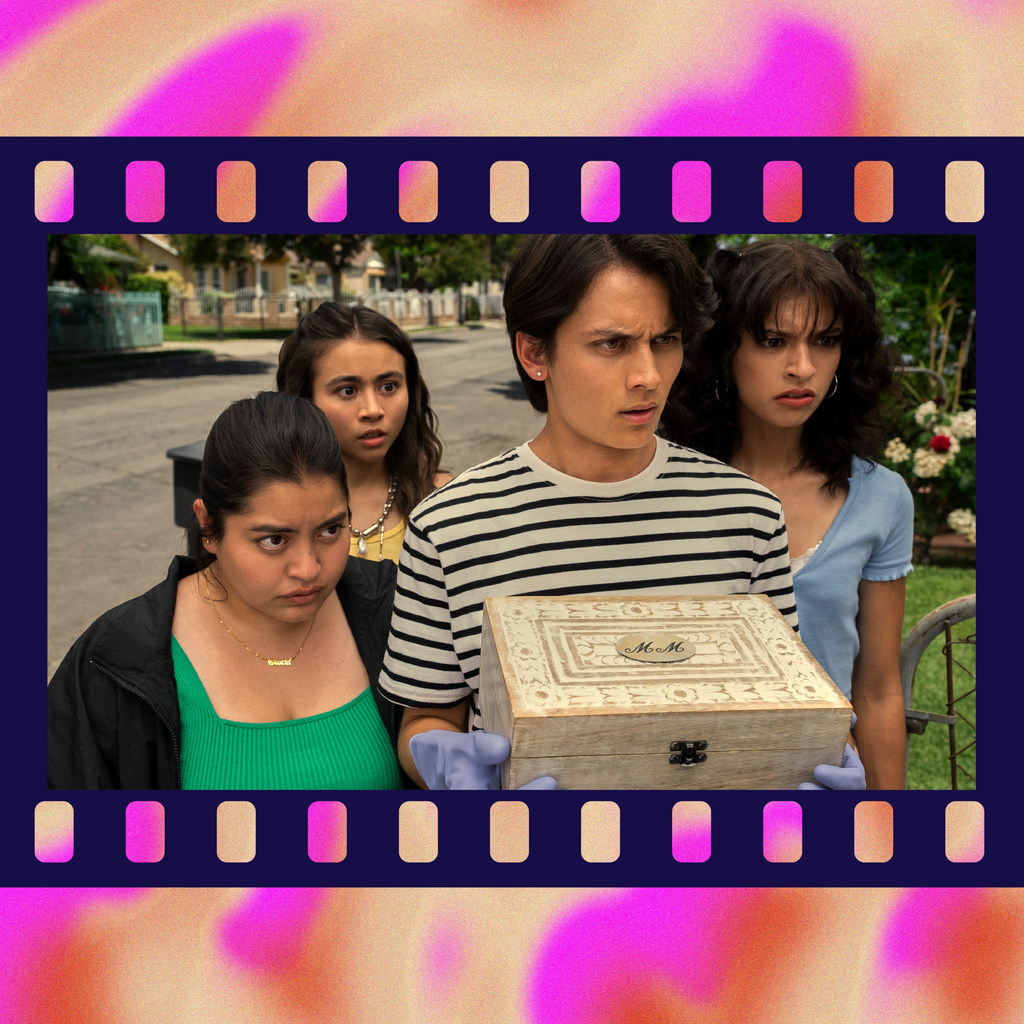 Gender & Sexuality: B 
I loved Cameron's storyline and the way bisexuality was dealt with in the show, but there are no female queer characters. All the queer characters in the show are male. Of course, I know the show can't represent everyone, but what if Demi were also bisexual?
Regional Diversity: D 
Freeridge takes place in a fictional city of the same name, based on co-creator Eddie González's upbringing in Lynwood, some 15 minutes south of downtown Los Angeles, so it mostly focuses on its Mexican-American population. Additionally, regional diversity was not completely clear from accents and language-switching. 
Language: C 
I enjoyed the language-switching moments on the show, but there really weren't that many.  
Race: D
There's a variety of skin tones in Freeridge, but not enough. While there are two Black characters, neither of them is Latine, which reproduces a dichotomy that Latine people can't be Black. I'm still waiting for a breakout show about Afro-Latinas that I can highly rate — unfortunately, this wasn't it.
Stereotypes & Tropes: C
Freeridge portrays the eldest daughter trope, but I think it subverts it enough by showing how Gloria isn't a perfect kid. Not only does she mess up, she is also a rightfully angry daughter — this is the kind of characterization I want to see more of!
Was it Actually Good? A 
Freeridge is funny and the mystery drives the show forward. I enjoyed watching it!
Like what you see? How about some more R29 goodness, right here?