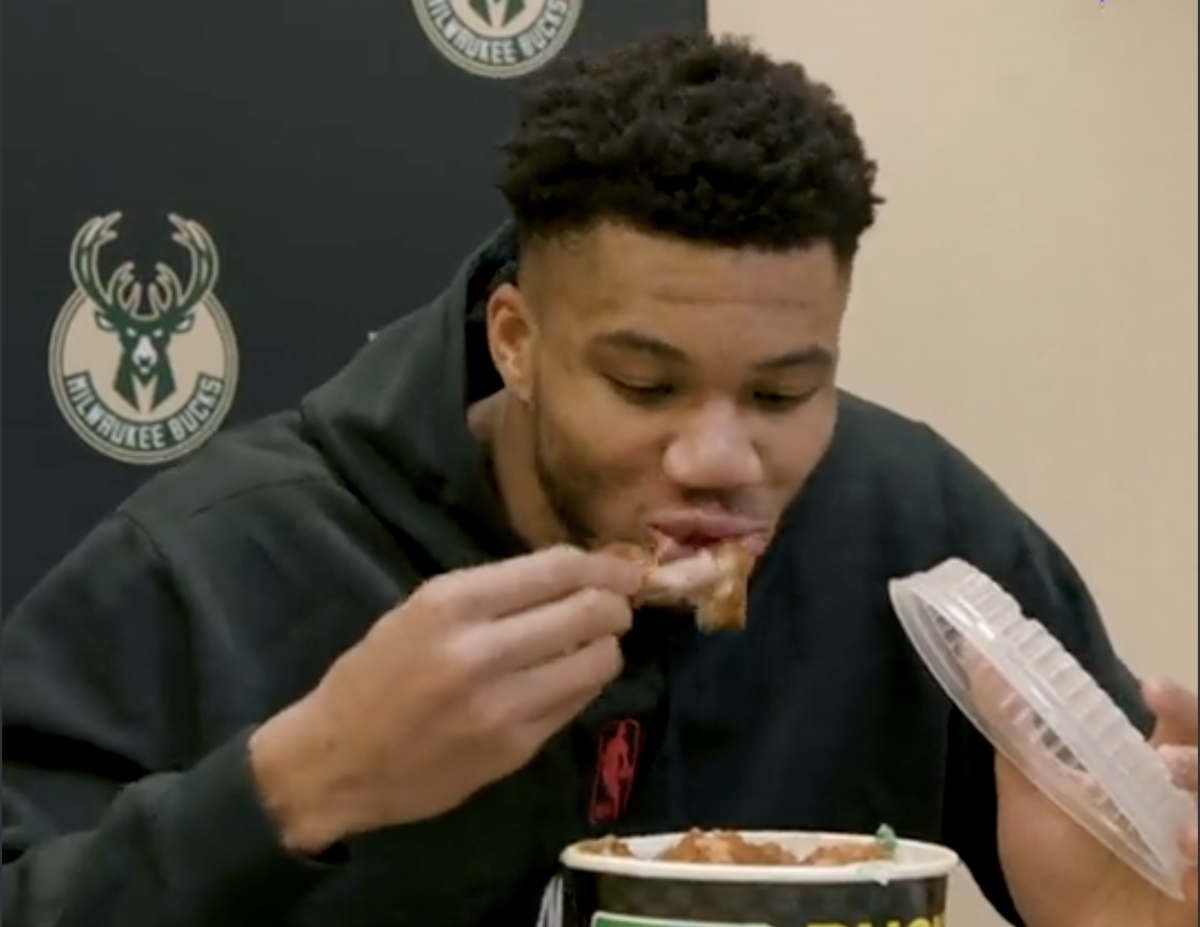 Credit: Bucks/Twitter
In the aftermath of a crushing defeat against the Cleveland Cavaliers, the big story for Milwaukee wasn't anything that happened during the game. Instead, it's what happened after.
Despite the brutal loss, Giannis Antetokounmpo had reporters scratching their heads in the post-game press conference after he casually started chowing down on some wings in front of everyone.
Giannis didn't seem all that concerned about his response to the media. He was way too focused on his post-game snack, and it's hard to blame him judging by the look of those wings.
Giannis has always been an entertaining character. As a jokester and someone who clearly likes to have fun, he is known for being especially entertaining in front of the camera.
Interestingly, though, these sorts of shenanigans have become even more routine for Giannis since winning the Championship last summer.
In one particularly interesting moment back in November, he joked about taking after his team broke a losing streak.
"Aw, man. I feel so good… We won! Oh, my God. Oh, my goodness. I thought we were tankіng for the number one pick! Phew. Thank you!"
At this point, Giannis is easily in the running for the funniest player in the NBA. he also gets points for being open and honest with the media.
On the court, however, things aren't going great for the Bucks this season. The team is 5th in the East with a 30-20 record so far this season. For the defending Champs, that's not really a place you want to be.
Looking ahead, they'll have to face some steep competition, including teams like Miami, Chicago, and Brooklyn if they want to make the Finals again.
The path ahead isn't easy, but at least Giannis is enjoying the ride. Perhaps is positive energy will help to bring out the best in the rest of the team.