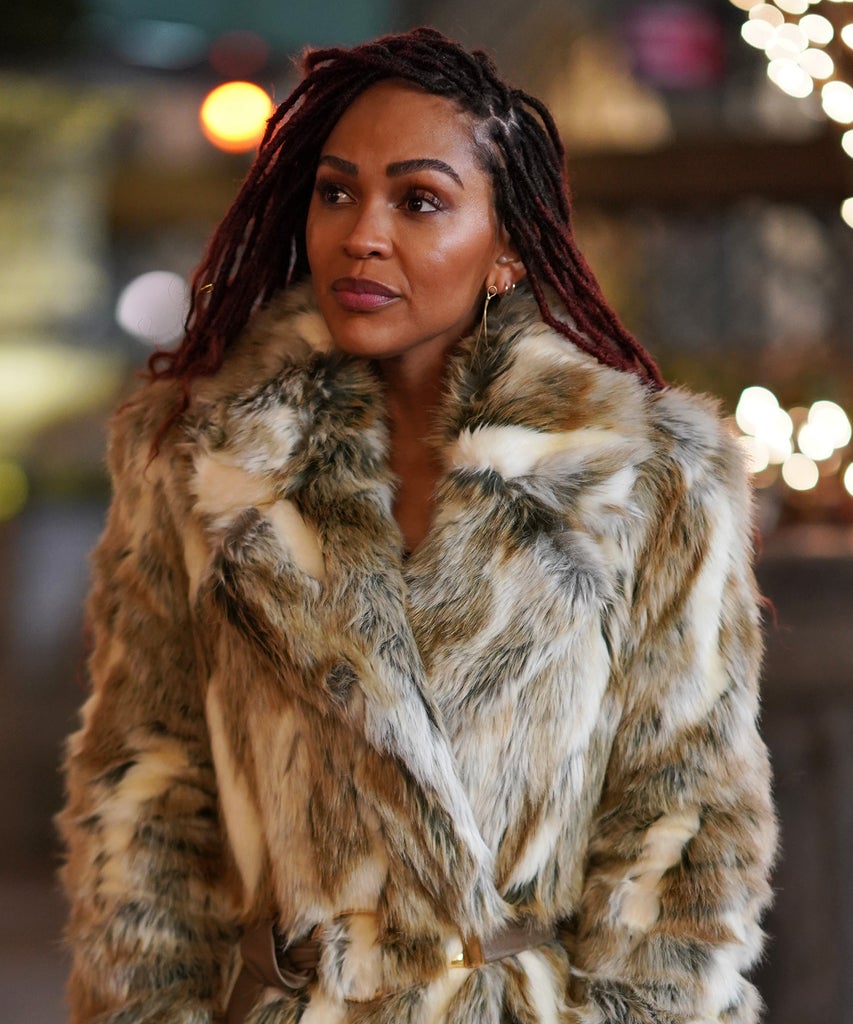 When Prime Video first launched friendship comedy Harlem in 2021, the timing couldn't have been better; it was as if the streamer knew the culture needed more Black girl besties in a post-Insecure, Girlfriends, and Living Single world. Harlem was the perfect addition to the rich homegirl genre, introducing us to a new set of unique and dynamic Black stories to see ourselves in. Finally returning for its sophomore season, the Prime Video series is building on the same foundation that it opened with, and the theme for the newest chapter of the concrete jungle adventure can be summed up in one word: growth. Its leading lady, Meagan Good, knows all about that. 
Harlem premiered on Prime Video in late December 2021, and its sexy and hilarious plot did away with any concerns that it was too similar to the other Harlem-based homegirl comedy that had aired just months earlier. The Prime Video series, helmed by Girl's Trip writer Tracey Oliver, left an impact on viewers who loved its realistic exploration of life uptown, its styles, and, most importantly, its shenanigans episode after episode. In the first season, we watched Camille (Good), Quinn (Empire's Grace Byers), Tye (Jerrie Johnson), and Angie (Shoniqua Shandai) try to balance love and career in their respective lives, fortunately falling back on the strength of their genuine friendship whenever things got too completed. And boy, did things get complicated; between chasing Broadway dreams, reconciling with an estranged husband, fighting imposter syndrome, coming out of the closet, and (accidentally) breaking up a happy relationship, the Harlem girlies were going through it.
Season 2 picks up right where we left off, and it's clear from the very first episode that the struggle is still very real for the chicest friend circle uptown. But unlike their former selves, the characters are taking the journey in stride. Harlem's second season is all about embracing the heart work and introspection that it takes to become a better person.
"You're going to see [these characters] grow throughout the season," Good tells Unbothered during a sit-down at our offices in New York while teasing Harlem's sophomore storyline. "For Camille especially, the biggest thing that stood out to me was the conversation that she had with her therapist in season 1 where she felt like her life was really, really going awry. The therapist said, 'You made those plans at that juncture in your life, but now you're here. So maybe your plans can change. Maybe your idea of what should be can change.' In season 2, Camille is understanding that some of her ideals have changed, that some of what she may have thought that she wanted, she's coming to terms with maybe she didn't want."
"Camille's getting to know herself better," Good continued. "She's also calling herself out — she's stepping into her authenticity and into her truth. Learning how to apologize for what she needs to apologize for and not apologize for what she doesn't need to apologize for."
To be fair, Camille does have quite a bit to apologize for; her on-again, off-again relationship with her very-engaged-to-someone-else ex Ian (Tyler "I Needs That Expeditiously" Lepley) and the fallout from their reunion will be a major plot point in season 2, and she's also trying to reconcile with her almost-mentor/frenemy Dr. Elise Pruitt (Whoopi Goldberg) after some seriously unprofessional workplace conduct. She's trying to clean up her messes, but doing better isn't easy.
For Good, Camille's personal growth hits closer than most people would think. All of the chaos that her character goes through — even the drama that she unintentionally creates herself —  is yet another reminder for the veteran actress to stay grounded no matter what life throws her way, something that she's been practicing a lot lately. The past few years of Good's life have felt like something out of a movie, marked by soaring highs and devastating lows, but she's still here. And it may have been a bumpy ride, but Good, ever the optimist, knows that all of this has to be for a reason. That's why she doesn't mind being so transparent about the journey, talking about everything from getting an eyebrow transplant in 2019 to social media backlash to her 2021 divorce from producer and author Devon Franklin, Good is dedicated to keeping it as real as she can. 
"In real life, it's important to be authentic because then you free yourself. You're just telling the truth, and if someone has an issue with that, that's their issue — not yours," she shrugs. "What we go through in life is not just for us. Sometimes the things that seem like they suck are for other people as well. Just to let them know that they're not alone and that they're going to make it, or that great things happen even after the storm."
Good hasn't always been this inwardly focused; she distinctly recalls feeling pressured by the industry to remain in whatever box was created for her at any given time. People have tried to force her to be Meagan Good the Child Star, Meagan Good the Good Girl, Meagan Good the Siren, Meagan Good the Good Christian Wife. But after 41 years on this earth and almost 30 years in Hollywood, today, she's proud to just be Meagan — a status that allows her to move more freely and confidently in every part of her life, but especially as it pertains to work. Good has always loved acting, but in more recent years, she's slipped behind the camera, putting on her executive producer and director hats for projects like ALLBLK's À LA CARTE and If Not Now, When?, as well as an upcoming Tyler Perry project that she directed and starred in. It's a new chapter in her life, so it can be scary at times, but Good is up for the challenge. She won't let anyone put any limits on what she can do or who she can be — not even herself.
"Looking back, a lot of people subconsciously didn't want to see me grow out of those boxes." Good says. "When I wanted to produce or direct or whatever new thing, people were like, 'No, just stay in your lane.' But you don't ever tell a Leo that, because now I have to go harder, and I have to use that as fuel."
Fuel for what exactly, Good doesn't know just yet. Right now, she's leaving the future in God's hands and simply enjoying the ride. 
"I feel grateful that my climb has been kind of slow and consistent because I was always able to reset my brain and process every season and get some perspective before the next thing, but it's actually nice for the first time in a long time to not really have a plan," Good smiles peacefully. "My plans have changed by default, but I've decided to just be…here. I'm just going to have fun, enjoy life, focus on God, go after the things I'm passionate about. I feel like the world is my oyster. There's a completely open road in front of me, and that's really exciting."
(Still, she does have some suggestions for the Man upstairs: "I definitely want to do a biopic! And to direct more! Oh, and for Harlem to have many, many moons!") 
The first episode of Harlem season 2 is now streaming, only on Prime Video.
Like what you see? How about some more R29 goodness, right here?
This Is What Black Love Should Look Like Onscreen
"Harlem" Isn't Really New, But Does It Have To Be?
"Run The World" Is Homegirl Comedy Gold