Those May-June flowers are out there with plenty of pollen to feed your allergies, so if you need to stay inside, there's plenty of fresh content for you from Netflix. The streaming platform's bringing back The Umbrella Academy for extra family drama amid the already scrappy set of superhero-powered siblings. And finally, Peaky Blinders fans can watch bloody hell unfold in the final season while a new Chris Hemsworth thriller and a dramatic Adam Sandler turn is landing on streaming devices, too.
Don't forget about comedy, though. The recent Netflix is A Joke festival helped to crank out some specials coming your way. That includes entries from Pete Davidson and David Letterman along with a Bob Saget tribute. Bill Burr's got another comedy special coming, too, and several Mission: Impossible movies arrive in the library while Tom Cruise readies more sequels for theatrical runs.
Here's everything coming to (and leaving) Netflix in June.

The Umbrella Academy: Season 3 (Netflix series streaming 6/26)
The formerly ghostly Ben (Justin H. Min) is back, and he's not sweet and nice and only antagonizing Robert Sheehan's Klaus. He's got it out for the Hargreeves family that we know and love, and in another timeline, he's part of the Sparrow Academy. Get ready for Elliot Page's Viktor to rise along with the rest of the familiar siblings, and hopefully Klaus and his savvy dance moves, while they all gather around to repair another riff in the universe. Lila will even join forces with Viktor, which should only add to the chaotic mess that is this live-action realization of Gerard Way's comic book series. Will these rampant apocalypses ever end? Let's hope not.

Peaky Blinders: Season 6 (BBC One/Netflix series streaming 6/10)
This season's been sitting pretty for months now across the pond, but stateside viewers will finally get to see Cillian Murphy's Tommy Shelby kicking ass and fending off new rivals as he preps to head toward North America. The family's missing its matriarch now (due to actress Helen McRory's death), and it's all coming down to a final batch of a half-dozen episodes, although one should expect some movies and spinoffs to eventually arrive. Dig that cockney rhyming slang!

Hustle (Netflix film streaming 6/8)
Adam Sandler's getting dramatic again (finally) and leaving those Hubie Halloween-type characters behind to portray a down-on-his luck scout who discovers the next basketball star. He takes a long shot to get this player into shape for an NBA run while also fighting against a less than savory set of past behaviors. The Sandman is back, y'all.

Spiderhead (Netflix film streaming 6/17)
Chris Hemsworth follows up on his Extraction success with a less-actiony story to portray an unsettling researcher who's pulling strings at a tech-heavy prison awash with mind-altering experiments. Two inmates will nonetheless form a valuable connection, and this story's based upon George Saunders' "Escape From Spiderhead," so get ready for a tense ride from a bespectacled Hemsworth.

Pete Davidson Presents: The Best Friends (Netflix comedy special streaming 6/13)
Yes, Pete Davidson will joke about Kanye West while curating and hosting this special chock full of his fellow stand-up comedians. Expect this to arrive with some controversy of course, even though he's gone rather mainstream in his romantic life. Pete recently said goodbye to SNL, and plenty of eyes await his upcoming films and, of course, what he'll do while being funny.

That's My Time with David Letterman (Netflix comedy special streaming 6/7)
David Letterman's already got a series on Netflix (as you can see in the above trailer for that project), and here, he highlights six up-and-coming comedy stars for a mini-sets and a nice chat in the aftermath. It's a way for the legend to help others rise to public view, so expect to see Rosebud Baker, Phil Wang, Sam Morril, Brian Simpson, Robin Tran, and Naomi Ekperigin. Oh, and that famous Letterman folksy charm.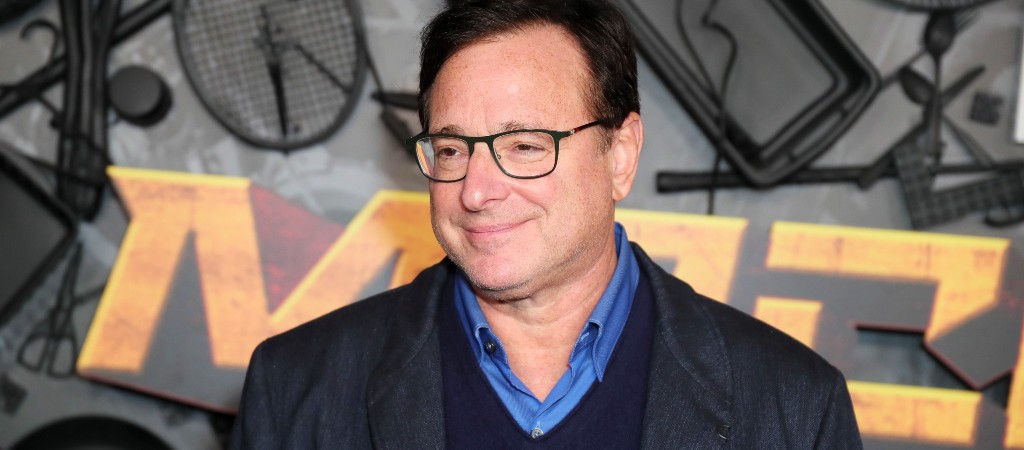 Dirty Daddy: The Bob Saget Tribute (Netflix comedy special streaming 6/10)
Bob Saget's legacy will (at least partially) get its due here as his co-stars and friends gather around to pay their comedic respects following his untimely death. Saget, of course, left an enormous void, but there's a therapeutic benefit to laughter. Whew.
Avail. 6/1
Anchorman: The Legend of Ron Burgundy

Dear John

Dumb and Dumber

Edge of Seventeen

Eraser

His Dark Materials: The Golden Compass

Lean on Me

Léon: The Professional

Life as We Know It

Mission: Impossible

Mission: Impossible – Ghost Protocol

Mission: Impossible II

Mr Bean's Holiday

National Lampoon's Christmas Vacation

Soul Plane

Steel Magnolias

The Amazing Spider-Man

The Boy

The Departed

The Fighter

The Girl Next Door

The Hurt Locker

The Players Club

Titanic

Troy

Vegas Vacation

We Are Marshall
Avail. 6/2

Borgen – Power & Glory

The DUFF

Yuri Marçal: Honest Mistake
Avail. 6/3
As the Crow Flies

Floor Is Lava: Season 2
Interceptor

Mr. Good: Cop or Crook?

The Perfect Mother

Surviving Summer.

Two Summers
Avail. 6/5
Straight Up
Avail. 6/6
Action Pack: Season 2
Bill Burr Presents: Friends Who Kill
Avail. 6/7
That's My Time with David Letterman
Avail. 6/8
Baby Fever

Gladbeck: The Hostage Crisis

Hustle

Keep Sweet: Pray and Obey
Avail. 6/9
Rhythm + Flow France

Stand Out: An LGBTQ+ Celebration
Avail. 6/10
Chickenhare and the Hamster of Darkness

Closet Monster

Dirty Daddy: The Bob Saget Tribute

First Kill

Intimacy

Peaky Blinders: Season 6
Top Gear: Season 27
Top Gear: Season 28
Trees of Peace

Vice
Avail. 6/11
Amy Schumer's Parental Advisory
Avail. 6/13
Charlie's Colorforms City: Mighty Movie Adventures

Charlie's Colorforms City: Miss Weather and Friends

Pete Davidson Presents: The Best Friends

Who We Are: A Chronicle of Racism in America
Avail. 6/14
Jane & Lily: Ladies Night Live

Halftime

The Mole: Season 3-4
Avail. 6/15
Centauro

Front Cover

God's Favorite Idiot

Heart Parade

Iron Chef: Quest for an Iron Legend

Maldivas

Web of Make Believe: Death, Lies and the Internet

The War Next-door: Season 2

The Wrath of God
Avail. 6/16
Dead End: Paranormal Park

Karma's World Music Videos: Season 2
Love & Anarchy: Season 2
Rhythm + Flow France

Sing, Dance, Act: Kabuki featuring Toma Ikuta

Snoop Dogg's F*cn Around Comedy Special

Won't You Be My Neighbor?
Avail. 6/17
The Martha Mitchell Effect

Rainbow High: Season 2
She: Season 2
Spiderhead

You Don't Know Me
Avail. 6/18
Alchemy of Souls

Charmed: Season 4
SPRIGGAN
Avail. 6/19
Civil

It
Avail. 6/20
Doom Of Love

Philomena
Avail. 6/21
All That: Seasons 2-3
The Future Of

Joel Kim Booster: Psychosexual

Kenan and Kel: Seasons 1-2
Ned's Declassified School Survival Guide: Seasons 1-2
Zoey 101: Seasons 1-2
Avail. 6/22
Bruna Louise: Demolition

The Hidden Lives of Pets

Love & Gelato

The Mist

Sing 2

Snowflake Mountain

The Umbrella Academy: Season 3
Avail. 6/23
Best of the Fest

Best of the Festival, highlights from throughout the 11-day Netflix Is A Joke: The Festival.

First Class

Queen

Rhythm + Flow France
Avail. 6/24
Angry Birds: Summer Madness: Season 2
Legacies: Season 4
The Man from Toronto

Man Vs Bee

Money Heist: Korea – Joint Economic Area
Avail. 6/25
Grey's Anatomy: Season 18
Avail. 6/27
Cafe Minamdang

Chip and Potato: Chip's Holiday
Avail. 6/28
Blasted

Cristela Alonzo: Middle Classy
Avail. 6/29
BEAUTY

Extraordinary Attorney Woo

Pirate Gold of Adak Island

The Upshaws: Season 2 Part 1
Avail. 6/30
BASTARD

-Heavy Metal, Dark Fantasy

Mandela: Long Walk to Freedom

Sharkdog: Season 2
Leaving 6/2
Documentary Now!: Seasons 1-3
Lady Bird
Leaving 6/6
The Night Shift: Seasons 1-4
Vampire Academy
Leaving 6/13
Girlfriends' Guide to Divorce: Seasons 1-5
Leaving 6/17
Silver Linings Playbook
Leaving 6/23
Reign: Seasons 1-3
Leaving 6/29
Criminal Minds: Seasons 1-10
Leaving 6/30
Corpse Bride

Desperado

Eagle Eye

Escaping the NXIVM Cult: A Mother's Fight to Save Her Daughter

The Exorcist

Forgetting Sarah Marshall

Godzilla

Happy Gilmore

Her

How to Train Your Dragon

Into the Wild

Joan Rivers: Don't Start with Me

Just Go With It

Looper

Memoirs of a Geisha

Midnight in Paris

My Fair Lady

The Originals: Seasons 1-4
Shrek Forever After

Stand by Me