The cheesecake in its classic sweet dessert form is already incredibly versatile; there are various regional styles, easy no-bake versions for when you don't want to turn on the oven, and many ways to make it suited to all seasons by switching up the flavor. But there's a whole other avenue to explore too: savory cheesecakes, a great appetizer option for any party, or even weekday dinner for your family. If it sounds a little weird, think of it like a cheesier, less eggy version of quiche. So, how do you make a savory cheesecake?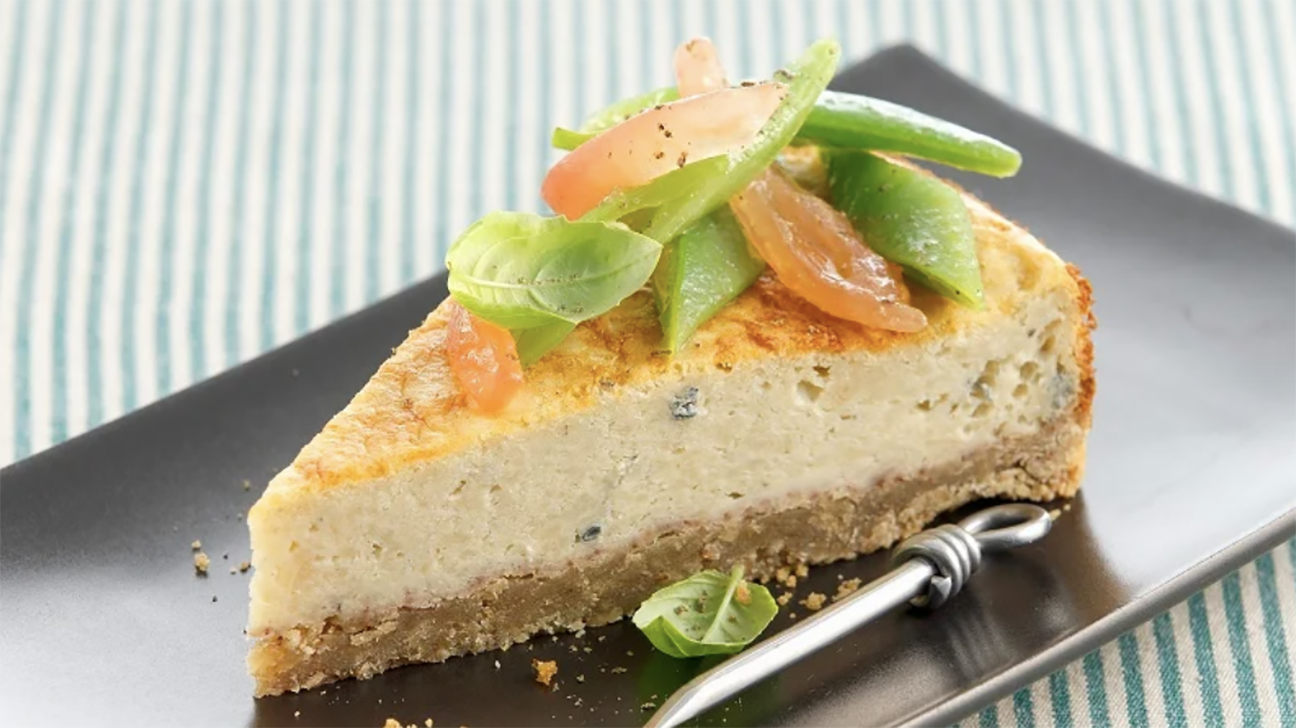 Well, there's more than one way, but they're all pretty easy. As with sweet cheesecakes, there are both baked and no-bake versions of savory cheesecake, some with crusts and some without, but crusted and baked seems to be the most prevalent sort, and the vast majority of those follow a similar formula.
You can make these in other sizes of springform pans, including 4-inch ones for mini cheesecakes, or even bake them in lined muffin cups, but this basic recipe makes a single standard size cheesecake.
Here's what you need:


a 9-inch springform pan, greased with butter or cooking spray


a stand mixer or electric mixer (although if you don't have either one, stamina and a reasonably strong whisking arm should suffice)


1 cup finely pulverized crumbs of some sort—these can be breadcrumbs, panko, cracker crumbs (from blitzed-up butter crackers, whole wheat crackers, herbed wafers, Cheez-Its, etc.); you can also replace about half of the crumbs with ground or finely chopped nuts and/or seeds like pecans or sesame seeds, and can add some grated hard cheese like parmesan for an extra umami boost as well, but that's totally optional!


4-6 tablespoons melted butter


16 ounces cream cheese (2 bricks)


1/2 cup sour cream


1 cup other cheese or blend of cheeses for additional flavor (think cheddar, gouda, swiss, blue cheese, feta, etc.)


2 large eggs, lightly beaten


kosher salt and freshly cracked black pepper, to taste


1 clove garlic, minced (optional)


additional seasonings, such as onion powder, smoked paprika, cumin, cayenne, etc., to taste


up to about 1 cup of optional mix-ins like caramelized onions, crumbled cooked bacon, fresh herbs, etc.


How to make savory cheesecake:
1. Make sure all of your filling ingredients are at room temperature. If you try to blend cold cream cheese into other ingredients, you're likely to end up with unincorporated clumps and specks, so remember to get everything out at least 30 minutes ahead of time so it can soften and warm up a bit. (Conversely, if you're using cooked meat or onions in your cheesecake, let them cool down so they don't melt the precious cheeses on contact.)
2. Preheat your oven to 375 degrees Fahrenheit.
3. Mix your crumbs (and/or nuts, seeds, and grated cheese) with your melted butter until combined. Start with 4 tablespoons of the butter, and if the mixture doesn't hold together when you press it between finger and thumb, add more butter as needed and stir to incorporate. Press evenly and firmly into the bottom and about 1 1/2-inches up the sides of your springform pan. Bake for 5-8 minutes, or until set, and allow to cool.
4. Reduce the oven temperature to 325 degrees Fahrenheit.
5. In a stand mixer with the paddle attachment, or using a large bowl and handheld electric mixer, beat the cream cheese until smooth and fluffy. Then beat in the sour cream, and then the eggs, until everything is smooth and incorporated. Stir in all your seasonings to taste, then any mix-ins, and your additional grated or crumbled cheese (you can go a little over a cup of additional cheese if you're feeling it) just until combined. If you're using particularly soft cheeses, you can add around 2 tablespoons of flour to help stabilize the filling, but that's also what the eggs are there for.
6. Pour the batter into the cooled crust and bake for 45-60 minutes, until the edges are fairly firm, the top is browned and set, but the center is still slightly wiggly (yet not too jiggly) when you shake the pan.
7. Turn off the oven, crack the door, and allow the cheesecake to sit for about another hour, then remove to a cooling rack. Run a knife around the inner edges of the pan to loosen the cheesecake. You can serve it while still warm, cooled to room temperature, or chilled (in which case, once it's cooled to room temp, wrap it in plastic and transfer it to the fridge until needed, up to 24 hours).
No-Bake Options
No-bake versions of savory cheesecake are pretty similar to the above, just without the eggs or flour in the batter, and instead of being baked, they're chilled for at least 3 to 4 hours in the fridge to firm up and let the flavors meld. They tend to be made with combinations of softer cheese (like blue, goat cheese, or feta), since those are easier to incorporate into the other ingredients without using heat, but there aren't really any rules. Experiment as you see fit!
Crust Variations
In addition to making a press-in crust from pretty much any cracker or dried bread in existence (once crushed to fine rubble, anyway), you can turn potato chips into crumbs too (in any flavor that promises to complement your cheeses), or even use pulverized pork rinds for a keto-approved crunch! Moving away from press-in crusts, you could also pre-bake biscuit or crescent roll dough, pizza dough, or puff pastry as a base for a no-bake cake filling (even if that would seem to make it more of a tart…), or use polenta for the bottom layer, or even thinly sliced potatoes for a Spanish tortilla/cheesecake hybrid. Get as complicated and weird as you wanna! Or keep it super simple. For mini cheesecakes, you can try phyllo cups (usually found in the freezer aisle at the grocery store).
Fillings and Toppings
You pretty much always start with cream cheese for the filling, but some savory cheesecakes—just like some sweet ones—are based on ricotta instead. What's most important is that they include something super soft to lend that luscious texture; the sour cream helps emphasize it, and the other cheeses are there chiefly for flavor.
In addition to basically any cheese(s) you like, you can mix in all sorts of other ingredients, like roasted red peppers or other vegetables, cooked sausage or bacon, roasted chiles, peppadews, roasted garlic, crab, chopped nuts, chopped scallions, fresh herbs…
And just like sweet cheesecakes, their savory brethren can be topped with all sorts of things for another layer of visual appeal and flavor—think preserves, honey, roasted fruit, aged balsamic, toasted nuts, tomato or bacon jam, pesto, sun-dried tomatoes, and so on.
Serving
Savory baked cheesecakes make great appetizers and work well as part of a buffet (a pie server will get them safely from platter to plates), or you can serve them sliced and already plated with a lightly dressed green salad for brunch, lunch, or dinner. Savory no-bake cheesecakes are particularly good set out along with crackers and perhaps some fresh fruit and toasted nuts (basically, like a cheese ball in a different form), alongside other dishes for a party spread.
Savory Cheesecake Recipes
In case you're still a little unsure, here are some specific recipes to try, or to guide you when it comes to creating your own signature version of savory cheesecake.
You can also try an everything bagel crust for a brunch-worthy take, but either way, this makes a lovely appetizer for any gathering, and it includes a horseradish-lime cream for those who want a little extra zest. Get the Savory Smoked Salmon Cheesecake recipe.
Plain kettle chips make a great crunchy crust for a simple cream cheese cake flavored with fresh chives and garlic. Get the Savory Chive Cheesecake with Potato Chip Crust recipe.
Aged gouda and smoky bacon make for a heartier option (add tomatoes for a BLT cheesecake), that's perfect with a simple salad. Get the Gouda and Bacon Savory Cheesecake recipe.
Sweet-and-tangy tomato jam is a lively counterpoint to the salty savor of mini Parmesan and basil cheesecakes. Get the Mini Basil Parmesan Cheesecakes with Tomato Jam recipe.
Go bold with chorizo, onions, and jalapeños, perfect with cheddar and cream cheese, with a crust composed from cheddar crackers for extra oomph. Get the Jalapeño Popper Chorizo Cheesecake recipe.
Spinach artichoke dip is always a favorite, but bake a firmer version in a whole grain crust for a fun yet elegant twist on the usual party app. This one also includes directions for making the cheesecake in an Instant Pot. Get the Savory Spinach Artichoke Cheesecake recipe.
Whether you bake this in muffin tins or mini springform pans, the combination of sweet caramelized onions (with a little balsamic) and sharp goat cheese is unbeatable. Get the Caramelized Onion Savory Cheesecake recipe.
This dairy-free cheesecake is a bit of a project (it involves making your own fermented cashew cheese), but it's certainly lovely. An easier savory vegan cheesecake relies on silken tofu and nutritional yeast instead, but either way, it's proof that everyone can get in on the savory cheesecake action. Get the Savory Caprese Dairy-Free Cheesecake recipe.
This simple, streamlined cheesecake joins goat cheese and fresh basil, with Parmesan mixed into the crust, because every marriage needs a solid foundation. Get the Savory Basil and Goat Cheese Cheesecake recipe.
These cheesecake bars (which can also be baked in a standard round springform pan) include earthy thyme and aged havarti in addition to ricotta, sugar, lemon juice, and vanilla, further blurring the lines between savory and sweet—and they have a nearly 1:1 ratio of crust to filling. Get the Aged Havarti and Thyme Cheesecake Bars recipe.
If you don't want to turn on the oven, try a no-bake version of blue cheesecake with brie (that's maybe more of a torte, but just as delicious)—but if you don't mind the heat, bake this beautifully creamy blue cheese stunner with a nutty oatcake-based crust. The sweet honey drizzled on top really complements the sharp and salty notes. Get the Cashel Blue Cheese Cheesecake with Honey recipe.