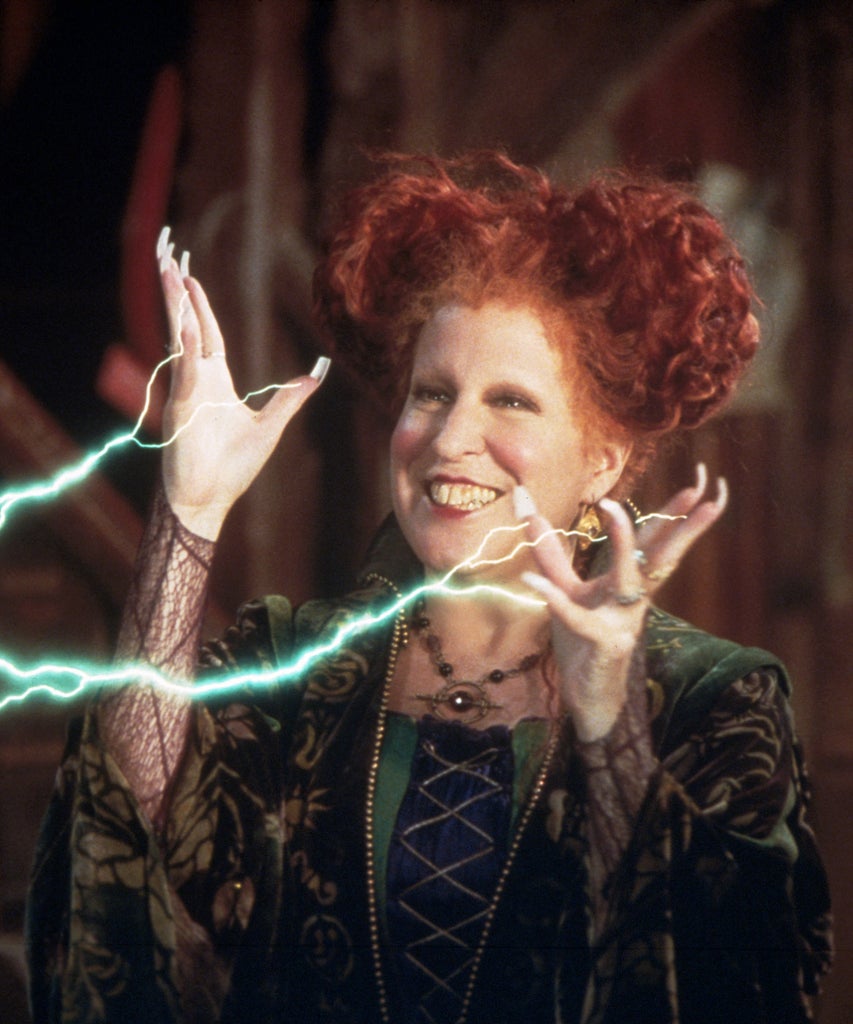 I say "Disney" you say "land," or "world," or perhaps now during the height of at-home streaming, you chime "plus." Since launching in 2019, Disney+ has provided millions with its cult-favorite classic films, buzzy, new television series, and of course, must-watch Halloween movies. Now, we don't live under a rock — we're well aware that cashing in on a Disney+ subscription is nothing new and might not even merit an explanation. But what is new is the slew of Halloween specials flooding the site for 2022's spooky season. The highly-anticipated Hocus Pocus sequel — starring Bette Midler, Sarah Jessica Parker, and more — is on its way to the site Friday, September 30, for example. Plus, while not new, we can't forget about the classics chillin' in the Disney+ vault: Halloweentown, Twitches, The Nightmare Before Christmas, and the list goes on. Which begs the question: is it time for you to revive your subscription or finally join the Disney+ streaming gang in the name of Jack Skellington? Hopefully, the info below will guide you to an answer.
How much is a Disney+ subscription?
The prices start at from $7.99 a month, or $79.99 for a year depending on the plan. For $7.99 a month, you get, per the Disney+ site, "thousands of movies and shows from Disney, Pixar, Marvel, Star Wars, and National Geographic." Or you can commit more and pay less with the $79.99 a year package that grants you the same amount of access all year round for the cost of a 10-month subscription. Unfortunately, Disney+ seems to not offer a free trial of any kind on its site.
What is the Disney+, Hulu, & ESPN bundle?
For $19.99 a month, you can score full access to the popular American streaming service Hulu (home to hit shows and movies like Keeping Up With The Kardashians, The Handmaid's Tale, Bob's Burgers, and more) with no ads, watch all kinds of live sports on the streaming service ESPN+, and of course, maintain your Disney+ membership. It's quite the steal.
What Halloween movies and shows are on Disney+?
Disney+ only recently unearthed its Hallowstream lineup for 2022 via Twitter. It kicked things off Wednesday, September 21 with the original series premiere of Super/Natural and will roll out the six new shows and movies all the way up to Halloween — i.e. Hocus Pocus 2, The Nightmare Before Christmas Sing-Along, Marvel Studios' Werewolf by Night, and a handful others. Disney+ then goes on to list a snippet of the best ooky spooky entertainment already available on-site. To name a few: Once Upon A Time, Glee's Rocky Horror Picture Show episode, and Muppets Haunted Mansion.
How do I cancel my Disney+ subscription?
As we said, a free trial is not an option, so bare minimum, you'll have to pay for the month of October if you end up not getting hooked by Disney's wildly irresistible charms. We checked out Disney+'s Help Center instructions (so you don't have to), and in order to cancel your subscription, you must log into your account, go to your profile, select your account, then click on your subscription, and finally hit "Cancel Subscription" twice. We don't know why it takes two clicks. If you scored the Disney+ bundle, you can also cancel your subscription through its site — however, if you signed up via a third-party site like Verizon, you must unsubscribe from that specific retailer.
Needless to say, the Disney+ entertainment vault is a vast one, and totally worth the money — even if it's just for 31 spooky days.
At Refinery29, we're here to help you navigate this overwhelming world of stuff. All of our market picks are independently selected and curated by the editorial team. All product details reflect the price and availability at the time of publication. If you buy or click on something we link to on our site, Refinery29 may earn commission.
Like what you see? How about some more R29 goodness, right here?
Juliana Joel is Just Warming Up
She Created Her Own Korean Disney Princess Musical