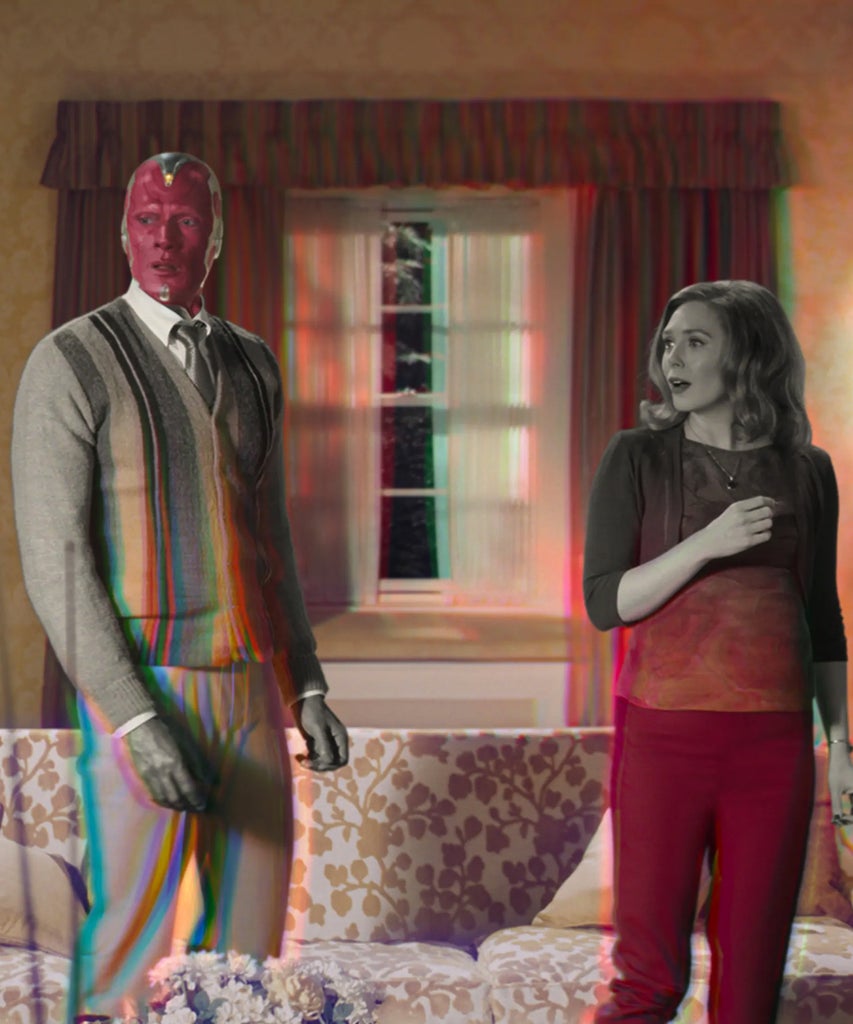 Warning: This article contains plot details from WandaVision episodes 1, 2, and 3.
Elizabeth Olsen's Wanda Maximoff is, perhaps literally as well as figuratively, in her own little world on WandaVision. But the Marvel Cinematic Universe is creeping in with every new episode of the Disney+ series. If you're enjoying the sitcom but totally lost about how WandaVision connects to the MCU, let's go over some of the ways the series is setting up Marvel's new wave of films, a.k.a. Phase 4.
WandaVision takes place after the events of Avengers: Endgame; Vision (Paul Bettany) was killed by Thanos (Josh Brolin) in Avengers: Infinity War, and that's your first clue that something is amiss MCU-wise. There are some sneaky Easter Eggs referencing Stark Industries, Hydra, characters from Thor and Ant-Man, and brief mentions of plot points from Avengers: Age of Ultron and Captain America: Civil War, but WandaVision just doesn't feel like the MCU we know.
Don't be glamoured by Wanda's illusions, however. Every character and every storyline is driving the Marvel Cinematic Universe forward, even if it seems like they're all just caught up with silly sitcom shenanigans. Here's everything we know about how WandaVision could connect us to the future of the MCU.
Doctor Strange 2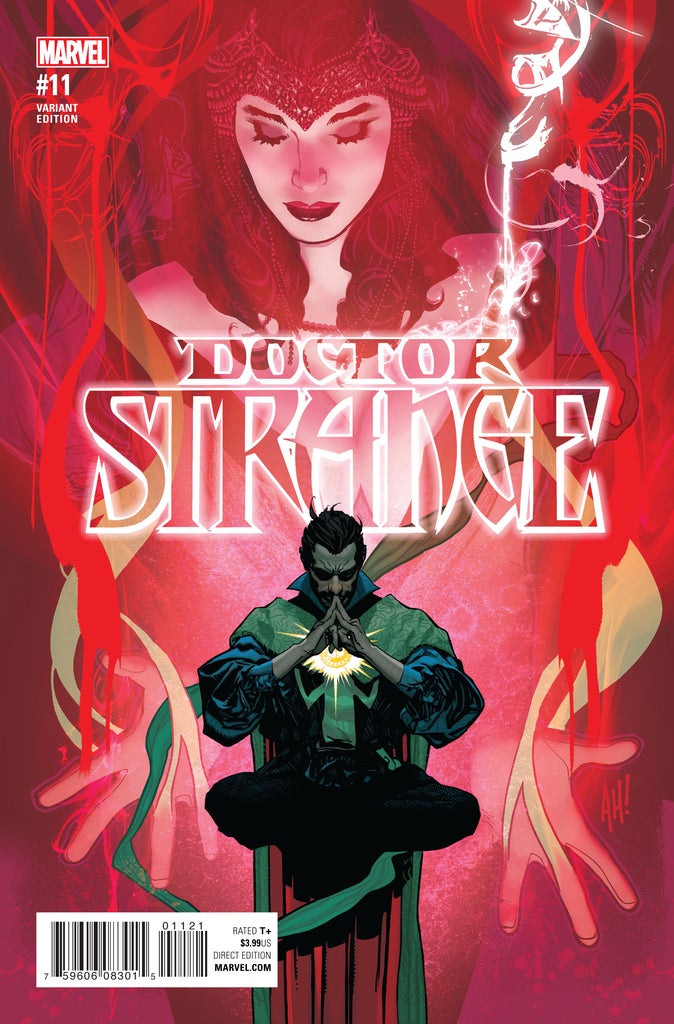 Olsen is confirmed to appear as Wanda in Doctor Strange In The Multiverse of Madness, per Deadline. Marvel Studios president Kevin Feige is not being coy about Wanda's involvement in the film. He even told Entertainment Weekly that WandaVision directly sets up the Doctor Strange sequel. We just don't know exactly how. All due respect to Benedict Cumberbatch, but Doctor Strange doesn't really seem like the sitcom type.
Then there's the idea of a multiverse, a series of alternate realities in which alternate versions of Marvel characters are going on alternate adventures. The concept was teased in Spider-Man: Far From Home by Quentin Beck/Mysterio (Jake Gyllenhaal). But while it didn't come to fruition in Far From Home, it's not the only time the MCU has toyed with the concept. When Doctor Strange meditated on over fourteen million possible futures to find the one in which they beat Thanos in Infinity War, that's technically looking into the multiverse. When Captain America (Chris Evans) went back in time to grow old with Peggy Carter (Hayley Atwell), he likely created an alternate universe. (At least he better have, otherwise Agent Carter fans have some questions about Peggy's husband and children from the ABC series.)
As for the character at the heart of WandaVision, Wanda has the power to alter reality, which opens up the possibility that should crack open the multiverse, or even break it in some way. Scarlet Witch and Doctor Strange also both deal with magic, which opens up even more possibilities between the two characters as we work our way towards the end of WandaVision. There's also the distinct possibility that Wanda's sitcom world is taking place in another 'verse already — but that's sort of the million dollar question, isn't it?
Thor: Love & Thunder
Of all the upcoming MCU films, the fourth Thor movie is probably the least connected to this series, with one exception. Darcy Lewis, the character played by Kat Dennings in both Thor and Thor: The Dark World, will show up in WandaVision. There has been no word from Big Marvel on whether or not Darcy will appear in Love & Thunder, but the film will center on Jane Foster (Natalie Portman) and Darcy got her start in the MCU as Jane's assistant. Even if that's the only connection we know for sure, it's definitely worth noting.
Captain Marvel 2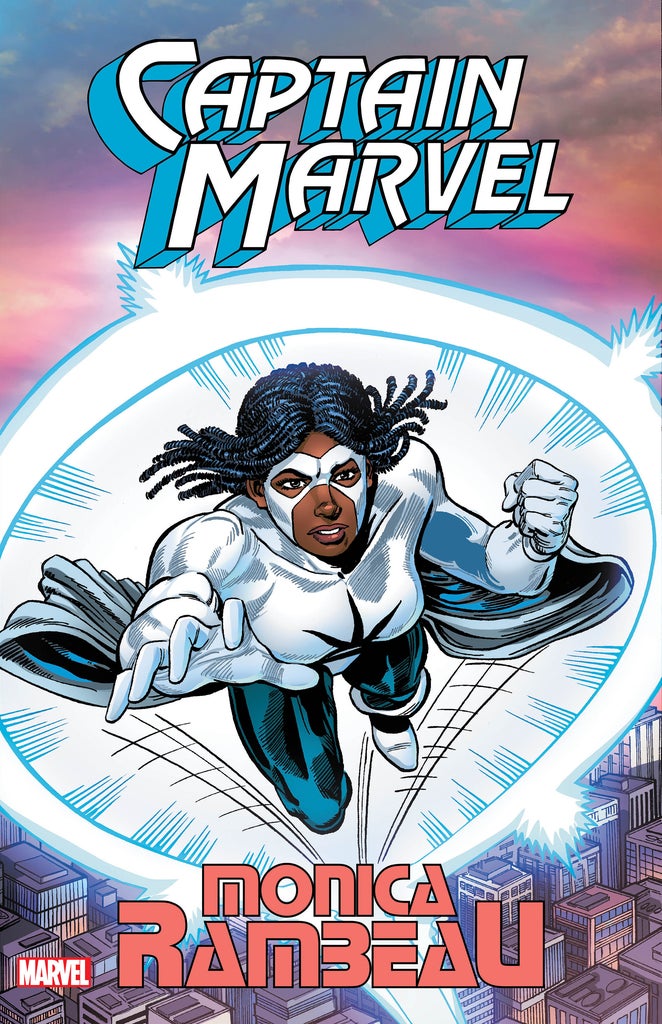 In January 2021, Teyonah Parris confirmed to Refinery29 that she will appear in the Captain Marvel sequel as Monica Rambeau, as previously reported by Deadline. Parris' character may have been using the name "Geraldine" in the first three episodes of WandaVision, but when her casting was announced Marvel made sure fans knew she was actually playing Rambeau.
Captain Marvel fans may recall meeting Monica as a child in the '90s set film. She's Carol Danvers' (Brie Larson) best friend Maria's (Lashana Lynch) precocious daughter. Because WandaVision is set after the events of Endgame, Monica is now a full-on grown-up and more akin to the Monica Marvel comics fans know as Spectrum (or Pulsar, Photon, and Captain Marvel). On the page, Monica is a major superhero with a wide array of powers, who goes onto become the first woman leader of the Avengers. She's a big deal.
In WandaVision, it appears that Monica is working for S.W.O.R.D., a government agency that is headquartered in outer space — at least it was in the comic book world. Captain Marvel is all about that space life, so this S.W.O.R.D. connection isn't an insignificant one. We still don't know much about present day Monica, but Parris told Refinery29 in early January that things will become clearer soon: "Maybe [Captain Marvel 2] will leave space to further investigate who she is, but here in WandaVision, we do get the opportunity to learn what's been happening with Monica since we last saw her in Captain Marvel as a little girl and how she's grown and how the events in this world have shaped and changed her. That all reveals itself over the course of the show," she said via Zoom.
So, whatever we're about to learn about Monica's career and origin story, it's a clear bridge to her work in Captain Marvel 2.
Like what you see? How about some more R29 goodness, right here?
Ms. Marvel Isn't Something I Dreamed Would Exist
Marvel Just Hired Its First Black Female Director
A Marvel Star Is Speaking On Its Diversity Problem