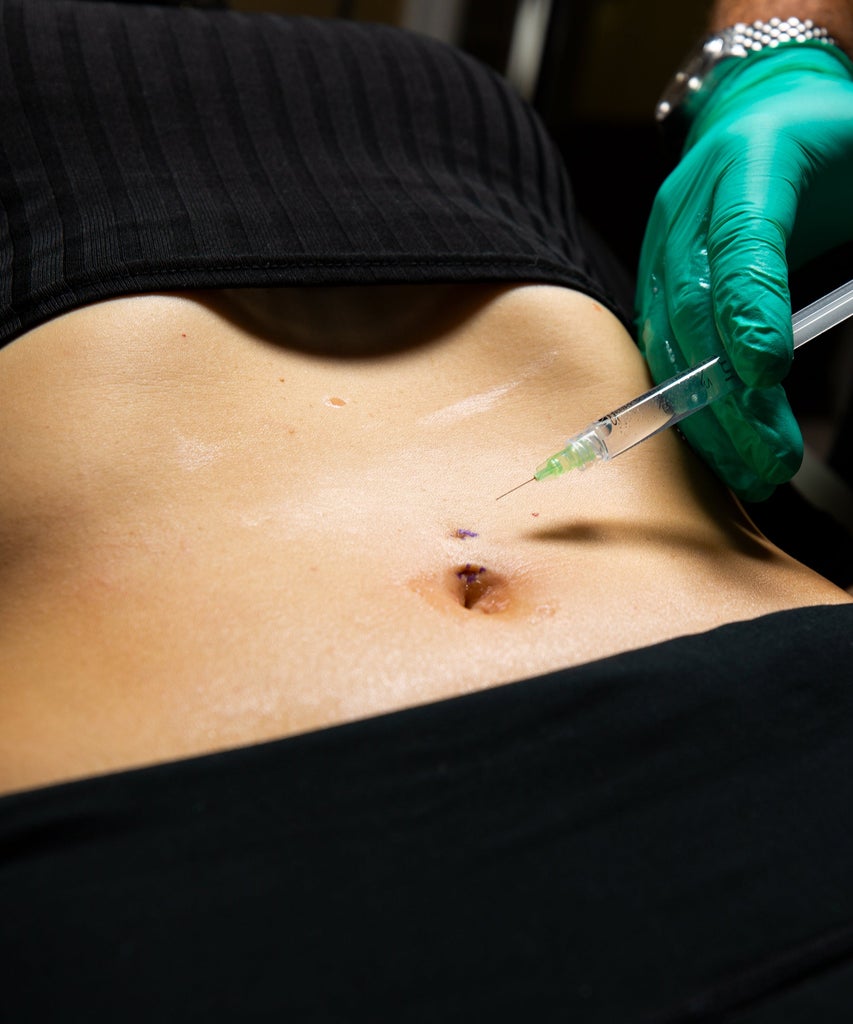 If you grew up in the age of Laguna Beach and the iPod shuffle, you probably toyed with the idea of getting your belly button pierced. Maybe you even booked a Friday-afternoon appointment at your local tattoo shop and actually went through with it. But what happens if you decide after a few years (okay, maybe a full decade) that you want to take it out?
Unfortunately, it can be more complicated that just sliding the surgical steel hoop out of its naval hole. If the piercing has been infected or the skin is permanently stretched, you could be left with a saggy physical reminder of the year 2008. However, there's a simple fix: belly-button piercing removal surgery — which is a mouthful, yes, but we have a clearcut breakdown of the procedure featured in this week's episode of Macro Beauty.
The subject of this video is Jacyln Rose, a young woman who got her belly button pierced back in high school. Now, 12 years later, she's still dealing with significant post-infection scarring and pus. "First of all, I hate the way that it looks, like a big ugly hole in the middle of my stomach," Rose explains at her consultation with Dr. Joubin Gabbay, a board-certified plastic surgeon in Beverly Hills. "Second, it fills up with weird liquid stuff every once in awhile and I have to squeeze it out — and it's really gross and I don't want to deal with it anymore."
Luckily for Rose, Dr. Gabbay is a seasoned pro when it comes to the art of clean belly button reconstruction, and he explains that the surgery is simple, so long as you understand the anatomy of a naval piercing. "When you get a belly button piercing, there are two holes: The top is above the belly button, and bottom is almost inside of the belly button, which you can visualize as where the piercing goes through," Dr. Gabbay explains. "I make an incision at the top and bottom holes and loosen the tube of skin that interconnects them, which is where that piercing has lived for all those years."
In essence, the surgery is all about removing that sausage casing-like tube beneath the skin, and in the video below, you can see Dr. Gabbay literally pull it out and snip it away. Fair warning: There are needles, for the application of local anesthesia, as well as sharp surgical blades, stitches, and a fair amount of blood. But if you're curious about exactly how to fix a belly button piercing pockmark, you'll be fully educated in six minutes, flat.
Like what you see? How about some more R29 goodness, right here?
The Best Blowdryers Money Can Buy
CVS Is Having A Major Sale In The Beauty Aisle
How Simple Beauty Makes A Statement In "Rebecca"