Whether you realize it or not, the masterful work of Betina Goldstein has no doubt inspired your manicures. Her intricate nail art — literal tiny masterpieces on a nail bed in the form of dainty goldfish or abstract designs — have not only taken over our Instagram feeds, but have also changed the nail art game as a whole. Goldstein's manicures (and now famous hand pose) have garnered a massive following, including those in her celebrity clientele, from Zoë Kravtiz to Olivia Rodrigo. She has expanded her designs to Doublemoss Jewelry and Doublemoss Arte, her fine jewelry and luxury nail tool brands. Goldstein walks us through her weekly beauty routine, including the secrets to her signature manicure. This interview was told to Sara Tan and has been edited for length and clarity.
SUNDAY
I try to sleep in until 8 a.m. on weekends, but it doesn't always happen. I'm usually up around 7 a.m. like clockwork. I go downstairs in my PJs and make an Americano and some breakfast with my husband, before showering and getting ready for the day. My morning shower routine includes a deep body exfoliation with OSEA Malibu Undaria Body Polish. It makes my skin soft and the aroma makes you feel like you're at the spa. I only wash my hair twice a week, so when I don't want to get my hair wet, I cover it using my Louvelle shower cap. It took me so long to find one that not only looked cute, but actually worked! I have different face washes for different times of day or how my skin is behaving, but I usually wash my face in the mornings with Augustinus Bader, The Cream Cleansing Gel, it's very gentle and hydrating. I dry off and while I'm still in my towel I proceed with skincare and body care.
On Sundays, we like to go to a local farmers market, walk around the neighborhood, and finish home projects so I always make sure I apply sunscreen. I love the Chanel UV Essentiel SPF 50 because it's super light and doesn't leave your skin greasy. I apply the remaining product on the top of my hands. Then, I proceed to massage my face and neck with my absolute favorite face cream: Augustinus Bader The Rich Cream. I started using it a little over three years ago and it has completely transformed my skin. I apply the leftover product on my hands and massage it into my cuticles and knuckles. For makeup, I apply a bit of Blunder Cover under my eyes as concealer and to cover up any redness or blemishes. I never leave the house without a bit of the Benefit 24-HR Brow Setter gel. It makes all the difference with my eyebrows. I dab a little of the Tower 28 BeachPlease cream on my cheeks and lips and curl my eyelashes and a thin coat of Clinique Lash Power mascara in black (it's a game-changer!). If I didn't wash my hair that day and it needs a bit of a refresh, I apply a bit of Roz Santa Lucia Styling Oil to the ends and use the Crown Affair Dry Shampoo powder on my roots. It smells so incredible and I love that you apply it with a brush versus a spray.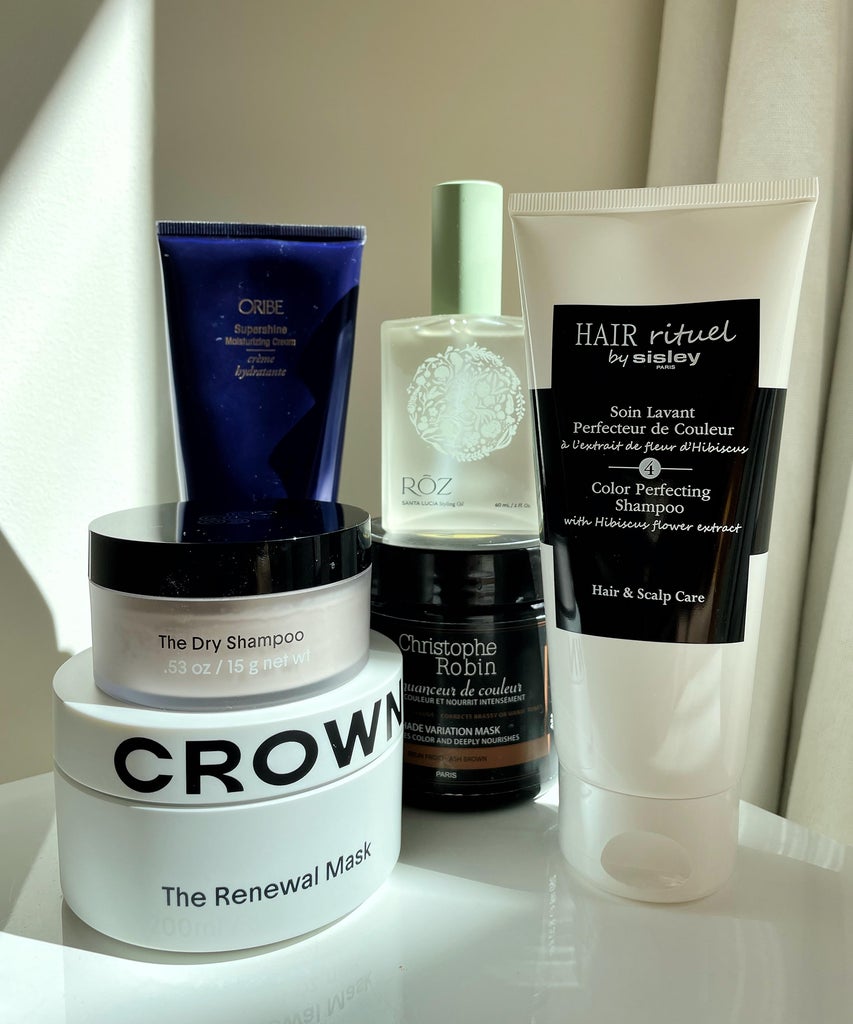 After a long day I like to shower before getting into bed. It helps me unwind and relax. On Sundays, I tend to go to bed on the earlier side and this is when I try to fit in my pampering. When I'm in the shower, I like to exfoliate my face using Sisley Buff and Wash. It has tiny gentle beads that buff away dirt and makeup. I know you are not suppose to wash your hair at night and sleep with it wet, but I often do it. I have very long hair with wavy-curly texture, so hydration is always key. I start off by washing it with Sisley Hair Rituel Color Perfecting Shampoo and massage my scalp. After thoroughly rinsing, I apply one of three masks that I alternate between depending on what it needs. If my hair is looking brassy, I'll use the Christophe Robin Baby Blonde Mask. If I want to tone my hair down and darken my highlights I use Christophe Robin Ash Brown Mask. If my hair color is fine, I'll use the Crown Affair Renewal Mask. I'll leave whatever mask on while I wash my body, face, and shave. Once I have rinsed and toweled off, I brush and wrap my hair in a Turbie Twist microfiber towel and apply OSEA Anti-Aging body balm all over my body. Then, I put on my robe and start my Sunday night skin regimen. While my husband and I watch reruns of Seinfeld in bed, I plug in my face steamer and let it do it's job. Next, I apply eight pumps of Sisley's La Cure Serum and then follow with a generous amount of Augustinus Bader The Rich Cream and a couple of drops of RejuveNatural Pure Vitamin E oil on my face and use my Odacité Gua Sha to massage my face for about 10 minutes. Once I'm done, I change into my Eberjay PJs and go to sleep!
MONDAY
Monday mornings call for a large cup of coffee, some fruit, and a manicure. I also work on fulfilling orders for my jewelry and beauty art tool brands Doublemoss Jewelry and Doublemoss Arte. But first I get my semi-wet hair out of the way by applying Oribe Supershine Moisturizing Cream and tie it in a mid-part, low twisty bun to texturize my curls while I work. I quickly fulfill orders, drop them off at the post office, and move on to my manicure. I like to give myself a manicure at least two times a week. I keep my nails on the shorter side, so I start by clipping my nails using my Tweezerman nail clippers. Then, I file my nails to my classic squoval shape using my favorite nail files by Flowerynails. Next, I push back cuticles, which can help make your nail beds look longer. I use a metal cuticle pusher by Navypro Tools — they are the Rolls Royce of nail tools and they make all the difference when giving yourself a manicure. I proceed by buffing away cuticles using my ORLY Nail Buffer, and trim away and hangnails using my Navy Pro Tools cuticle nipper.
Time to exfoliate! I try to exfoliate my hands two to three times a week. I have a few I keep around the sinks I use most in my house. At the moment, I am obsessed with the OSEA Malibu Salts of The Earth Body Scrub. I massage it on my dry hands, making sure to give extra love around my nail beds and knuckles, and rinse thoroughly. Next, I hydrate. I have a couple of hand creams and oils that I alternate between in my studio, but at the moment I have been loving the Augustinus Bader Hand Cream mixed with the Face Oil. It gives a healthy glow that last for hours. I clean off my nail beds of excess oils with Chanel L'Eau Micellar Cleansing Water and start creating with my Doublemoss Arte Nail Art Tools.
When I create nail art on myself in my studio, I wear a 3M Vapor Mask to protect my lungs from the harmful chemicals in nail polish and removers. For this reason, cleansing my face at night after a long work day is really important. If I am feeling a blemish popping up, I usually like to wash my face with the Thayers Cleanser again at night because it contains Witch Hazel, which is known to fight bacteria followed by my beloved Augustinus Bader Rich Cream and a drop of Vitamin E Oil.
TUESDAY
My schedule is very random and always changing. No day or week is ever the same. Some weeks, I'll have back-to-back shoot days; others, I'll have multiple deliverables and work from home. On shoot days, I start by waking up around 6 a.m., take a quick shower, and pull my hair in a tight, middle part bun, stealing some of my husband's Aesop hair gel. Then, I apply my Bader, concealer, brows, and some mascara and head out the door with my kit. At around 5 p.m., I get a call for a last-minute meeting, so I won't be able to make it home to refresh. Luckily, I always keep a few products in my car to touch-up: Hourglass Vanish Airbrush Concealer, Tower28 BeachPlease blush and lip duo, Chanel Allure Lip Fusion in Ambiguite, and Chanel Baume Essentiel in Sculpting.
WEDNESDAY
I wake up at 7 a.m., check my emails from bed (I know, I know), change into workout clothes, and apply a pump of Supergoop's Unseen Sunscreen on my face, neck, and shoulders. I tie my hair in a high pony and walk around the neighborhood or local park for about 45 minutes to get my body and brain going. I come home and get in a quick shower, wash my face with Thayers Face Cleanser and apply Augustinus Bader The Rich Cream. I refresh my waves with Roz Styling Oil and move on with my day. Wednesdays I usually focus on catching up with midweek order fulfillment and content creation so I usually don't apply any makeup other than brushing up my brows and applying Chanel lip balm.
THURSDAY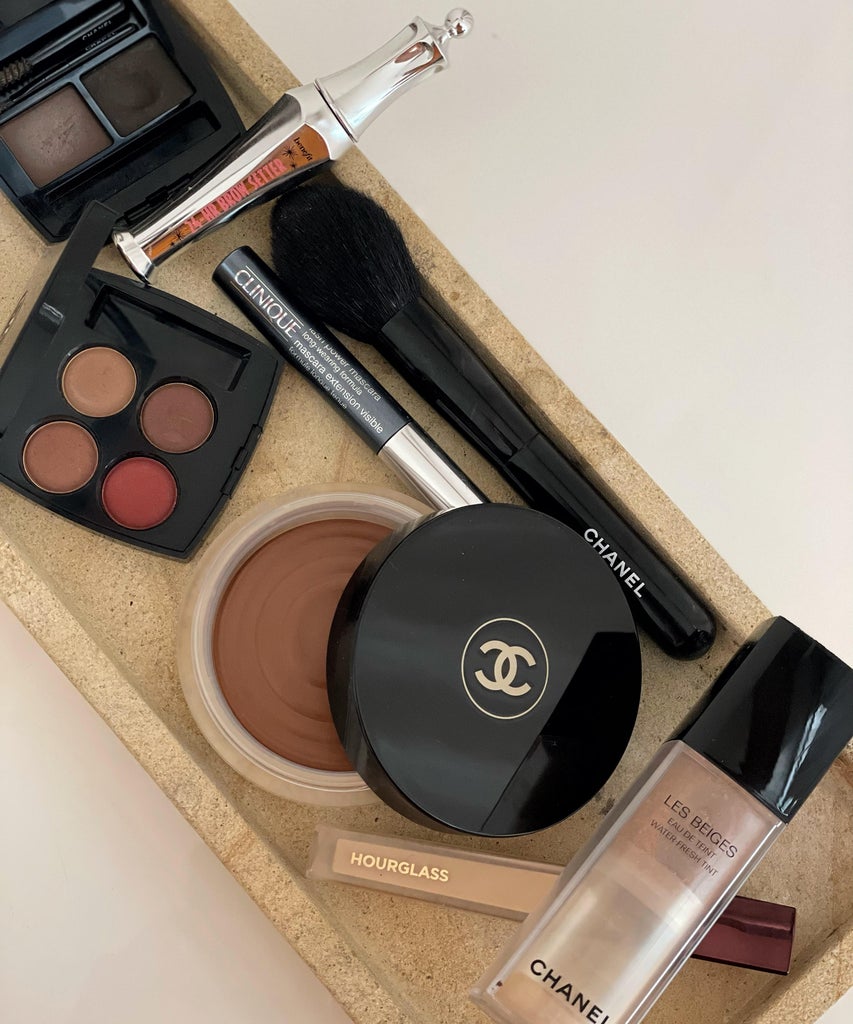 I wake up, check my emails, jump in the shower and wash my hair. I let it air-dry while I go downstairs to have breakfast and coffee. I like to blow dry my hair towards the end of the week. Before I do this, I pump a couple of drops of Moroccan Hair Oil into my palms and rub onto my ends before proceeding to blow dry using a round bristle brush. Today, I am not only going to a work event, but I'm also filming content for a brand. Because I have to show my face, I give it a little love with my NuFace device and massage my Augustinus Bader Rich cream into my skin. I want a little bit more coverage to hide any blemishes and redness on camera so I apply Chanel Les Beiges Eau De Teint in Medium Deep all over my face, avoiding my forehead. I then dab Hourglass Vanish Airbrush Concealer under my eyes, chin, and between my brows and blend using a foundation brush.
Next, I apply Chanel Les Beiges healthy Glow Sheer Colour Stick in Blush No 23 on the apples of my cheeks, nose bridge, and eyelids followed by a wash of Chanel Stylo Ombre et Contour in Contour Claire all over my eyelids. I lightly fill in my eye brows and comb them through with Benefit 24 HR Brow Setter. I curl my eyelashes using my Shiseido eyelash curler and apply a generous coat of my Clinique mascara. I line my lips with Charlotte Tilbury Pillow Talk and smudge a bit of Chanel Rouge Allure Velvet Extredême in Chestnut and get to work. I refresh my makeup before the event.
FRIDAY
After my usual check-my-emails-in-bed ritual, I try to fit in a Pilates class or walk to get coffee and get my 8,000 steps in before 9 a.m. Then I shower, prep my skin, do my makeup, fulfill any orders, and finish nail art deliverables before the weekend. Friday night, I freshen up my makeup by adding a bit more concealer, blush, lipstick, and adding liquid auburn brown liner from the inner corners of my eye to a thin micro wing tip, and give my hair a quick brush, using the blowdryer to smooth out any frizz along the hairline.
SATURDAY
If I am not working on set, Saturdays are our beach days. I look forward to them every week. I put on my Fisch swimsuit, apply Supergoop! Play SPF 50 all over my face, body, the tops of my hands, fingers, and then head to the beach. I love the way my hair gets after I'm near the ocean, so after I shower, I usually leave it as-is for Saturday night and apply Oribe Styling Cream to give my waves texture. When I want a little more coverage, I adore the Charlotte Tilbury Airbrush Flawless Foundation over a generous amount of Rich Cream and Vitamin E oil. To add a bit more drama to my look for the evening, I use Chanel Les Beiges Healthy Glow Bronzing Cream in Deep Bronze to define my cheek bones and jaw line, followed by Chanel Ombre liquid eyeshadow in Quartz rose all over my eyelids. I love to play around with matte textured lip colors and I almost always fade the lip line.
At Refinery29, we're here to help you navigate this overwhelming world of stuff. All of our market picks are independently selected and curated by the editorial team. The product details reflect the price and availability at the time of publication. If you buy something we link to on our site, Refinery29 may earn commission.
Like what you see? How about some more R29 goodness, right here?
Snake Tips & Sage Manicures Are Trending
I Tried The World's First Robot Manicure
I Tried TikTok's Viral French Manicure Hack