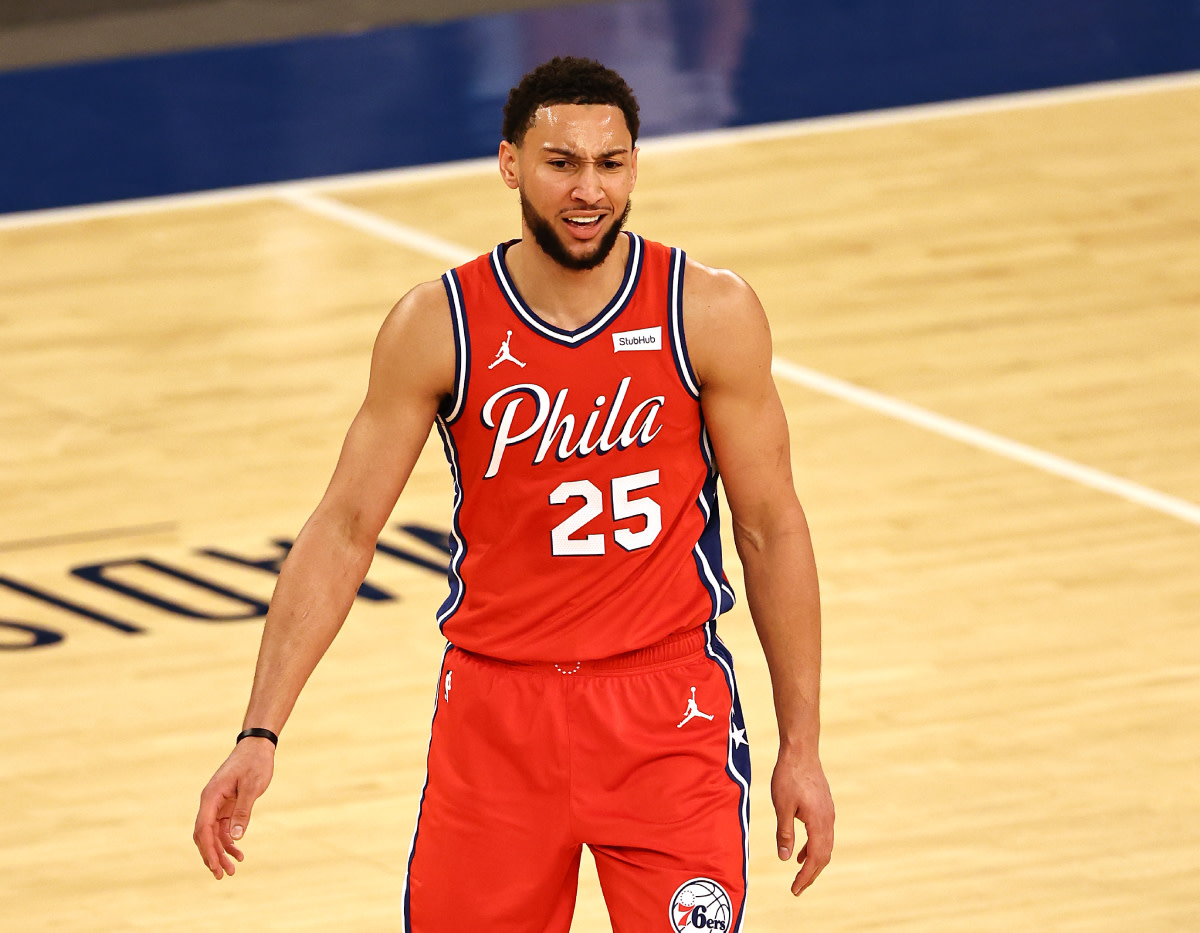 Credit: Elsa/USA Today Sports
Ben Simmons leaving the Philadelphia 76ers was the league's big drama last season, but it kind of went on the back burner during the offseason. His new team, the Nets had plenty of drama of their own, and that became the main story over the summer. However, with his appearance recently on JJ Redick's Old Man And The Three podcast, there has been a lot of conversation about Simmons' departure from the franchise that drafted him first overall. 
Simmons admitted on the podcast that he felt like Doc Rivers and Joel Embiid threw him under the bus after their playoff loss to the Hawks. This was followed by Doc's son Austin calling him out for lying about certain things. And while largely, Simmons is still considered to have been in the wrong by a majority of fans, he did make some valid points when he told his side of the story. 
---
Jalen Rose Detailed How Ben Simmons And Sixers Are Both To Blame For His Departure
Jalen Rose often offers a good perspective in his role as a member of the basketball media and he had a very detailed take on this situation. Speaking on his show Jalen and Jacoby, he first explained what Simmons did wrong. 
"If you look back at the landscape of the East, Philadelphia has the best player that hasn't done that yet. We've seen Toronto, Miami with Jimmy Butler, Kawhi Leonard when the East to get it done. Giannis Antetokounmpo win the championship, the Boston Celtics and Jayson Tatum and so Philly, they were trying to create a process and it was their turn, but they never delivered.
"And that created a level of frustration and fingerpointing and after that series. If allowed everyone to point the finger at Ben Simmons' lack of shooting, lack of aggression, and his lack of productivity. I mean, the kind of talent that he is, if you look back at the stats and those fourth quarters he was inept and so, for me, that was the fork in the road for the relationship. 
"When he returns and don't play, of course they're going to fine you for not working out. It don't matter if you're the strongest person on the team. This is a lifestyle. This is every day just comes with the territory. And also, yes, they're gonna ask you to practice if they deem you to be healthy and available to go. And so the dichotomy of they're going to ask you to do your job."
Rose wasn't done though, he went on to explain where the Sixers organization went wrong as well, detailing the other side of the issue.
"A lot of people owe him an apology because there was a lot of name-calling when he didn't play. Calling him weak, calling him soft, questioning what he said about his mental stability, which is a real thing, and you got to support someone when they're honest and open enough to say that out loud and address that. That's a thing that somebody could be closeted about. So when somebody opens up about that, that should be embraced."
Ultimately, these are all issues of the past now, Ben Simmons has been out of Philly for a while. Hopefully, he can move past the entire debacle and focus on starring for the Brooklyn Nets next season. Simmons has an incredible opportunity to make a championship run alongside his superstar teammates, and he will be determined not to waste it.