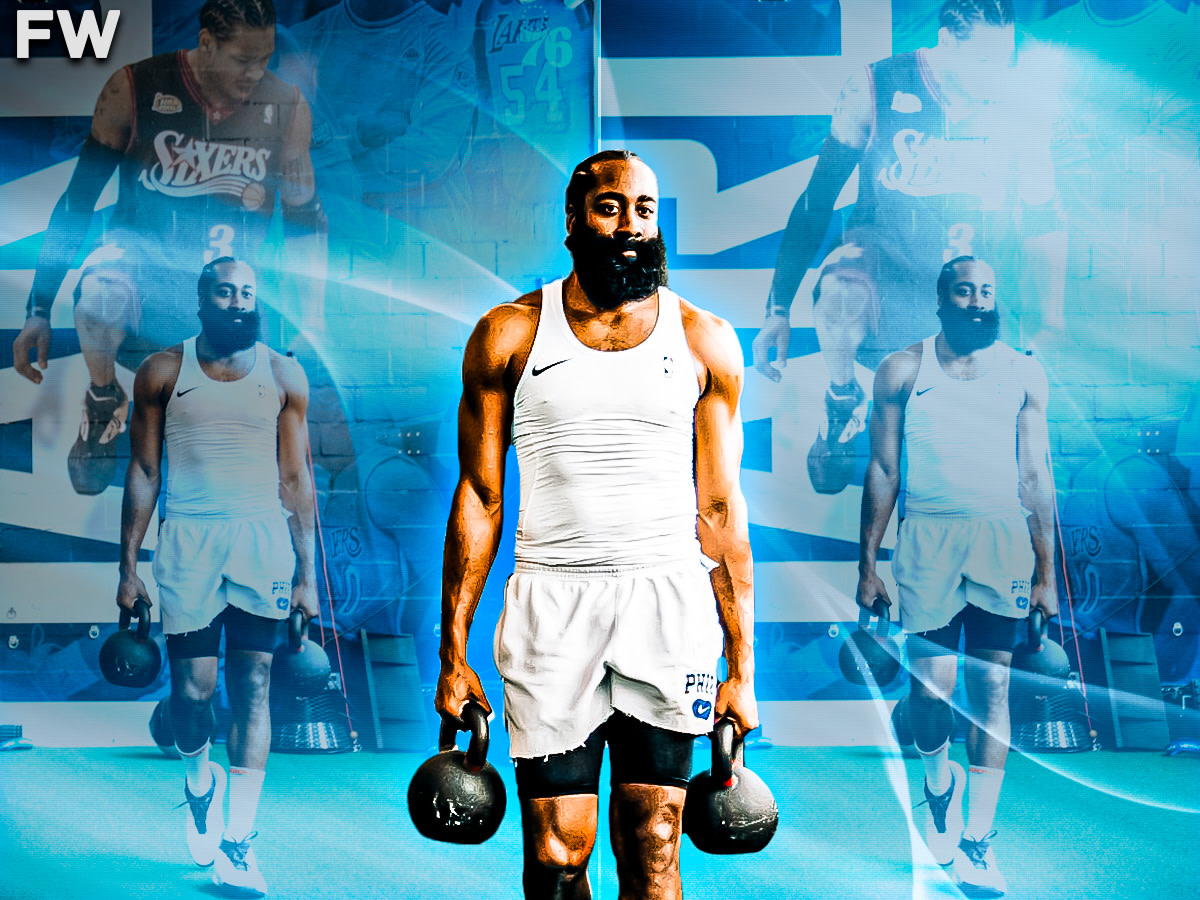 Credit: Fadeaway World
After several seasons of drama and chaos, James Harden has really ignited his doubters and haters. Now, with so much to prove, Harden will have to work harder than ever before if he wants to call this season a success for his legacy.
While some Sixers fans continue to worry about what version of Harden we will see this season, the Beard has been putting his head down and getting to work... and the results are starting to show.
---
James Harden Looks Ripped During Offseason Workouts
In a now-viral photo of Harden, it captures him in the gym with some weights in his hands and a big mural of Allen Iverson looming on the wall behind him.
It's hard not to notice the imagery in Harden's photo with Iverson in the back. When you think about it, the two players are a lot alike. Like Iverson, Harden is one who is often doubted, criticized, and looked over for his size and playstyle, Like Iverson, Harden has always worked hard to be the best.
And, like, Iverson, Harden is tasked with leading a 76ers team to glory. With so many questions swirling about the team and the state of its two stars, expectations are mixed for Philadelphia and nobody really knows how good they will be.
But Harden has faith in his squad, and team President Daryl Morey has faith that he can bounce back and deliver a great season.
"He's an incredibly talented player just like Joel (Embiid), just like Tobias (Harris), and I'm excited for Doc (Rivers) and his staff to have a whole offseason, work with the players, and come up with the best plan for the roster we'll have which we don't know exactly as we just mentioned the bench and how that's going to look," said Morey. "Once we have that in place, I'm excited for what the coaching staff can come up with it versus, obviously, because of our circumstances, you know, having it all come together in February, makes it very difficult to try and figure out how to unlock all the different skills of the players and how they can work together... we think with a full year with James (Harden), we can unlock what he brings to us."
Only time will tell how this all plays out for Harden. This is a make-or-break season for him that could determine the trajectory of his career.
But, no matter what happens, at least he can say he was in his best form as the war was waging on. It's a good sign that he's in good shape, and let's hope it means he's in for a huge campaign.