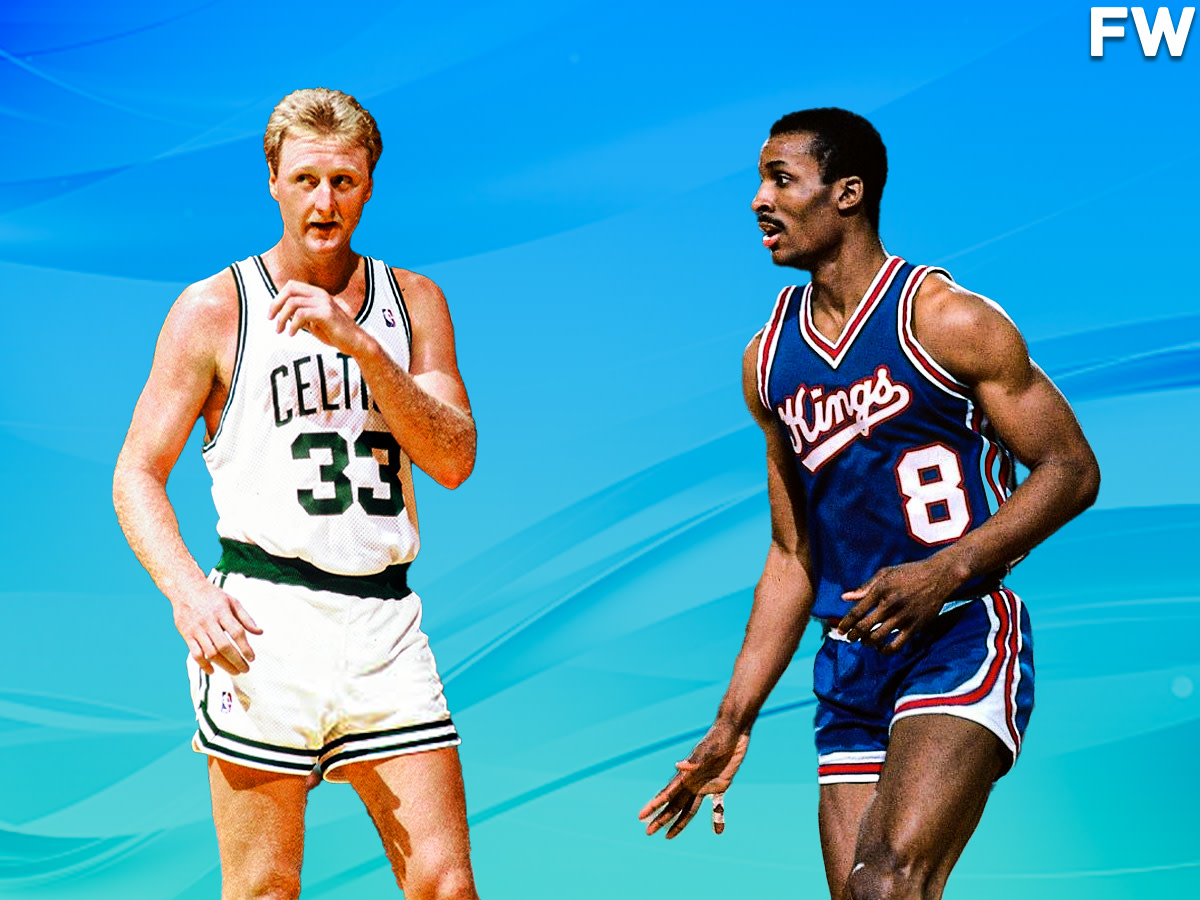 Many stories perfectly describe Larry Bird's impressive trash-talking talents. The Boston Celtics legend earned a big reputation during his NBA career, trying to get under his opponents' skins and achieving it every time.
He's considered one of the best at that art, as several players like Reggie Miller, Gary Payton, Michael Jordan, Dominique Wilkins, and more, learned that Bird wasn't somebody you could mess with. Larry Legend didn't care about the rival, he would always give his 100% to destroy whoever was in front of him.
Besides being a great trash talker, he was a terrific player who backed up his big mouth with his game. He wasn't afraid of anybody and didn't hesitate to get physical if things got heated. Eddie Johnson learned that during his very first year in the league when Larry went at him and let him know who he was.
"There's one particular one game in Boston. I'm scared to death already," Johnson said during a recent interview on The Rex Chapman Show, via Sports Casting. "The veterans on my team said, "Eddie just don't pay attention to him." So I mind my own business on the jump. He just stands next to me and he leans over and he looks at and he said "Do you honestly think you gonna guard me?" I just didn't say nothing.
"Then he stands up and he looks over at our bench and he looks at Kyle. "You all think this rookie gonna guard me? Man, I'm gonna bust you up!" Just right in my ear. By that time all the guys on the floor are cracking up, even my teammates. I am just like, 'Will this official please throw this ball up."
Johnson had a terrible game against the Celtics, but he would work to make sure Bird didn't disrespect him again. When they met for a second time, Eddie wouldn't let Larry go away with it and decided to taunt him, too. Johnson would hit him in the mouth on the offensive end, which was a big mistake.
"That stuck with me. Later on that year I had it rolling. I was playing better," Johnson said. "He comes to Kansas City, starts on me again. So that time I am going at him. One time, I said, 'I am going to get him. I am so tired of his mouth.' So I drive and give him the upfake and he goes for it. I come up and I catch him right in the mouth [with my elbow] and I laid it in for an And-1. I'm at the free-throw line and he says to me, 'That's all you can do is score. You can't defend anybody.'
"I said, 'I can do one other thing though, I can make you bleed.' His mouth was bleeding. He didn't like that.'
After that moment, Bird was ready to get his revenge and invited Johnson to meet him at his hotel room to settle the issue once and for all. Knowing him, Bird wanted to see what Eddie could do off the court and if he backed his words with a fight.
"He reaches into his pocket and pulls out his keys and tosses me his room key," Johnson recounted. "He says, 'Why don't you come by the hotel so you and I can finish it alone and well will see who can make somebody bleed.'
"I started laughing and I said, 'Yeah right. I would probably have your little b**** a** screaming and he said, 'No let's do.' Then I said, 'Mchale and Parrish around the corner ready to help you.' When I said that he started laughing and he looked at me and said, 'I like you' and he left."
"After that, believe it or not, he never trash talked me," Johnson said. "He brought out of me what I was holding in. Every time I saw him after that I thanked him."
There are plenty of stories about Larry going at it with rivals. The Boston Celtics had a big rivalry with the Los Angeles Lakers and Detroit Pistons, where the small forward didn't hesitate to call out people and get physical. The most (in)famous Larry fight happened against Julius Erving after he taunted the Philadelphia 76ers legend, asking him if he wanted to guard him.
Just like that, we've heard many anecdotes about Bird's trash-talking abilities. He knew he was great at it and used it in his favor. Sometimes it worked, sometimes he needed to do something extra to assert his domination, and sometimes, players stood up to him, as Johnson did during his rookie year.