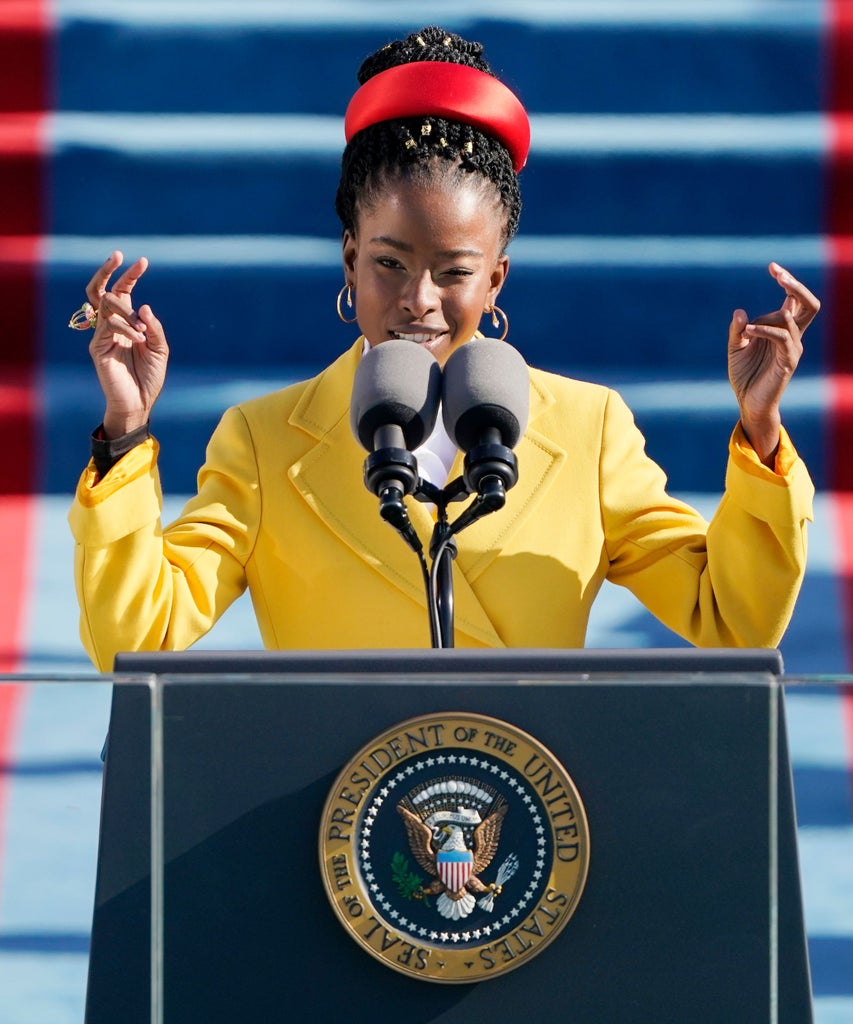 On Inauguration Day, many prepared themselves to fawn over the star-studded lineup of performances, from Lady Gaga's Broadway rendition of the National Anthem to J.Lo's "Let's Get Loud" "This Land Is Your Land." But few likely could predict one of the most moving moments of the ceremony: 22-year-old Amanda Gorman's reading of her poem "The Hill We Climbed."
The recent Harvard grad is the youngest inauguration poet in U.S. history, and joining the likes of Robert Frost, Elizabeth Alexander, and most notably Maya Angelou, who Gorman has noted as one of her biggest inspirations.
Gorman was raised in Los Angeles, where she began writing at a young age. When she was only 16, after submitting poems to local competitions, she was named the Youth Poet Laureate of Los Angeles in 2014, and three years later went on to be the nation's very first National Youth Poet Laureate. (While she held the title in 2017, she delivered a reading of her poem "In This Place: An American Lyric," at the Library of Congress, where she first caught First Lady Dr. Jill Biden's eye). In addition to being a powerful poet, she is the founder and executive director of One Pen One Page, a non-profit that organizes free creative writing programs for underserved youth.
While Gorman doesn't have a trove of other works to dive into just yet now that "The Hill We Climbed" has whetted many people's appetite for more (did we mention she's only 22?), more is just on the horizon. This coming September, she's releasing her debut poetry collection, also titled The Hill We Climb, which includes her inaugural poem. The same day, she's also publishing her first picture book, Change Sings. "I wanted young readers to have the opportunity to see themselves represented in books as real change-makers, leaders, and people with the potential to make a difference," Gorman told Vogue.
In the meantime, while her 2015 poetry collection The One For Whom Food Is Not Enough seems to have been self-published and is come by, "In This Place: An American Lyric" is available to read online. You can also listen to her read another poem, "The Miracle of Morning," which is likely to be included in her September collection.
Last April, during National Poetry Month, Gorman also recommended a list of poems that she felt encouraged change and action but also offered comfort and support during desperate times. The list includes works from Angelou, Audre Lorde, Langston Hughes, and more.
Like what you see? How about some more R29 goodness, right here?
This Photo Of Lady Gaga & Joe Biden Is A Meme Now
Vogue To Print Special Kamala Harris Cover
What We Know About Inauguration Day Protests