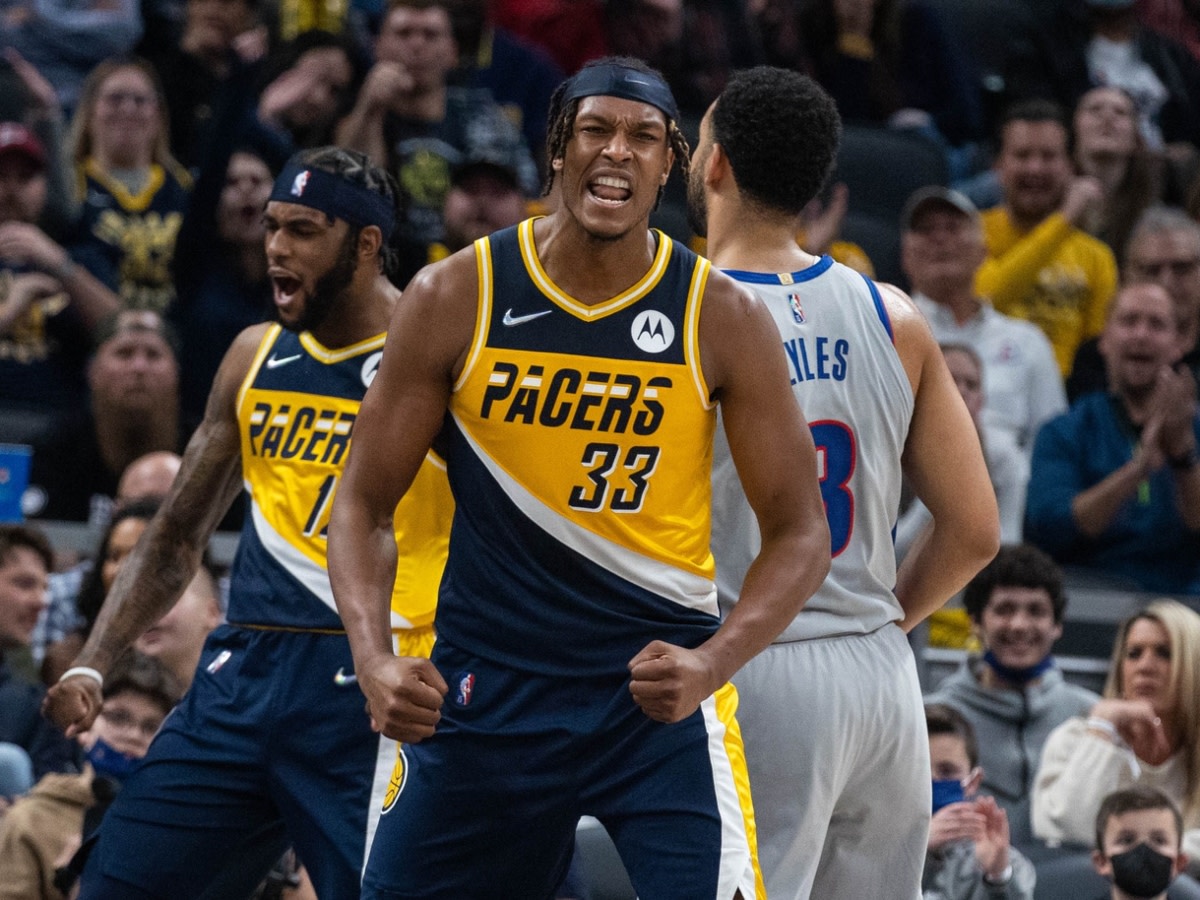 Credit: Trevor Ruszkowski-USA TODAY Sports
With the NBA season just weeks away, most teams around the association are pretty comfortable with the guys they have, but it doesn't mean that we can't expect some changes in the months to come.
Specifically, out in Indiana, the likelihood is that star big man Myles Turner is on the cusp of a move.
According to one connected league insider, his days with the franchise are numbered as both parties have reportedly moved on.
(via The Athletic's Bob Kravitz):
This much we know to be true: Turner's days in Indiana are numbered, which is both mildly sad and perfectly understandable. He needs/wants out, and Indiana is moving in a new direction. Everybody's on the same page. He will be a free agent at season's end, and he's not staying in Indiana, his home for the past seven years. There's no black hat or white hat here, not like there was with some other Pacers stars — Paul George, Victor Oladipo — who've demanded out of Indiana. Turner gave the Pacers seven good years, and at this point, heading into his eighth season, both sides have made it clear the relationship is not going to last. 
---
Myles Turner Has Always Been Loyal To The Pacers Until Now
Despite whispers and rumors of a possible trade for years, Turner always stayed loyal to the Pacers and kept planting roots in the community. Even now, Turner has not yet requested a trade.
To his credit, he's never asked out, never made a trade demand, never did anything but provide the Pacers with his best efforts. He was — well, is — the most proficient shot blocker in the league, at least on a per-game basis. He's not a big scorer (12.7 points per game) and not much of a rebounder for a player his size (6.7 rebounds per game); maybe those numbers will increase given a full-time role at the five spot. But it's been seven years; he is who he is: a good, not great, player. He's a guy who dug deep roots into the community, was a professional and, by any standards, a really important piece for the franchise.

Even when the Pacers made a low-percentage run at Phoenix's Deandre Ayton, extending the restricted free agent an offer sheet, Turner took the high road.
With averages of 12.9 points, 7.1 rebounds, and 2.8 blocks per game on 50.8% shooting last season, Myles Turner is a solid rotation player and is also widely recognized as one of the best interior defenders in the game.
He will not be a star and can only do so much on his own, but he's a guy that could change the trajectory of whatever team he joins next. Either way, it's only a matter of time before he's out of Indiana for good, and we can finally see how his game translates under different conditions.