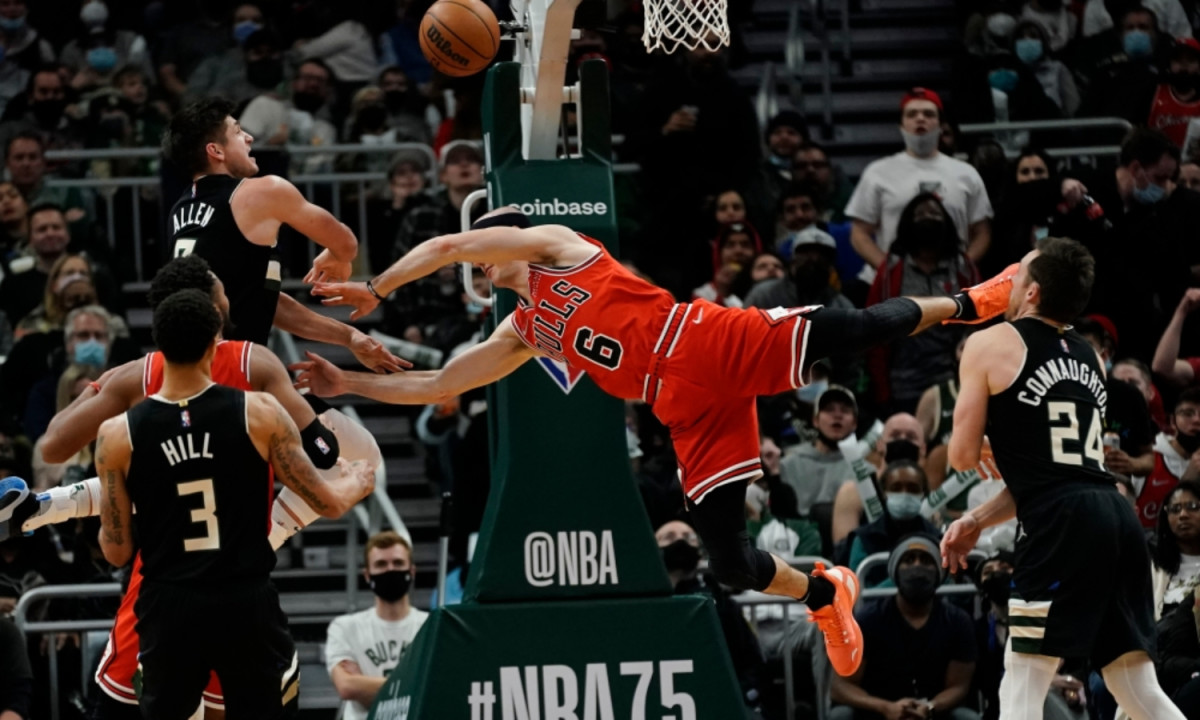 Credit: USA Today
Alex Caruso suffered a hard fall at the expense of Grayson Allen as the Chicago Bulls lost to the Milwaukee Bucks on Friday night. Caruso was fouled in the air by Allen, who was immediately assessed for a flagrant foul on the former Lakers star and ejected from the game. He received a lot of backlash after the game as fans were displeased with the play thanks to Allen's reputation as a dirty player throughout his career. 
The situation has gotten worse in the aftermath, with Adrian Wojnarowski revealing that Caruso has suffered a fractured wrist and will thus be unable to play for 6-8 weeks as he recovers from the injury. 
Grayson Allen has a history of making plays that are considered to be 'dirty' by a large chunk of basketball fans, this reputation has stuck with him since his college days at Duke. Considering that AC is also a fan favorite for Lakers fans and Bulls fans, it was unsurprising to see Allen receive a ton of hate after the news broke. 
B**lsOfAdamantium: "Grayson Allen just became a wanted man in Chicago and LA."
zaviex: "He's been hated universally since college for literally just this type of sh*t lol. Wanted nationally but will be extradited to Chicago."
King_Ded: "Shocks me. I f**king hated Allen in college and was rooting for him to be a one-and-done when he got drafted."
DeBallZach: "I better see no one defend him for this."
theyungsavage: "Bulls fans, Laker fans get out your pitchforks, no one messes with AC."
AttemptedSleepover: "I think it's safe to say everyone is a Caruso fan. Sharpening my pitchfork rn."
JasonMacIntyre: "Suspend Grayson Allen."
ManateeKing: "Grayson Allen should be done for the year."
Xadios: "Villain Grayson is back."
Apex: "Get Grayson Allen out of the league."
uncledill: "Of course it was Grayson Allen."
Alex Caruso missing 6-8 weeks is terrible news for Chicago, who had just got him back after a 13-game absence due to injury. They will also miss Lonzo Ball for a similar stretch of time after he had to undergo knee surgery, meaning defense will be a bit of a problem for them moving forward. The Bulls have lost the No. 1 seed spot and it remains to be seen how they will deal with this major loss.