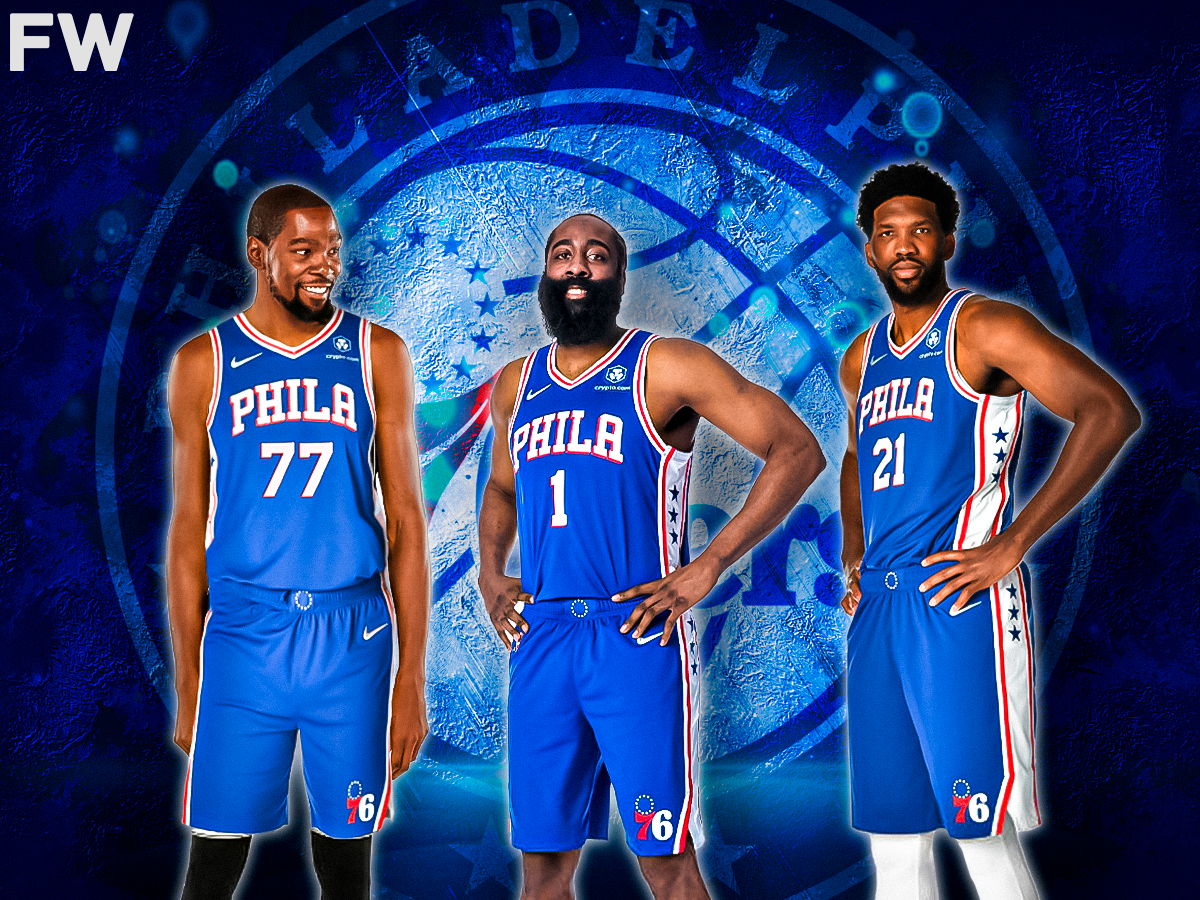 Kevin Durant has been the main talking point all offseason and he continues to dominate the headlines. His trade request before free agency shocked the NBA world and there is still no clarity on where he is going to play next season. It seems highly unlikely that he will stay in Brooklyn, however, as the relationship really seems to have gone south at this point.
The latest team to be involved in the Durant sweepstakes is the Philadelphia 76ers with the prospect of Durant teaming up with Joel Embiid and James Harden being a fascinating one. So, when Legion Hoops posed the question of how many games a potential superteam of those 3 could win, fans had a lot to say regarding that.
"I'd say 57 and that's with taking load management and potential injuries into consideration."
"Not as many as you would think because these 3 guys need tons of rest/games off. But they would win the East in the postseason tho no doubt"
"55 and then win the chip more than likely"
"60 wins easily if completely healthy. I think it'd take some time to adjust for chemistry but they'd be solid"
"about 60 and then under preform in the playoffs and not win a chip"
"40-50 games where all 3 play. Win like 70% of those and you're at like 35 wins, win 60% of the 32ish games where they don't all play, you reach 51ish wins. This definitely a playoff team not a regular season team. 3-5 seed and then a deep playoff run would be my prediction."
"If everyone is healthy, we are easily talking about 65 wins and a clear playoff dominance that would end with a championship"
"Well let's see, you got a big man who dominates the post, you got Harden who can just dominate the playmaking role and you'll have KD who can just outright score on anybody. Definitely a 65 win team"
"At least 60 plus games"
"70+ if no injuries

60+ accounting for injuries"
".500 ball club because harden and Durant can't play well with others"
"74-8 all 8 due to load management"
"Usage should be less of a problem with Embid if KD joins, so he can stay healthy and I would say about 60 games"
"62-20 (largely due to load management)"
"16 in the postseason, and that's all that matters."
"65 and win the chip"
"if they all played every game probably 77-5 no joke"
"Probably 51. I got a feeling KD is not gonna want to take a backseat to Embiid. And make no mistake about it, this is Joel Embiids team even if KD is there"
They still have some doubters, with Harden having struggled in the postseason and Embiid never having made it past the Conference Semifinals, but it's hard to see a way in which these three together won't be utterly dominant. There is just too much high-end talent for it to not work out in the end.
When these rumors first popped up, there were concerns regarding Durant's relationship with Harden, but it seems like the two are actually on good terms. It will still be very difficult for the Sixers to pull off this trade but if they do manage to do it, then the rest of the league is in trouble.