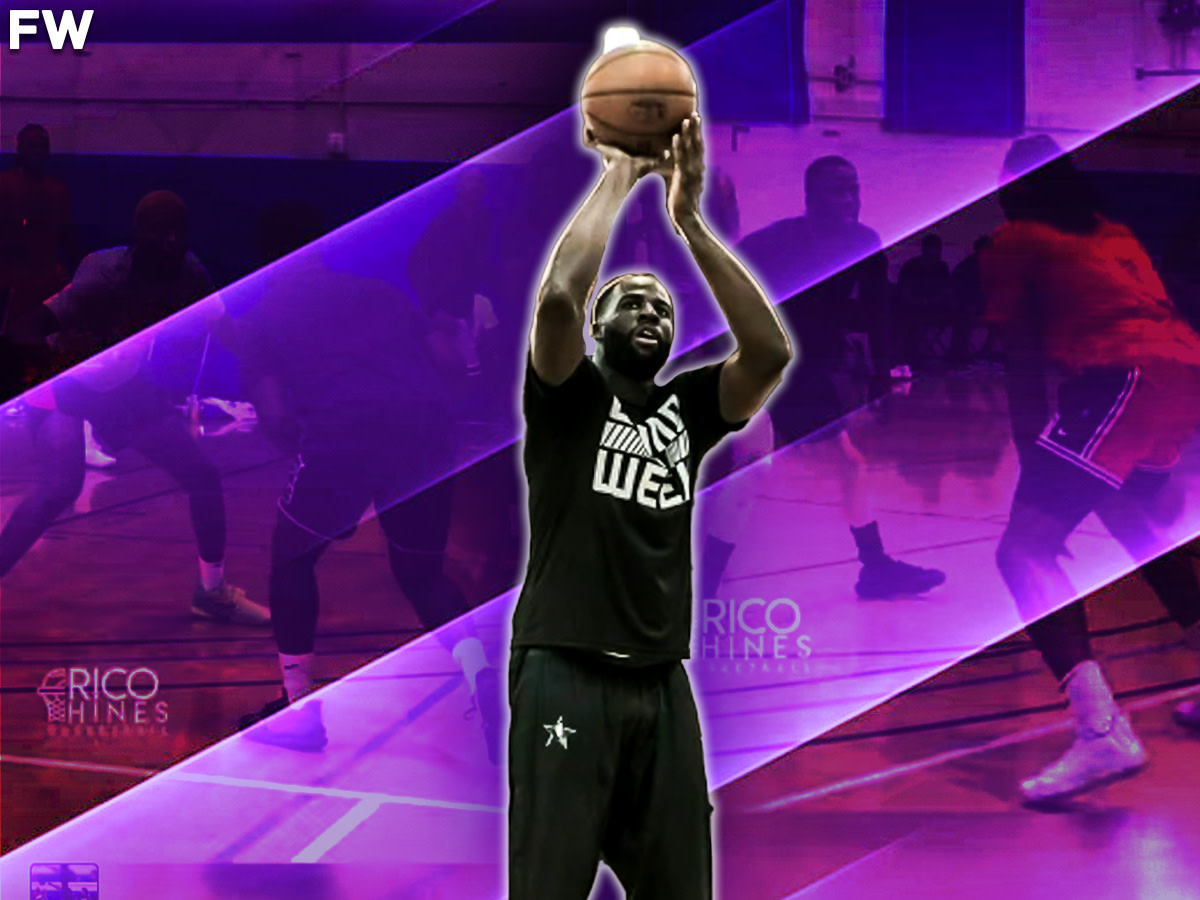 Draymond Green is one of the best defensive players in the league, capable of guarding multiple positions and orchestrating the Warriors' defense as their anchor. There's no doubt that the star looked as though he was a lock to win the DPOY award until a back injury sidelined him for an extended period of time.
Most recently, Draymond Green was spotted hooping at a Rico Hines run. Facebook page Ballislife posted his highlight tape from the run. The tape featured him doing a little bit of everything but mostly focused in on his defense and playmaking.
A lot of NBA fans reacted to the video, with many fans joking about Draymond Green's highlight tape being "regular", though others noted that he was "doing the little things" on the court.
"The most regular highlight tape ever made"

"Why Draymond green highlights are of other ppl playing basketball"

"Bruh Draymond doesn't "look" like an NBA player…I guess he's that energy guy."

"Everyone should've known they ain't scoring on Draymond that defense crazy"

"I can shoot better than Draymond Green & we can bet his house on it"

"Draymond would school anyone in any area that is out of the NBA."

"Draymond green is a good leader and also,he is the soul of GSW team."

"It's cool seein nba guys mix it up with regulars. No one on this page would score a point on him if he doesnt want you to."

"Dray does the little things . Swiss army knife" 

"Holy cow he made a couple layups and passed the ball"

"I bet if he loses, he sits for hours until Steph has next."

"Only casual fans think Draymond sucks. They think everyone suppose to be flashy lol"

"Not a big fan… but I bet he's a lot of fun to play with."

"One of the weakest highlight I've seen" 
It is clear that fans were divided on Draymond Green's highlights, just like they are divided on his style of play in the NBA. He was clearly practicing the things he actually does on the court, rather than trying to beat up on the lower competition, and it is clear that Draymond Green prioritized getting better and honing his skill rather than creating elite offensive highlights.
---
Draymond Green Will Be Key For The Golden State Warriors
There is no doubt that the Golden State Warriors are not the same team without Draymond Green, even if he doesn't give the team elite offensive highlights. He is certainly an elite player on the defensive end, and his playmaking is key for the team on the other end of the floor, as he is very adept at getting shooters open with his screens and setting the up.
The Golden State Warriors will aim to defend their title next season. Draymond Green will be key in that pursuit, and there are few teams that can match a fully healthy Warriors squad. Hopefully, we see the forward have a successful year, and perhaps we'll even see Draymond Green win the DPOY award.