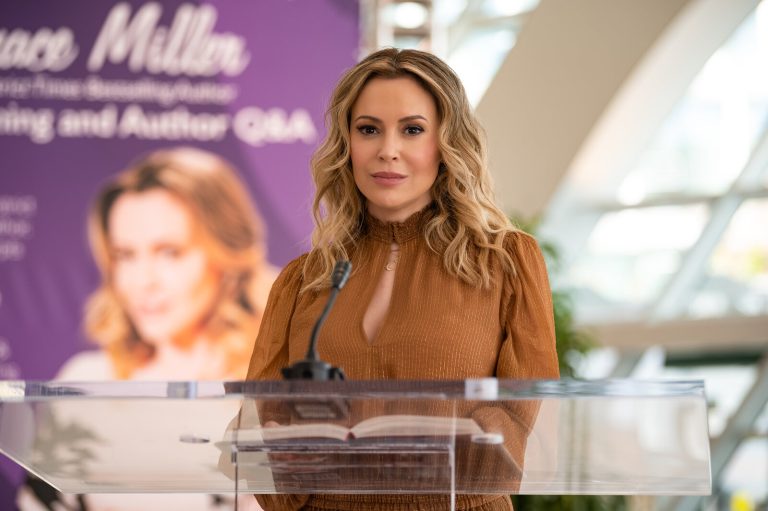 Actress Alyssa Milano's newly released Netflix movie Brazen has been described as basically what you'd get if you crossed Fifty Shades of Grey with a murder mystery. That's the snappy tease given about the film from Glamour, which adds, maybe a little cryptically: "It's bonkers. You'll love it."
The movie is based on the novel Brazen Virtue by Nora Roberts. And it actually continues a trend we've written about on a number of occasions now. Competition for exciting new projects is as fierce as ever among the various rival streaming services. As well as among filmmakers in general. And books are increasingly being seized upon as fodder for adaptations that seem to be moving through the green-light process with more rapidity than ever. Lady Gaga's latest star turn, for example, came in the Ridley Scott-directed House of Gucci. It was based on author Sara Gay Forden's The House of Gucci: A Sensational Story of Murder, Madness, Glamour, and Greed. Apple, meanwhile, is releasing a limited series, Five Days at Memorial, based on Sheri Fink's book about a New Orleans hospital during Hurricane Katrina. And Netflix has all kinds of examples -- like Nightbooks, the movie based on a children's book of the same name, from 2018. Plus series like Stay Close and The Witcher, both based on books.
The post Netflix just released a nerve-shredding new mystery movie starring Alyssa Milano appeared first on BGR.
Today's Top Deals




Trending Right Now: