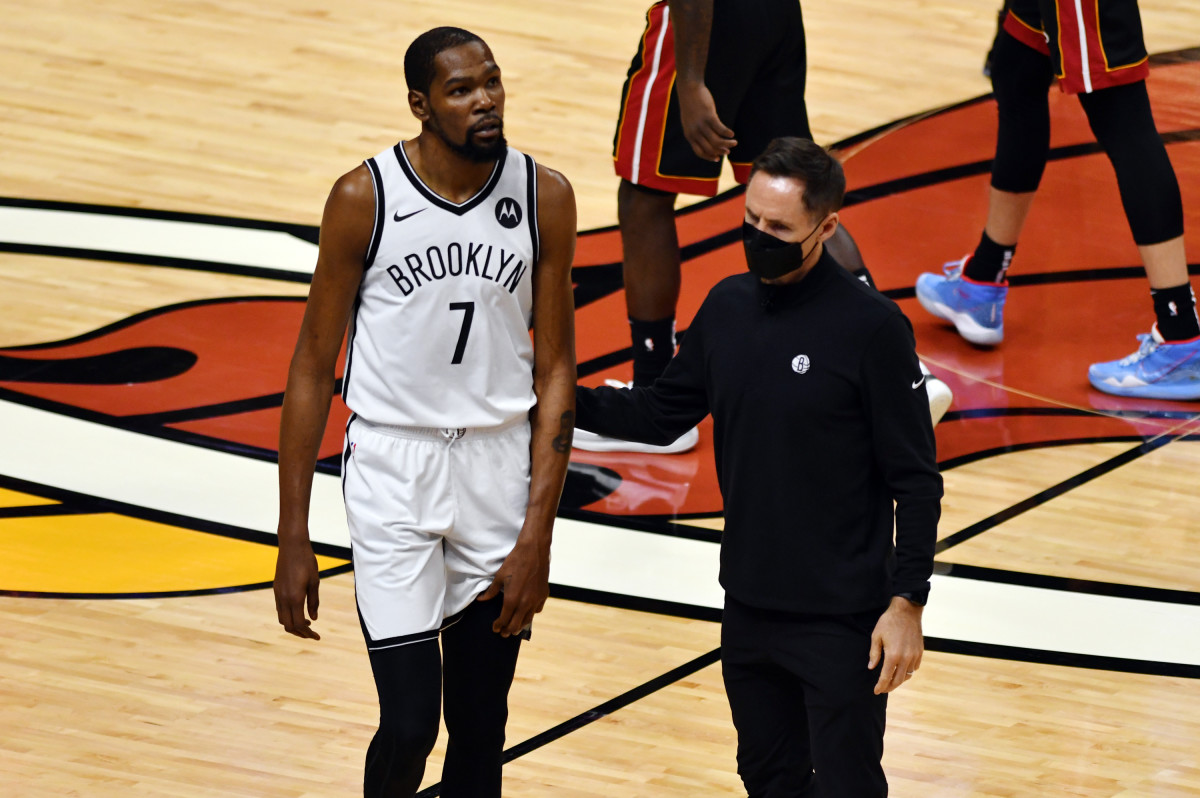 Credit: Jim Rassol-USA TODAY Sports
It has been a whirlwind summer for the Brooklyn Nets. After their playoff elimination in April, Kevin Durant sent the team a trade request that led to a series of events involving Kyrie Irving and team owner Joe Tsai.
At one point, Durant even asked Tsai to replace both Marks and head coach Steve Nash.
In a face-to-face meeting with Brooklyn Nets owner Joe Tsai over the weekend, All-NBA star Kevin Durant reiterated his trade request and informed Tsai that he needs to choose between Durant or the pairing of general manager Sean Marks and coach Steve Nash, sources tell The Athletic.

"Durant stated he does not have faith in the team's direction, sources said.
Under normal circumstances, it would be tough for any NBA coach to keep their job after getting the axe from Kevin Durant. But with very little leverage over Brooklyn, KD didn't do enough to force his team's hand, and he is set to play out at least one more season with the franchise.
---
Steve Nash Confirms He And Kevin Durant Have Moved On
Regarding Nash, he is holding no grudges against Durant for what happened. In fact, according to the head coach himself, he and KD have already moved past that whole ordeal.
"We're moved past it," Nash said to ESPN's Malika Andrews. "We have a history. Even when the report was out there, I never felt it was black and white. We had not spoke. So, these things happen. They happen many times in our league, people have gotten past it many times as well. And now we move forward and we're excited. Kevin's been exceptional not only in open gym but in training camp the way he's brought his energy…"
With no other options, Kevin Durant was essentially forced to make peace with the Nets, and it's likely he'll be wearing that jersey for several years to come. He better get comfortable.
As for Nash, while his job may be safe for now, he needs to have a big season if he wants to have any sort of long-term security in the role. After everything that has happened, another disappointing season could be the final nail in his coaching coffin.
For now, we will all just have to wait and see how Nash leads this group amid so many unanswered questions, but it will be an interesting journey to behold, at the very least.