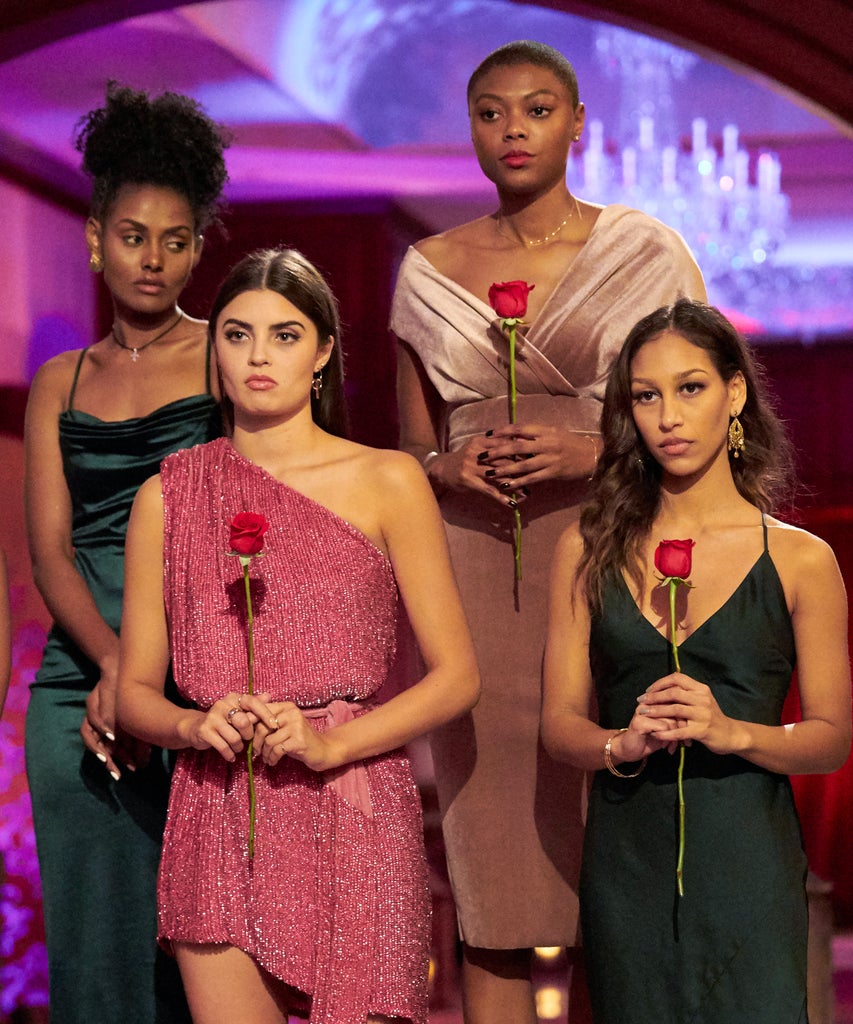 When reached by phone from her pandemic hideout in New Jersey, Kristin Hopkins, a contestant on season 25 of The Bachelor, promised that rumors of women from Matt James' season unionizing are exaggerated. "I wouldn't exactly say that we are doing that," she laughed. The internet meme/rallying cry sprung up in the wake of the greatest racism reckoning in a franchise not unfamiliar with offensive controversy. 

On Thursday, February 11, each member of the current season's cast — which was highly publicized as "diverse" and includes 25 women who identify as BIPOC individuals — posted a single mauve-colored statement on Instagram decrying "any defense" of "racism" and "racist behavior." Without specifically naming Chris Harrison, the women publicly criticized the Bachelor Nation host and executive producer for a racist and mansplain-y Extra interview with The Bachelorette's first-ever Black lead, Rachel Lindsay. An incredibly tone-deaf Harrison spent the interview defending Bachelor season 25 frontrunner Rachael Kirkconnell for attending a slavery-era "themed" party a mere two years before competing for the heart of Matt James, the first Black Bachelor. 

"I would say that we all came together. We knew that this season was, like we said in the statement, meant to represent change in the franchise," Hopkins, 27, explained. "So to see people who have positions [of power] in the franchise not acknowledging that or saying things that are not aligned with that, we definitely wanted to let everyone know that we want change in the franchise." 

Such a cast-wide statement was unheard of until that winter day. The men of Tayshia Adams and Clare Crawley's season followed suit with their own statement. Two days later, Harrison announced he would "step aside" from the Bachelor-verse for an unspecified amount of time. 

Tonight, March 1, the Bachelor women will speak out on everything but the current racism crisis on their season during the annual "Women Tell All" special, which was filmed in Los Angeles days prior to Harrison's appalling Extra visit. But, right now, a pair of cast breakouts are ready to reflect on their history-changing decision to take a stand, and why it really all comes down to that single word from Hopkins — "change." 

"Now that I do have a larger platform, I feel like I have somewhat of a responsibility to the people who are following me. It felt really good to use that platform — to use our voices for something that matters. Especially something that matters a lot to me as a Black woman," Chelsea Vaughn, who famously made Bachelor history by sharing her natural hair journey with Matt James, told Refinery29. Initially, Vaughn, a 28-year-old runway model, was "a little bit nervous" she would lose fans for speaking out against the institution that gave her a ballooning followership (she says she went from "a couple thousand" followers before the January season premiere to her current flock of 77,300). 

Vaughn ultimately decided to share her feelings because the fallout from the Harrison interview "weighed heavily" on her, as did the concrete Bachelor problems she had personally witnessed, like the lack of screen time for BIPOC cast members despite season 25's historical diversity. "[The statement] had such a positive response. So that was just kind of a bonus," she added.  

The ubiquity of the statement from the cast only helped push the positivity. While Bachelor Nation women of color have previously spoken out about abuse from racist trolls, the cast protected each other by posting the statement in solidarity. Now, no single constant can be labeled as a rabble rouser to potential haters. This was part of the design of the series-changing announcement. Six women of color crafted the statement together and shared it with the entire cast, Vaughn and Hopkins both confirm. The identities of these women will remain a secret until the season finishes airing, if not in perpetuity.  

"I think that definitely did help ease some of the fear that there might have been from some people to say something … We're all here to support each other," Vaughn said, thinking back to the "sense of community" she felt with the other women of color during her season. The statement is a clear extension of that bond. 

Kristin Hopkins — who made hair-protective Black viewers feel seen this season by slipping on a shower cap during a high-moisture challenge — is thankful the Bachelor community came together to post the "much more powerful" shared statement. It gave Hopkins a chance to consider her feelings on the subject before jumping into the social media fray in the "heat of the moment" with an immediate comment. 

"If you go and see my Twitter, I am not a person who holds back what she feels, especially in the moment about race issues. Because it's something that I live with and I deal with every single day," she said. "[People of color] do like the franchise. We do enjoy the show. We do enjoy the strong connections that we formed from everybody from other contestants to producers and people behind the scenes. So we do want to continue to be in the franchise. We just want it to be a safe environment for everyone."  

Rachel Lindsay, now a TV host, podcaster, and arguably the most powerful Bachelor Nation lead, is a part of that "everyone." She was specifically referenced in the statement, with the season 25 cast writing, "We stand with her, we hear her, and we advocate for change alongside her." As a longtime viewer of the series, Vaughn is struck by Lindsay's tireless efforts for on-screen inclusion since filming Nick Viall's season of The Bachelor in 2016. "It's not like her work has been able to stop. She's been thrust into this role of being the voice for all people of color in the franchise in the world," she said. "I know this has to be exhausting. The cast just wanted her to feel heard and seen and valued — for her to know that she's not alone." 

Women like Vaughn and Hopkins ultimately want the best for the series that has put them on a national stage. "If we truly didn't care, we wouldn't be so invested," Hopkins said. "We do believe in what The Bachelor means to people, all over the country and all over the world. We're doing this because we think it's going to be helpful and be a good thing. Not because we want to disrupt people." 

Now, it's time to look ahead — beyond "Women Tell All" and towards Bachelor Nation's next big tent poles, spring show The Bachelorette and beloved summer mess Bachelor in Paradise. Access to these series — and the fame they bring — is what usually keeps Bachelor Nation stars quiet on glaring issues in the franchise. This time, the bait didn't work. Chris Harrison's future as Bachelorette host is a question mark at best, and the slot for the series' next lead is still vacant. Uncomfortable Conversations with a Black Man author Emmanuel Acho has been chosen to host the upcoming "After the Final Rose" special (finalist Kirkconnell posted and deleted an influencer-esque photo of herself reading Acho's book). Last week, Bachelorette fan favorite Ivan Hall said he "wouldn't feel comfortable" on the Paradise beach with Harrison as host.

When it comes to the possibility of seeing Vaughn sipping margaritas on a beach in Sayulita this summer, she says she'll "wait and see" what unfolds in the Bachelor-verse, hoping the reckoning will change the franchise for the better. But for now, with Lindsay being forced to deactivate her Instagram account over the weekend due to continued racist bullying, Bachelor Nation is far, far away from Paradise. 
Like what you see? How about some more R29 goodness, right here?
The Bachelor Brushed Past Bri's Huhe Reveal
Who's Still On "The Bachelor" With Matt James
What Should The Bachelor Do Next About Victoria?