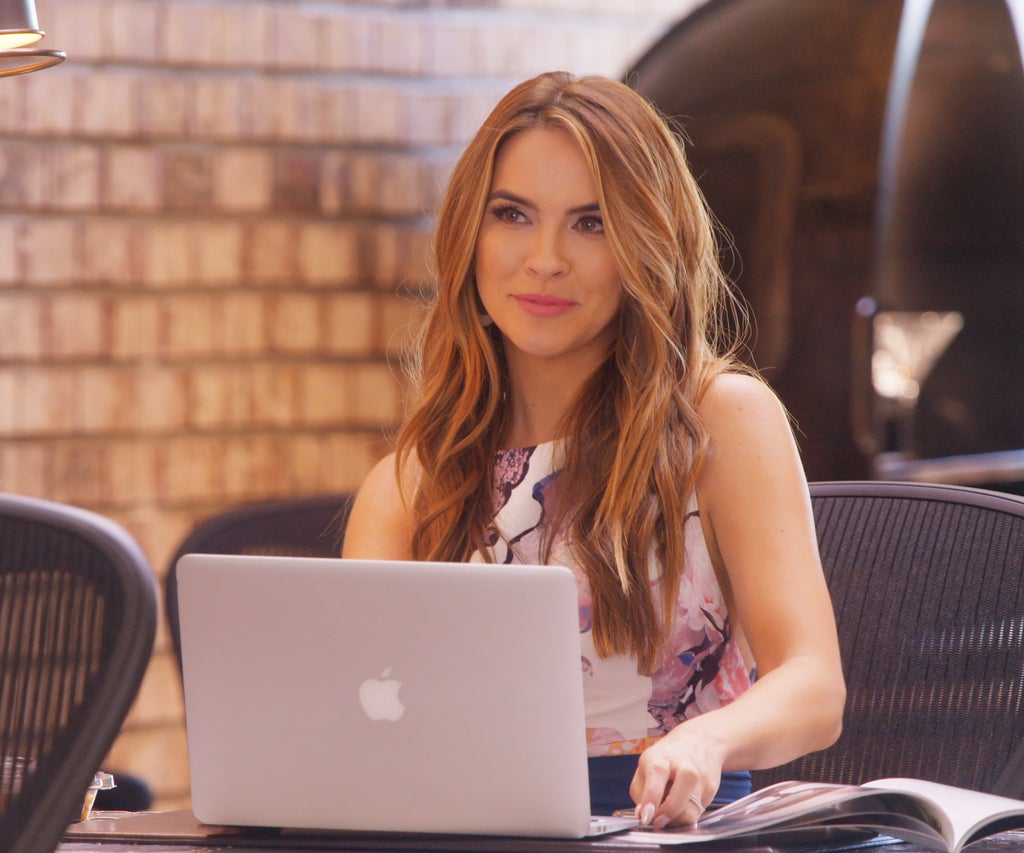 The first season of Netflix's real estate reality show, Selling Sunset, ended up focusing more on the drama between the stunningly beautiful realtors of West Hollywood's Oppenheim Group than on the actual luxury houses they were selling. Considering the series comes from the creator of The Hills, that was probably to be expected.
The second season doubles down on that drama, and it's all made even juicier thanks to the fact that multiple cast members have made tabloid headlines between the show's March 2019 premiere and the May 2020 season 2 debut. Between Heather Young's new relationship with fellow real estate reality star Tarek El Moussa, Chrishell Stause's high-profile marriage to This Is Us star Justin Hartley (and its subsequent demise), and two weddings being planned, there's plenty of ground to cover — even without the massive square footage of multi-million dollar Hollywood Hills properties.
The first season's major drama revolved around the engagement of Oppenheim star Mary Fitzgerald and her younger model boyfriend Romain Bonnet — and the apparent grave insult of Stause asking whether the couple planned to sign a prenup. But Fitzgerald wasn't the one who got the most worked up about the situation. It was actually her BFF, the delightfully catty Christine Quinn, who stirred the pot the most, and the season ended with a major showdown between Stause and Quinn.
The women are all much more comfortable on camera this year, and Netflix managed to capture plenty of their signature reality TV fights. Season 2 includes the addition of a new cast member, some even higher-profile properties — one of the agents nabs a massive $75 million Beverly Hills compound suitable for a billionaire — and a cameo from another reality TV franchise.
Episode 1: "Let the Real Estate Games Begin"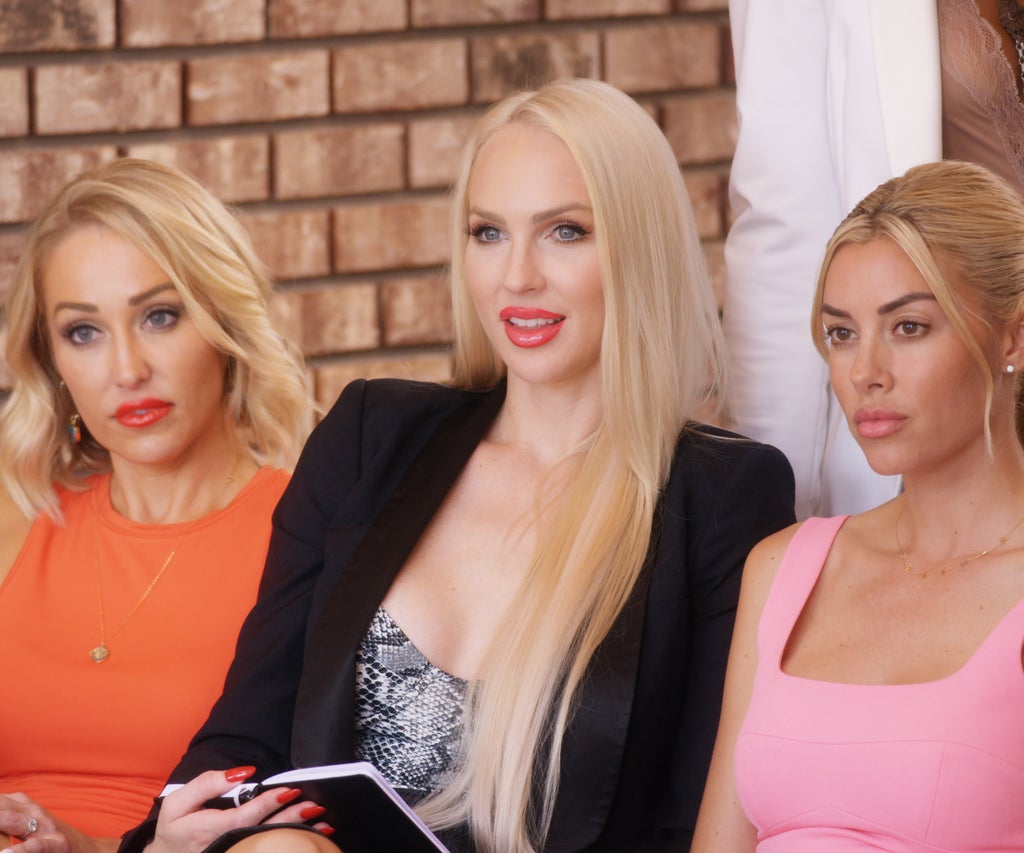 There's some major first day of school energy happening as the women begin to fill us in on what they've been up to since the first season of the show. Mary and Romain are planning their wedding, Maya had her son Aidan, Heather's relationship with new BF Tarek is getting serious, and Chrishell moved into her dream home in the Valley with her husband (for the non-L.A. literate, the Valley is the area just over the Hollywood Hills, less than 10 miles from the Oppenheim Group's West Hollywood office but sometimes an hour-plus drive, thanks to L.A. traffic).
But the busiest cast member was Christine. Nobody's seen her in a hot minute, since a rich tech guy swept her off her feet and they left to travel around the world together. They ended up getting engaged, and even Christine's supposed BFF, Mary, had to hear the news secondhand. There's a weird rift between them, Mary says, and she doesn't really know why.
Christine naturally makes a splashy entrance, walking down the stairs of a private jet and straight into a Rolls Royce. She shows off her giant engagement ring and her new man — but just know that said man, Christian, gets a closeup of his own only AFTER the bling. The duo have been to the Maldives, Bordeaux, Capri, and other luxury destinations around the world, but they're back to their real life in a gorgeous Hollywood Hills home (which is actually where they live — the windows in the shot of the couple walking inside are definitely the same windows Christine's posted in her quarantine insta photos).
While Christine and her perfectly lacquered red lip return home, Maya makes her triumphant return to L.A. (remember that she lives in Miami with her husband, and comes back to L.A. for work) and heads for a walk in the park with Heather, where the two women wear athleisure for what is probably the first and last time on this show. Maya talks about her delivery in a refreshingly real way, and Heather fills her in on the details of how she met Tarek: They were partying on adjacent boats in Newport Beach on the Fourth of July, and they started texting and flirting and began dating seriously pretty soon after. They've been together for about a month, which means it's August or early September. (Heather also mentions spending some time in Sweden, presumably with the boyfriend she was dating last season, but that's clearly over now).
At a new $5.75 million listing, Jason drives Mary and newest Oppenheim realtor Amanza Smith — an old friend of the former couple who has been working as an interior designer and home stager for the past few years — in his restored custom Bronco. It turns out that Amanza met Mary and Jason nearly 20 years ago, and has been close with both of them ever since. Jason even co-signed for an apartment for Amanza and her kids after she got divorced, and now that she has her real estate license she's ready to add another job to her resume.
In the office, Chrishell tells bosses Jason and Brett that, since she's moved to her own dream home in the Valley, she'd love to build up business for the Oppenheim group there. (She really wants to do it: Later, they show her hustling around to various construction sites and developments trying to drum up business.) Everyone discusses Heather's new boyfriend and how fast the relationship seems to be moving, and Davina Potratz heads in to work — but Amanza's sitting at her desk. Davina isn't pleased that the new girl is in her spot, and Amanza's not too pleased being called the "new girl," since she's been working with everyone as a designer and has known Jason and Mary for almost two decades. (But, like, it's technically true! She is the new girl in the office, or at least on the show!)
Christine finally makes her grand entrance in her trademark bold red lip, talking about her fiance (who retired at 35) and her favorite destinations from their around-the-world trip (Dubai, Bali, and Indonesia… which is the country Bali is in, but okay).
The big event of the episode is the open house the Oppenheim Group is holding in the Hillside House, a.k.a. the massive development the women visited multiple times in season 1. The house is finished and finally ready to go on the market after three years of development, and this event is their best chance to sell.
Romain hits up the open house with Mary, and they discuss how they're planning a pretty small wedding (about 60 guests). Davina tells the other girls about how she and her boyfriend went out to dinner with Christine and Christian one night, and the tab ended up coming to $3000. No, $750 a head is not a normal dinner expenditure for Davina and her BF. But, as it is becoming increasingly clear, Christine's new man is absolutely loaded.
Drama of the Day: Chrishell and Heather have a heart to heart about her saga with Christine. Apparently, Christine had a party that everyone was invited to but Chrishell, though she did send Chrishell flowers when her dad died. If it were up to Chrishell, she'd just steer clear of Christine altogether, but since they are on a reality show together, a facedown is inevitable (it's just going to be in the next episode).
Real Estate Porn: Hillside House (of course), the giant-ass luxury lot that's finally finished. It's hitting the market for $43.9 million (which means a potential $1.3 million commission on this one sale), and has 300 degree views, a 12-car garage, a home theater, in-home spa, and many other displays of obscene wealth in its four stories (a giant closet that looks like a Brooks Brothers, a massive wine cellar, and a TV screen that comes up from the pool).
Inspirational Boss Lady Music Cue: Don't pretend you don't notice the girl power anthems that tend to play as the women get to work. This episode's best: "Float like a butterfly/sting like a bee/because everywhere I go/all eyes on me."
Number of Blazers: 4 — Mary wears yellow and Chrishell wears pastel purple to visit the Hillside house, Chrishell wears a blazer dress to the open house, and Christine wears a fab gold sequined one in a confessional.
Awkward Mentions of Justin Hartley: The office teases Chrishell about a spread of Justin in Beverly Hills Lifestyle Magazine. "Thank god I married him, because I would be like 'oh my god,'" says Chrishell of the people crushing on her husband. It's cute that people have his picture on their walls "because I know where he sleeps," she says. (Cracks Brett, "most nights.")
Episode 2: "Billionaires Have Compounds"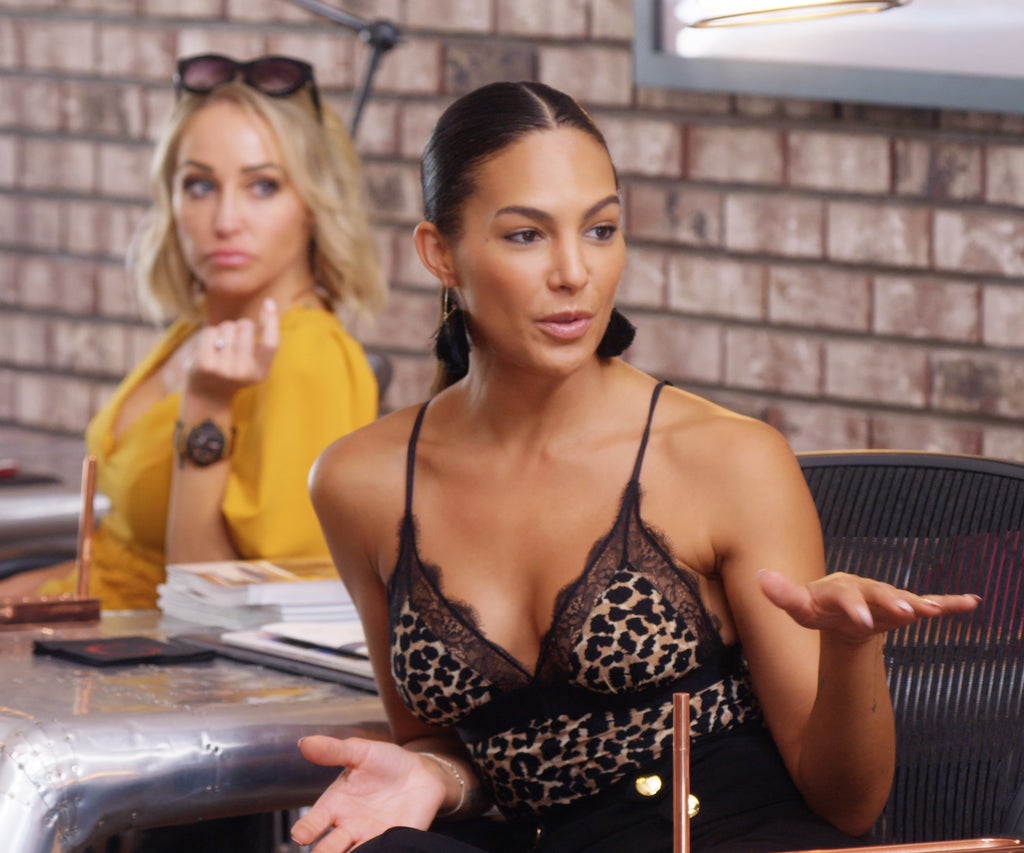 It's still party time, a.k.a. time for these women to cause inter-personal conflict while on the clock. Mary points out that Christine was pretty judgmental about it being "too soon" when she and Romain got engaged, but she just met this dude and now she's engaged too. She's not wrong! And this will come up later in a very dramatic fashion, of course.
But the main event is clearly the highly anticipated showdown between Chrishell and Christine, who interrupts Chrishell's conversation with what is essentially a Bachelor-style "can I steal you for a sec" so the two can finally talk face to face.
This clearly staged convo includes Chrishell very rationally telling Christine that she wants to associate with her as little as possible, considering Christine continues to do a lot of hurtful things to her. And she has receipts, like when Christine told the other women not to like Chrishell's instagram posts, or when she had a cocktail called "Chrishell's Two Faced Tonic" at a party Chrishell wasn't invited to. Christine's response is that Chrishell didn't invite her to a party, but Chrishell points out that it was on the same night as Christine's, and that she didn't make fun of her on the drink menu. Then, on top of it all, Christine can't even remember why she sent Chrishell flowers, and she does apologize before her fiance Christian comes over to introduce himself. (She is wearing her trademark red lip, and it's a gorgeous matte color this time.)
Did anything get resolved? Eh, probably not. But they did have a reality TV-ready confrontation, and that's what's important here.
Davina takes Christine to a GIANT nine-bedroom house in Beverly Hills that sits on just over an acre of land. It's owned by a developer who has bought multiple condos from her, and he's thinking of letting her get the listing for his make-or-break deal: This is a massive property that he wants to sell for $80 million to $100 million. The bad news: The property isn't really worth that much, so it'll be a tricky deal. Davina knows Brett and Jason probably won't go for it at the price the owner wants, but since she has her own brokerage license, she says she's going to take the listing even if the Oppenheims don't want to take it on.
Meanwhile, on Sutton Street (in the Valley), Chrishell shows Maya her latest listing. It's a beautiful house, but the 405 Freeway is nearby so there's a lot of street noise that might make it hard to sell. As Chrishell coos over baby Aidan, Maya asks about her kid situation with Justin. Chrishell says it's insulting when people ask how old she is, and they still haven't decided what's right for them. They also talk about Christine's apology, which Chrishell seems to be taking with a grain of salt. She says it felt more genuine than any other time she's gotten into it with Christine, but who knows with that one — she certainly knows how to stir up drama (and, like any respectable reality star, how to make situations about herself).
Mary visits a homeowner named Lizzie who is planning to list her giant place on Doheny — it's got five bedrooms (including a guest house) and is basically Mary's dream home. She wants the listing, of course (she's thinking around $9.7 million), but she really drools over the house, especially since she's getting married in a few months. Did she mention she's getting married? Because she is. And this will become important later. Anyway, Lizzie promises to get back to Mary after taking a few more realtor meetings.
In Brett's place, which is a gorgeous condo that took two months to renovate on Doheny (it cost $2.8 million for 3 bedrooms, 4 bathrooms, and 3,144 square feet), Heather comes over for a slightly creepy employer-employee chat: "Where would we be if we started dating five years ago?" she asks her boss, which seems like a weird question to ask your boss, especially if you're in the honeymoon phase of a new relationship. He jokes that they'd be divorced and gives her a hard time about her relationship before telling her that he's legitimately happy for her. She tells him that she feels protective of the relationship, but even more than that, she feels protective of her partner's children. It's a very lovely sentiment, but still doesn't make it less inappropriate that she's having a flirty conversation with her boss.
Mary sets up a listing over on Evanview Drive (3 bedrooms, 3 bathrooms, 4,622 square feet for about $8 million, which would mean a potential commission of $240,000) when Jason (a.k.a. "babe") calls to tell her that they got Lizzie's Doheny listing. Amanza stops by to help decorate, and they celebrate together.
Amanza reveals a little bit more of her back story, too: She's been decorating for a while, but was bit by the decorating bug as a kid who would buy a gallon of paint and DIY everything she could to get out her creative energy. Now that she's an agent she can list, stage, sell, and decorate the house and make a ton of money.
Mary, meanwhile, tells Amanza that she and Romain want to cut their invite list a little bit more, and that Romain wants to cut Davina. He feels that she was disrespectful and negative when she made fun of the not-real ring he proposed to Mary with last season, and Amanza totally gets why he wants to cut her from the list. The problem: Who's gonna tell her? (If you suspected this will be an ongoing source of problems, you would be correct!)
Back in the office, Chrishell and Jason talk about how they want to become players in the Valley real estate game, and Davina tells Brett and Jason about the $80 million listing. The brothers tell her what she already knows, that the price is way too high and it probably wouldn't sell, which means the company would be out of pocket on whatever marketing budget they'd allot for the sale (because they wouldn't get the commission to pay for it). She tells them that it only takes one, but they tell her she's being naive. Eventually, they relent: If she can talk the client down to around $50 million, they're in. Later, Davina stumbles her way through the conversation — you can tell she was nervous for this part, since she's usually very composed — and eventually the client agrees to give her a three-month "pocket listing" — a.k.a. a private listing that she can show to exclusive clients — for $75 million.
Amanza invites everyone to a beachfront party at one of her Malibu listings (with the owner's permission, obviously). The dress code for this party? "Obviously slut," cracks Christine. Heather talks about Tarek's upcoming birthday, and mentions that she texted his ex-wife to talk to her about it. It's surprising to Amanza, who's a single mom and thinks it's great that Heather and Tarek's ex are in communication. She's never met her ex's girlfriend even though she spends time with her kids, but she's a little alarmed at how quickly Heather has met Tarek's children.
Heather immediately gets defensive, but Amanza explains that she's just worried for the kids because she knows from experience how tough the situation is. Heather, unfortunately, doesn't really internalize that Amanza is mostly complimenting her for how she's handling the situation, and instead fixates on Amanza criticizing her relationship.
Real Estate Porn: It's gotta be that gorgeous $10 million Doheny dream home, right?
Manufactured Drama of the Day: Heather getting bizarrely defensive when Amanza essentially compliments the way she's dealing with Tarek's kids, just with a word of caution from someone on the other side of the situation. It's a very strange fight!
Inspirational Boss Lady Music Cue: "All the little haters on hater street/know I got the kind of rhythm that can rock that beat…I'm a woman I don't need no favors/you should've seen me coming/I'm a force of nature."
Number of Blazers: 2 — Christine's pretty pink at the Beverly Hills compound, plus her gold sequined number from her confessionals.
Awkward Mentions of Justin Hartley: The kid conversation with Maya. Listen, it's a strange experience watching a woman who seems like such a happy newlywed when you know that a major bombshell is going to drop in her personal life in a few short months. It's awkward to watch, and it's also sad to know that a person is going to experience profound sadness in the near future.
Episode 3: "Sorry, Not Sorry"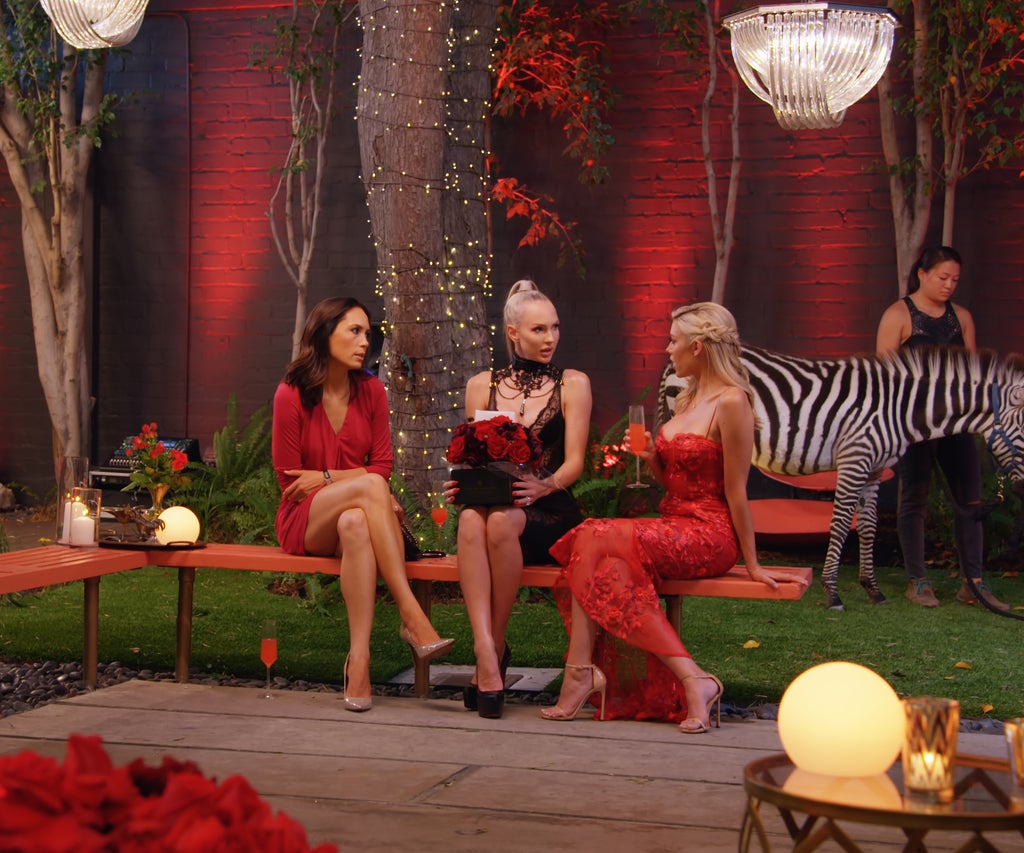 Davina informs Jason and Brett that she's taking the Beverly Hills listing for $75 million no matter what they say. And since it's a pocket listing, they don't need to spend any money on marketing. The twins discuss whether it's embarrassing to send clients to an overpriced listing, and Christine and Maya both stick up for her — they're giving Davina a hard time, and you can waste just as much time on a $2 million listing as you can on an $80 million listing. Christine (probably correctly) points out that if it were Mary, they probably wouldn't be giving her nearly as much pushback as they gave Davina. The stakes are high because the guy is a big property developer, which means they could potentially get millions of dollars of other property to sell for him if this deal works out, but listen — Davina knows it's high pressure, and she wants to take on the challenge.
Davina, Christine, and Heather go get matcha, where they somehow continue to discuss the Amanza situation. It's clear this is turning into a whole ~thing~, which feels utterly bizarre considering it is entirely reasonable to caution someone about moving fast when kids are involved in a new relationship. Then again, the biggest drama of season 1 revolved around Christine jumping to Mary's defense in a fight Mary clearly didn't care that much about, so why wouldn't season 2 have just as nonsensical a conflict?
You know what every reality show needs after a scene setting up a flight that's probably going to play out soon? A party! It's beach party time, and everyone brings booze to hang out at the beach. Amanza and Heather finally have their confrontation, and it's extra awkward because the producers made all the other women sit there and watch while it was going on. Amanza tells Heather her side: That nobody goes into a relationship expecting it to fail, but you have to be more cautious when kids are involved. Despite that being an inarguable fact, Heather somehow tries to argue that she was right, and that Amanza needs to butt out of her situation because she doesn't know her that well. Which, to be fair, is also a very true fact, but is not necessarily the mature response when someone tries to give you advice with what seems to be a genuine concern for your delicate situation. But anyway!
This gorgeous Malibu beachfront backdrop isn't just for that insane fight, it's for ~more drama~, this time about Mary and Romain's wedding. Mary tells the girls that they're trying to cut their guest list down from 60, and there's someone that Romain doesn't want to invite but she does. Mary diplomatically avoids naming names, but Romain DGAF and is like, "IT'S DAVINA SHE TALKED SHIT ABOUT ME AND IT WAS DISRESPECTFUL."
Christine accurately says that she talks shit all the time but still expects to be invited places, and later defends Davina further since they've gotten a lot closer recently. Plus, "I had not seen Romain be so shirtless and passionate," she jokes. Mary tells everyone not to tell Davina because she wants the news to come from her out of respect, and that she'd been putting off the conversation because she was hoping to change Romain's mind. Amanza correctly points out that Davina should've known first, but they'll try to keep their mouths shut.
Chrishell has her first potential listing in the Valley, a house from a developer who could potentially have a lot more work if she can sell this property. He's put a lot of work into the home, spending almost as much pushing back land and building a retaining wall as he did on the actual house, and he's ready to give her the listing even though he wants $5 million and Chrishell doesn't want to go over $4.6 million. Jason pitches Oppenheim Group's trademark gorgeous fashion photography, drone photography, and extensive marketing plans, and the developer gives Chrishell the deal.
Since Christine is the resident troublemaker, she brings Davina to check out her engagement party venue (the theme: "sexual Phantom of the Opera"), tell her all about her grand plans for a zebra and fire dancers, and then tell her that Romain doesn't want her at the wedding. Davina wishes Mary came to her first, which is also something that Mary surely wishes too, but it's too late now. Christine is angry that Chrishell gets away "scotch free" after mentioning a prenup, and she wanted to warn Davina because "I didn't want this to be an Eyes Wide Shut situation. Like, you needed to know." Question: Is there some sort of mask orgy that we don't know about? Because that doesn't mean what Christine thinks it means, right?
At a group dinner (minus Amanza, who's having mysterious problems with her kids' dad), Jason and Brett have a champagne toast to all the success the company has had in the past year, despite a soft real estate market. Chrishell just got a $5 million listing, Brett is in the middle of closing a $17 million listing, and they're proud of everyone.
Mary is still stressed out about finding a wedding venue, and Jason offers his house. Maya suggests that Mary tell Davina the news, and Chrishell says that she thinks all the women in the office would stand by their man if he felt really strongly about something. Nobody would pick the office over their husband. But, as Christine points out, Davina isn't "the office," she's a person.
Christine invites everyone to her engagement party. The dress code is "casual," she says at first, before correcting herself to a black and red "sexual cocktail party," so maybe she actually meant what she said about Eyes Wide Shut.
Unsurprisingly, Romain is not okay with getting married in his fiancee's ex-boyfriend's home. He gets very passionate about it, and then they bicker more about the Davina situation. They're going to see her at Christine's party, and Mary thinks he's being a dick about everything. Romain's response? "I don't give a fuck." This man stands by his convictions, that's for sure.
Strangest Boss-Subordinate Conversation: In the office, Jason talks about how he loves dating women without a favorite sports team so he can make his favorite teams hers. As proof, he asks Mary her favorite football team. She says it's the Redskins, then they talk about being besties and hug. Not a typical boss-employee relationship, okay?
Intricate Braid Alert: Christine's beach party 'do included two beautiful braid buns, plus a french braid up the back of her head. Meanwhile, Heather showed up late because she was getting her hair braided, but it was legit just two regular french braids you could find on any schoolyard. Girl, get yourself to YouTube and teach yourself! It's not that hard!
Real Estate Porn: Chrishell's new Valley listing, which has a basketball court, LED lights under each step going upstairs, a really beautiful closet, and plenty more gorgeous features.
Manufactured Drama of the Day: Two conflicts are clearly brewing: The Amanza/Heather fight, which seems like the most manufactured one, and the Davina/Christine/Mary situation. That's clearly headed to clusterfuck territory, but the Amanza/Heather fight feels like good old reality producer meddling.
Inspirational Boss Lady Music Cue: "I'm a VIP/I'm a VIP/I said you could get to know me/put you on the level."
Number of Blazers: 4 — Christine's sequined confessional look, Christine's red and pink number while touring the engagement party site, Mary's classic black over lingerie in the confessional, and Christine's snakeskin blazer draped over her shoulders at the group dinner.
Awkward Talk About Justin Hartley: Chrishell talks about how everyone in the office would side with their man over their workplace.
More episodes to come.
Like what you see? How about some more R29 goodness, right here?
<em>Selling Sunset </em>Is Only <em>Technically</em> Real
Everything We Know About Kissing Booth 2
Too Hot To Handle's Francesca Shares Beauty Tricks