The rise of All-Star duos has given the NBA more parity in recent years. After the dominance of the Golden State Warriors and their Big Four, it is clear every team needs multiple All-Stars to compete. This season, we have a ton of talented duos that put up big numbers and dominate the game.
In fact, some teams have more than a dominant duo and might actually have a trio. But when looking at the best two players on each team, it is clear that a Batman and Robin partnership is the most common in the league right now. By analyzing statistics, talent and impact; here are the 10 best duos in the NBA this season.
10. Jimmy Butler and Bam Adebayo – Miami Heat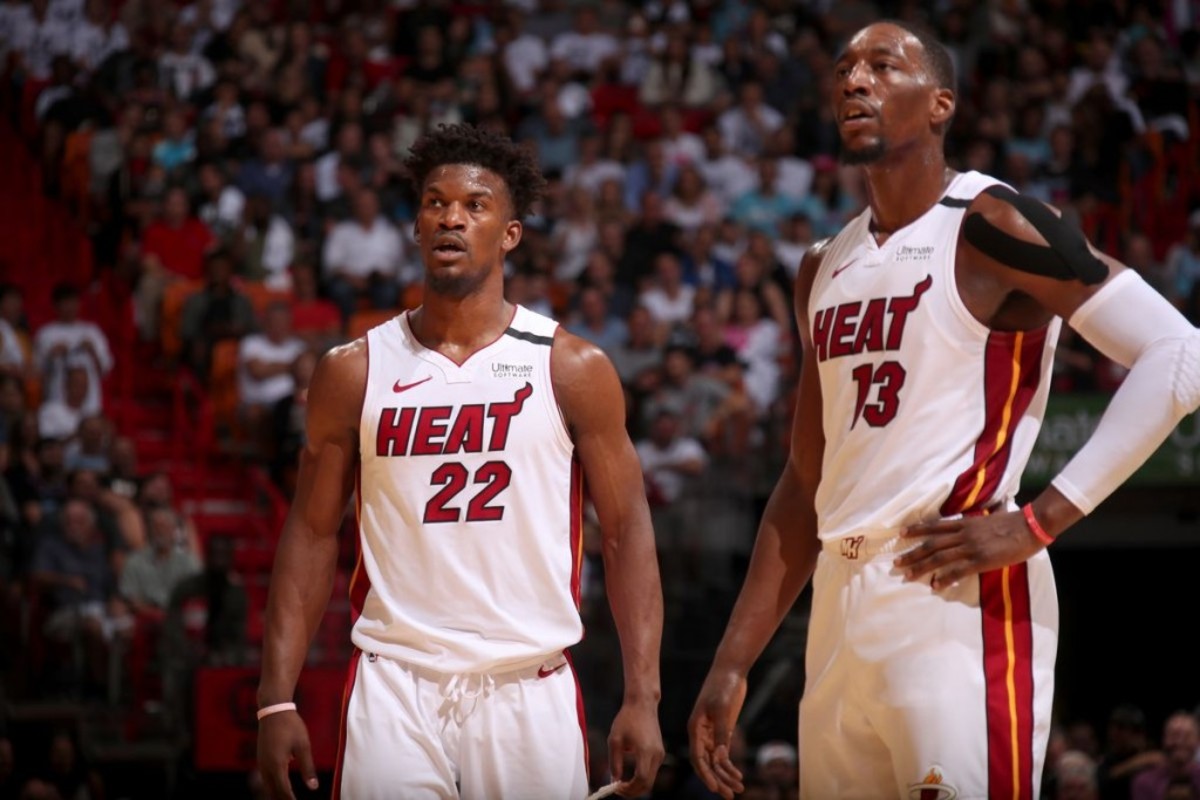 Jimmy and Bam are no longer one of the most dominant duos in the NBA because their team record is surprisingly poor. Last season, they might have been in the top-3. The Heat were a dark horse all season long and they snuck up on a lot of teams in 2020. This season, opponents knew what to expect and punched Miami in the mouth early in the season.
But the Heat are slowly improving as the season continues and that means Jimmy and Bam could be higher on the list as the postseason gets closer. But a 30-28 record has them 10th on this list. Butler is averaging 21.4 PPG, 7.2 RPG, and a career-high 7.2 APG. But Butler only played 41 games so far this season, while Bam has played 51 games.
Bam is averaging 19.0 PPG, 9.3 RPG, and 5.2 APG, and the 23-year old continues to improve on both ends of the floor. The duo of Butler and Bam tend to shine brightest in the postseason, and for their accomplishments in 2020, they kick off the list of the best duos in the NBA.
9. Jayson Tatum and Jaylen Brown – Boston Celtics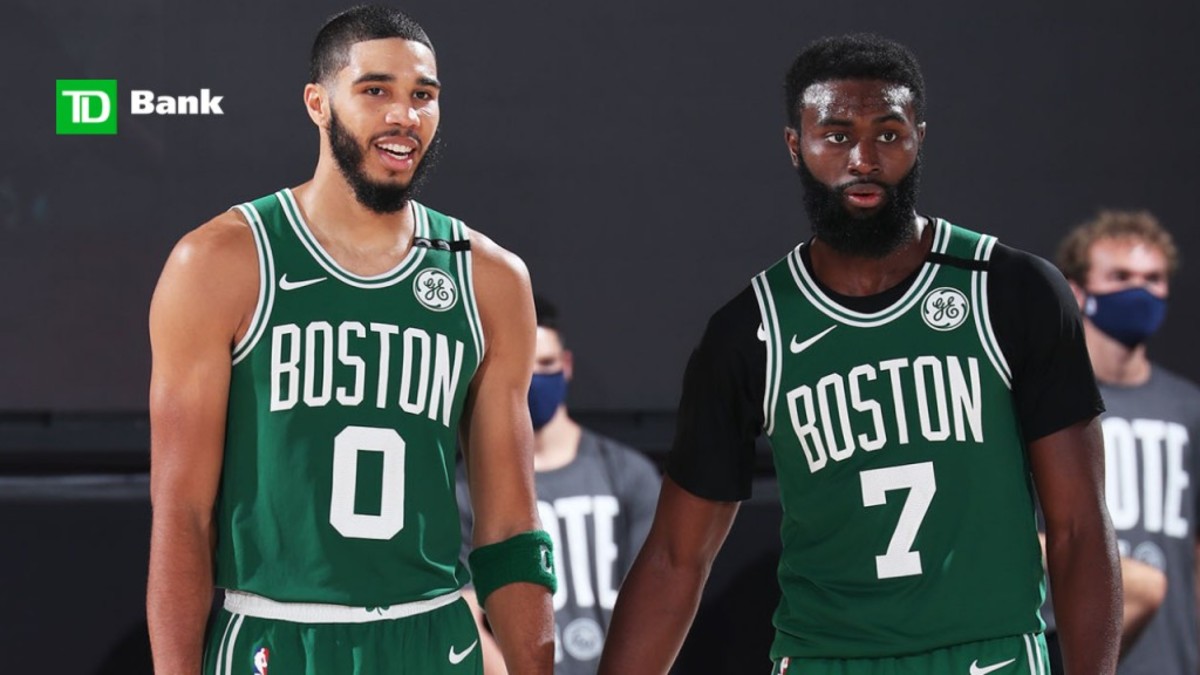 Credit: Getty Images
The Boston Celtics have been very inconsistent this season, but that doesn't have to do with the duo of Jayson Tatum and Jaylen Brown. The Celtics are 6th in the Eastern Conference this season with a 31-27 record, but they should be higher. Tatum is already a superstar averaging 25.8 PPG and 7.3 RPG and is one of the best scorers in the NBA.
Jaylen Brown made his first All-Star Team this season and is putting up a career-high 24.5 PPG and 5.8 RPG. Brown is shooting a career-high 40.4% from three, and his all-around game has taken a massive leap. The duo of Tatum and Brown have done a tremendous job on offense, but that has yet to result in wins.
The growth of Boston's All-Star duo has been impressive to see, and they should continue to get better together. But the jump from them to the next 8 duos in the NBA is quite high, mainly because of consistency in leading their teams to wins and their impact on both ends of the floor.
8. Giannis Antetokounmpo and Khris Middleton – Milwaukee Bucks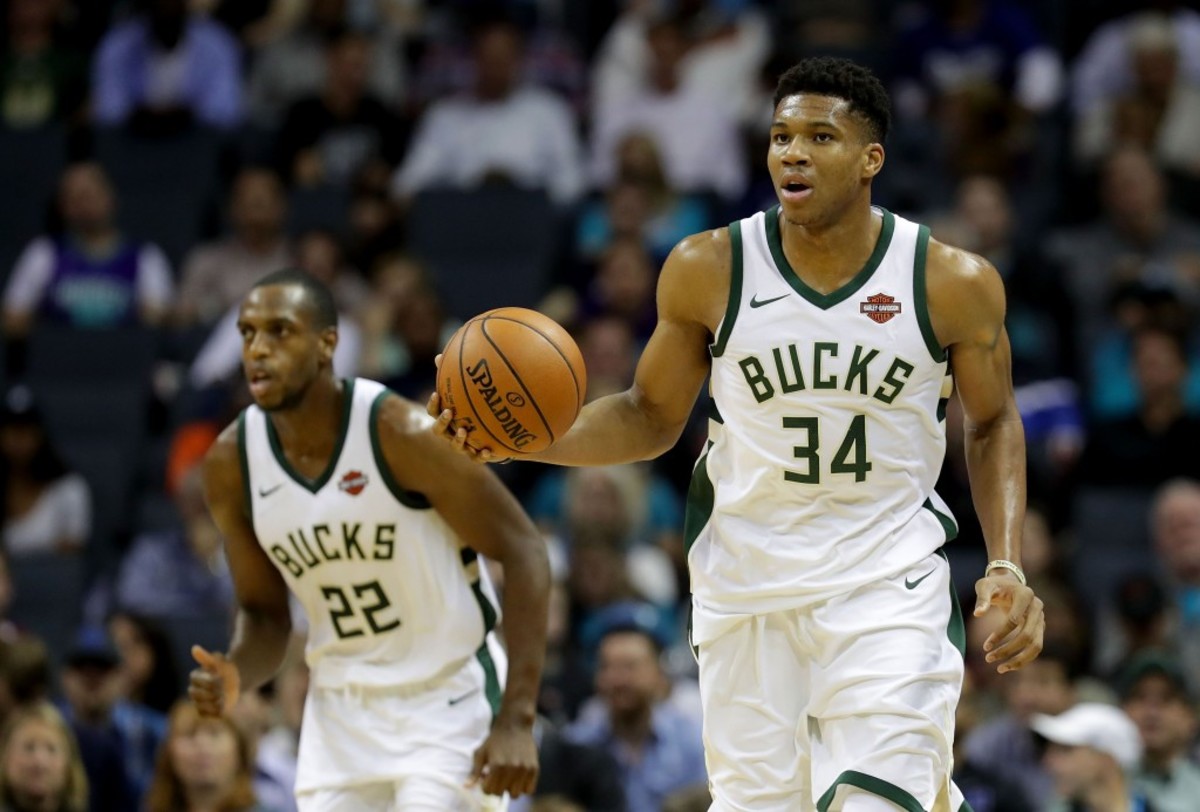 The Greek Freak alone is enough to make any duo he's with in the top 10, but he is certainly bolstered by Khris Middleton. Giannis is averaging 28.5 PPG and 11.2 RPG, continuing his back-to-back MVP seasons with another one. He won't capture his third straight MVP but he is certainly in the conversation considering his numbers and play.
Khris Middleton has been his usual self, averaging 20.2 PPG, 6.1 RPG, and 5.6 APG. His shooting has been on point as well, as he is draining 42.6% of his long-range shots. Giannis dominates inside and Middleton gets his buckets from the outside, making this duo a particularly difficult one to stop.
The Milwaukee Bucks hold the 3rd seed in the league East with a solid 35-22 record. The Bucks haven't been their dominant selves from the past 2 seasons but they should start picking it up as the postseason nears. After the Brooklyn Nets and Philadelphia 76ers, the Bucks are the best team in the East thanks to Giannis and Middleton.
7. Nikola Jokic and Jamal Murray – Denver Nuggets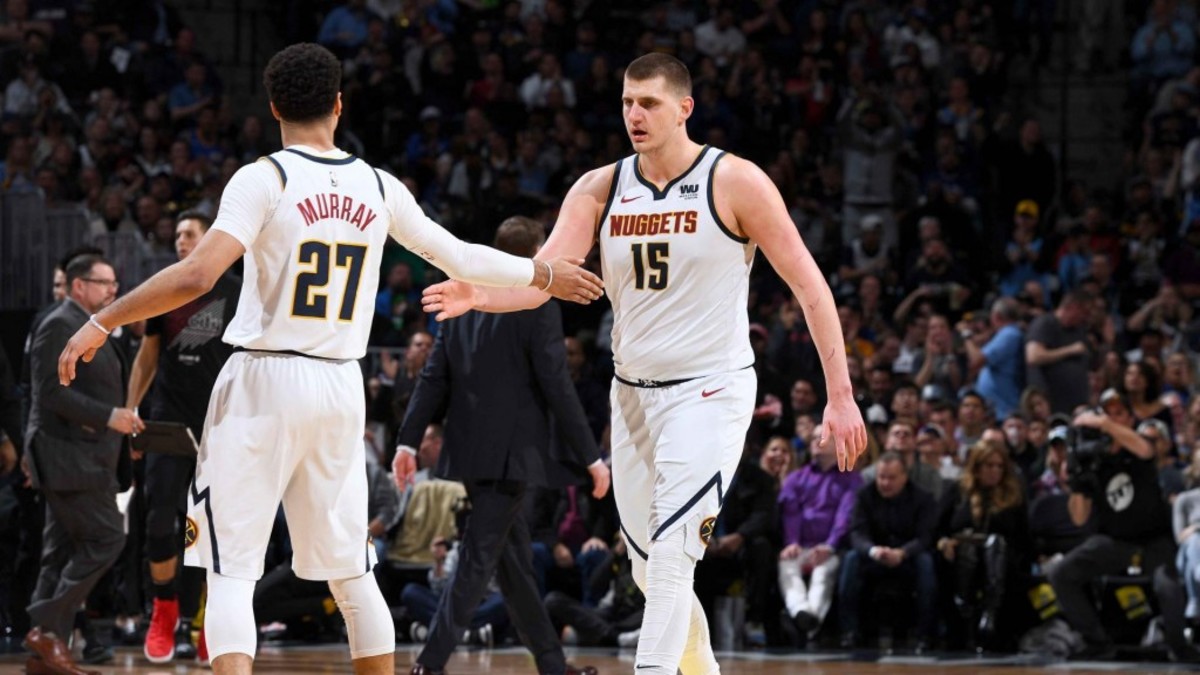 Jamal Murray's unfortunate season-ending injury should bring the Nuggets All-Star duo down a notch. But considering their play this season, they deserve a spot on the list. Nikola Jokic is one of the favorites for the MVP Award this season, and his numbers have been extraordinary. He is averaging 26.4 PPG, 11.1 RPG, and 8.8 APG while playing 57 games for Denver this season.
Jokic has been unstoppable this season, and before Murray's injury, he could have legitimately carried Denver to another Western Conference Finals berth this season. Of course, without Murray, that task becomes too difficult. Jamal Murray was shaping up to have another dominant postseason, averaging 21.0 PPG and 4.8 APG this season.
The fact that Murray isn't healthy could wrap up Denver's title chances this season, although the addition of forward Aaron Gordon certainly helps the Nuggets. If Jokic continues his dominant play anything can happen, but he will miss his star point guard which formed the 7th best duo in the NBA.
6. Joel Embiid and Ben Simmons – Philadelphia 76ers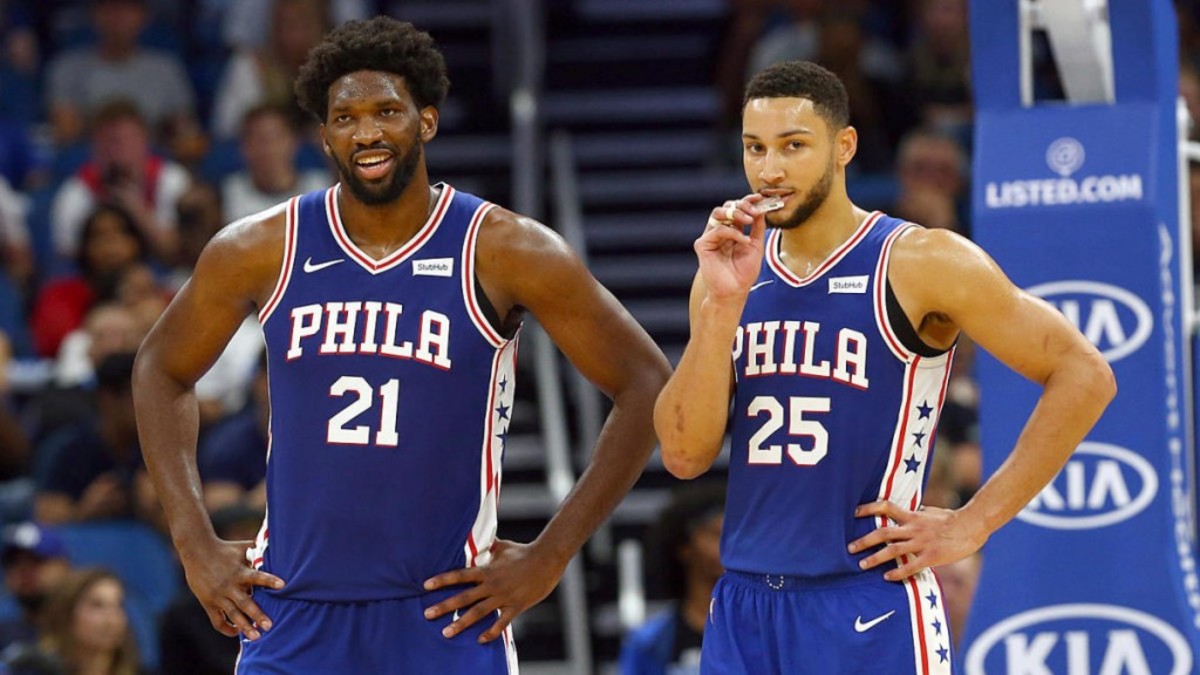 Credit: Kim Clements
Joel Embiid and Ben Simmons were rumored to be split up for months, but the arrival of Doc Rivers in Philadelphia has ended those rumors. The play of the duo has been sensational, as they hold the best record in the Eastern Conference and the 4th best record overall. Joel Embiid is having his best season and could be the front-runner for the MVP Award.
Embiid is averaging 29.9 PPG, 11.2 RPG, and 3.1 APG while also blocking 1.4 shots per game. Embiid has been the driving force of the 76ers and his play on both ends has kept the duo of him and Simmons going strong. Simmons has taken a backseat on offense, but his defensive efforts have taken a massive leap this season.
Simmons is averaging 14.8 PPG, 7.6 RPG, and 7.1 APG while putting up 1.6 SPG and 0.6 BPG. Simmons gets it done with his playmaking and defense, and the latter of his skills could earn him the Defensive Player of the Year Award. In a nutshell, Embiid and Simmons have been spectacular this season and if it wasn't for James Harden's arrival in Brooklyn, the Sixers would be the favorites to reach the NBA Finals.
5. Donovan Mitchell and Rudy Gobert – Utah Jazz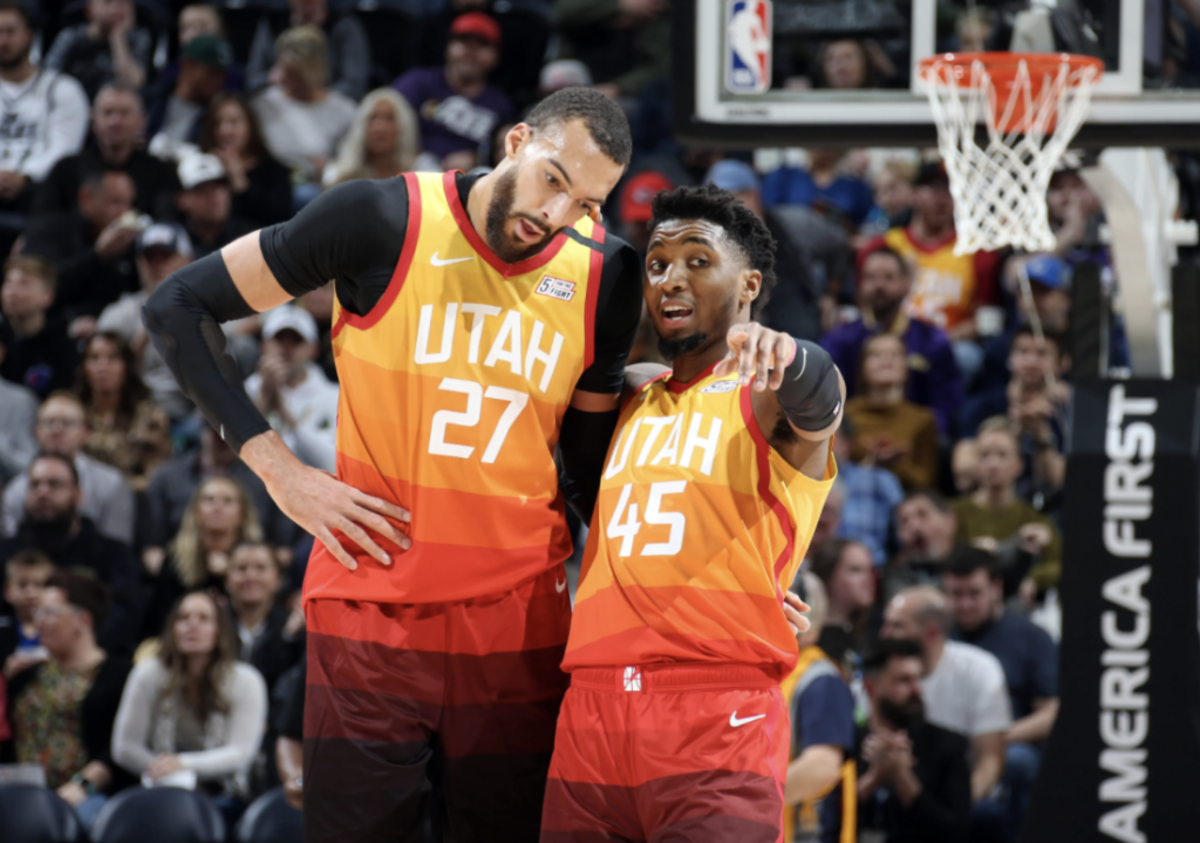 (via The J-Notes)
Nobody expected the Utah Jazz to be as good as they have been. The Jazz returned with last season's trio of Donovan Mitchell, Rudy Gobert, and Mike Conley but also brought back Jordan Clarkson on a $52 million contract. Clarkson has been special averaging 17.4 PPG off the bench, but Utah's season has come down to the play of Donovan Mitchell and Rudy Gobert.
Mitchell is averaging a career-high 26.4 PPG for Utah this season and has emerged as the undisputed leader for the franchise. Mitchell is coming into his own and if he continues his trajectory, he could be an MVP candidate in the near future. Alongside him is 2-time Defensive Player of the Year Rudy Gobert. Averaging 14.4 PPG, 13.5 RPG, and 2.8 BPG; no center defends the paint like the Frenchman.
The duo of Mitchell and Gobert has led Utah to the best record in the NBA, at 43-15. The Jazz are getting help from a ton of different players including Conley and Clarkson, but the two leaders of the franchise are Mitchell and Gobert and they deserve a top-5 spot on this list without a doubt.
4. Kawhi Leonard and Paul George – Los Angeles Clippers
The often criticized and underrated duo of Kawhi Leonard and Paul George have been great this season. The Clippers hold the 3rd seed in the West and the 3rd best record in the entire NBA, mainly thanks to the superstar pairing of The Claw and PG13.
Leonard is averaging 25.7 PPG, 6.7 RPG, and 5.1 APG (a career-high), while also snatching 1.7 SPG. Leonard has been his usual self, dominating on both ends of the floor and trying his best to make sure the Clippers don't repeat the same postseason failures as last year. Paul George, after a horrific season last year, is also playing great basketball.
George is averaging 23.8 PPG, 6.4 RPG, and 5.4 APG for Los Angeles. He seems to be in his groove again, nailing 43.2% of his threes and also 48.3% from the field (in comparison to 43.9% last year). The duo of Leonard and George might be the best at defending the perimeter, and they will be ready to prove they can win an NBA title together.
3. Devin Booker and Chris Paul – Phoenix Suns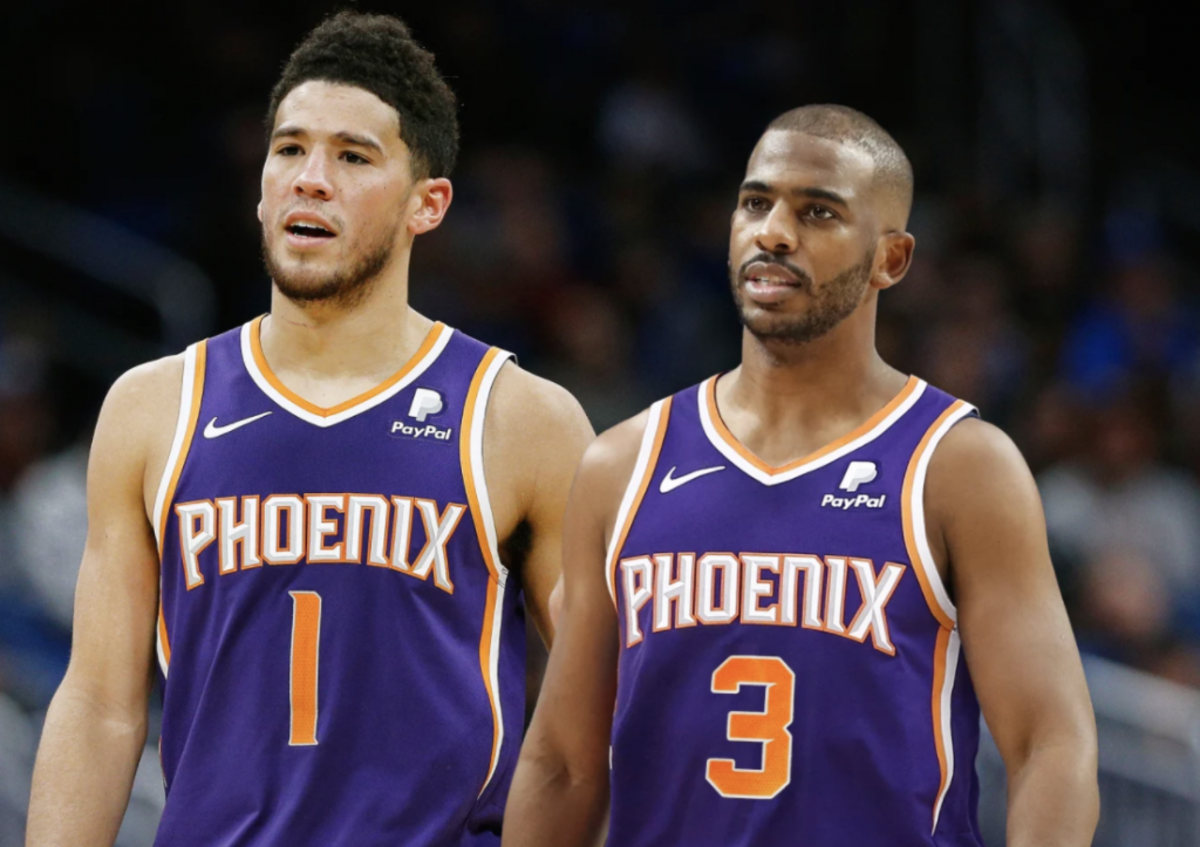 (via Bleacher Report)
Chris Paul tends to make any team he is on better, to the point of becoming a title contender. He is a legendary point guard with some of the best dribbling and passing skills we have ever seen. Paul also doesn't seem to be slowing down with age, averaging 15.7 PPG and 8.8 APG at almost 36 years of age.
Paul's leadership has made everyone on the team better, from young stud Deandre Ayton to budding superstar Devin Booker. Booker is having the best season of his career, averaging 25.4 PPG while knocking down 34.7% of his threes. Booker has had higher scoring numbers the past 2 seasons, but his all-around play and impact has been better alongside Chris Paul.
The Phoenix Suns hold the 2nd seed in the Western Conference with a 41-16 record. In fact, they are only 1.5 games behind the Utah Jazz for the best record in the NBA. The duo of Paul and Booker has led Phoenix to the 2nd best record in the entire league which places them as the 3rd best duo this season.
2. LeBron James and Anthony Davis – Los Angeles Lakers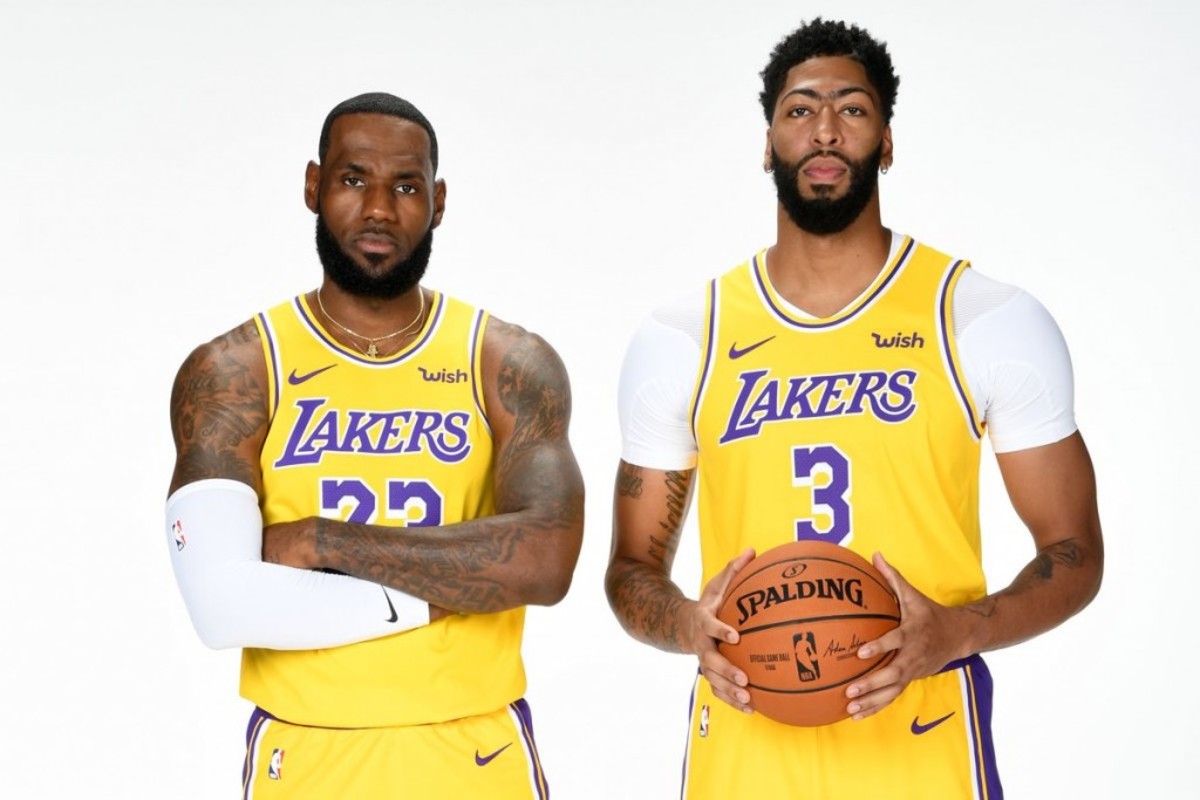 Even though LeBron James and Anthony Davis have missed most of the season this year, and haven't played the number of games as others on this list, they are a top-2 duo in the NBA. In terms of this season and what is to come later in the postseason, there is no denying this fact.
James has played 41 games this season and showed again that he is the best player in the world at this sample size. James is averaging 25.4 PPG, 7.9 RPG, and 7.9 APG while leading the Lakers to the best record in the Western Conference earlier in the season. Anthony Davis was also getting his season started by averaging 22.5 PPG and 8.4 RPG through 23 games.
The duo have the physical ability and skillsets to dominate the game and have reigning NBA champions, they deserve the respect of being a top-2 duo in the league. Paul and Booker don't have their size and 2-way play, while George and Leonard haven't proven their worth together in the postseason. Only one duo beats out the NBA championship duo of James and Davis.
1. Kevin Durant and James Harden – Brooklyn Nets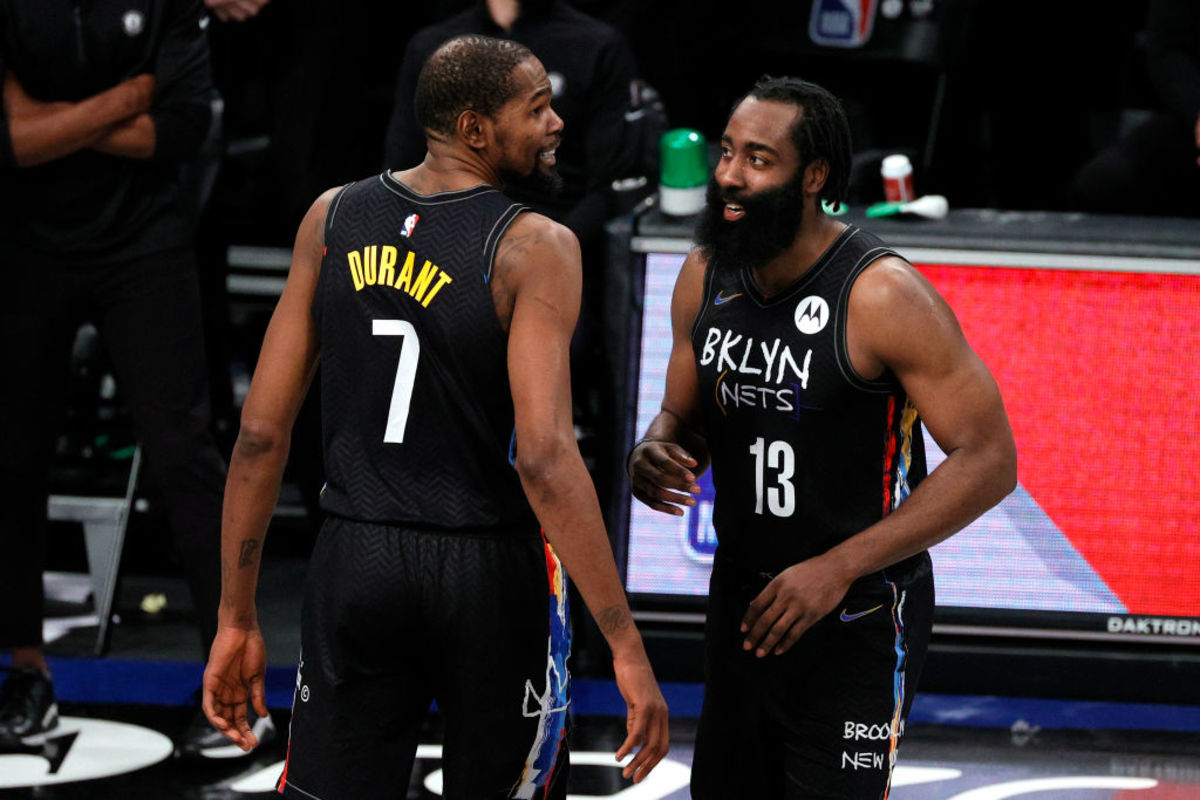 Photo by Sarah Stier/Getty Images
Brooklyn has the privilege of having 3 superstars on one team, and a mix of Durant, Harden, and Kyrie Irving could make the cut. But the duo of Kevin Durant and James Harden is just ridiculous. Durant is back to his best following an Achilles injury averaging 27.2 PPG while Harden leads the league in assists at 11.0 per game.
The Beard is also chipping in 25.4 PPG and remains a triple-double threat every night following his move from the Houston Rockets. Durant and Harden are unique talents because they affect the game on a skill level and physical level. Durant is nearly 7-feet tall while Harden is a tank at 6'5″ and 220 lbs.
Even when the duo has the rare off night shooting the rock, their pure physical dominance and size allow them to get to the basket to draw fouls or open the game up for others. Harden gets the nod over Kyrie because he is the best playmaker in the NBA, and he and Durant are the two best scorers in the NBA.
Next
NBA Rumors: Miami Heat Could Send A Perfect Package For Bradley Beal
Ranking The 10 Greatest Teammates That Kevin Durant Has Ever Had In His Career
Stephen Curry Is Already Tied For 10th In All-Time Rankings
The Duel Of The Generations: Under 30s Superteam vs. Over 30s Superteam
2000 Was A Great Year For Lakers Fans: Shaq Wins MVP And Finals MVP, Leads Lakers To First Championship Of The Three-Peat