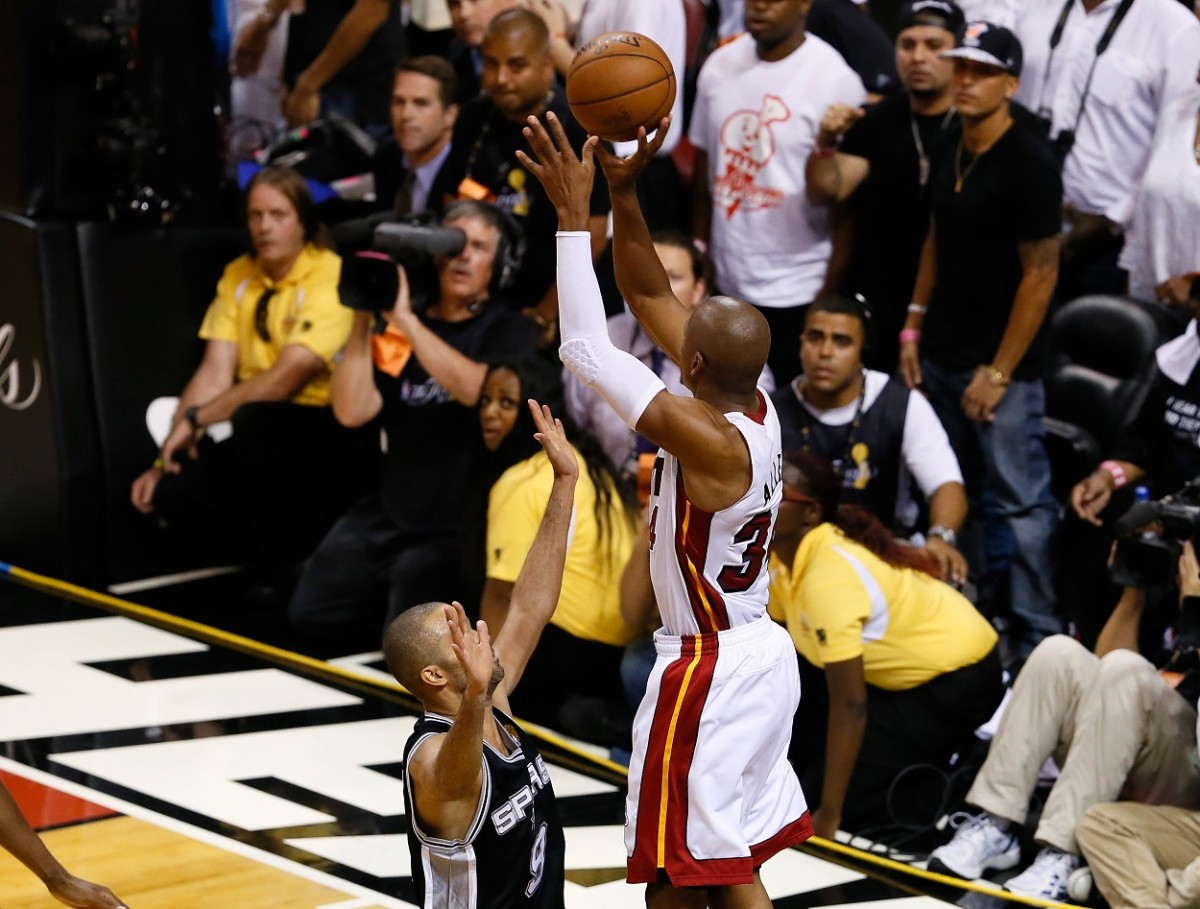 via Getty Images
Ray Allen is one of the best shooters ever, and a Hall-of-Famer. He is well-known for playing a role in two different championships for the Boston Celtics and the Miami Heat.
One of the most iconic moments in Ray Allen's career was a game-tying shot against the San Antonio Spurs during Game 6 of the 2013 NBA Finals. Allen rose up high and shot over Tony Parker, and the Miami Heat would eventually win that game and the series itself.
Even though he's a good shooter, Ray Allen originally thought that the shot wouldn't end up going in. In a recent interview with Jon Krawczynski of The Athletic, Allen revealed that at that moment, he thought that the shot was "low" and that "it wasn't going to make it".
"I remember the ball left my fingertips, and it floated different from any other time," Allen told The Athletic. "It felt like it was low, like it wasn't going to make it."

The Heat got Allen for just this moment. He came to Miami to do exactly this and was (and still is, for the moment) the NBA's career leader in 3-pointers made. Allen made 42 percent of his 3-pointers in his first season for the Heat, in 2012-13, and 40 percent in his career. At that moment, the crowd drew in its collective breath because it could not believe that Allen was going to fail them.

If it looked frantic on the court from afar as the Heat scrambled to extend the game, in Allen's mind, it was quiet.

"If I can just describe everything around me, it was like everything had stopped. There was no noise," Allen said. "Then the ball goes through the net, and there's just this roar of excitement and thunder."
NBA history could have been much different had Ray Allen missed "The Shot". The Spurs would have won that pivotal Game 6, and with it another championship. It is clear that without Allen's contributions, the Miami Heat do not win their 2nd ring during the LeBron James era.
Ray Allen will forever be an iconic figure among NBA fans, and there's no question that many have a lot of respect for him. He hit one of the most clutch shots ever, and that will always be remembered.