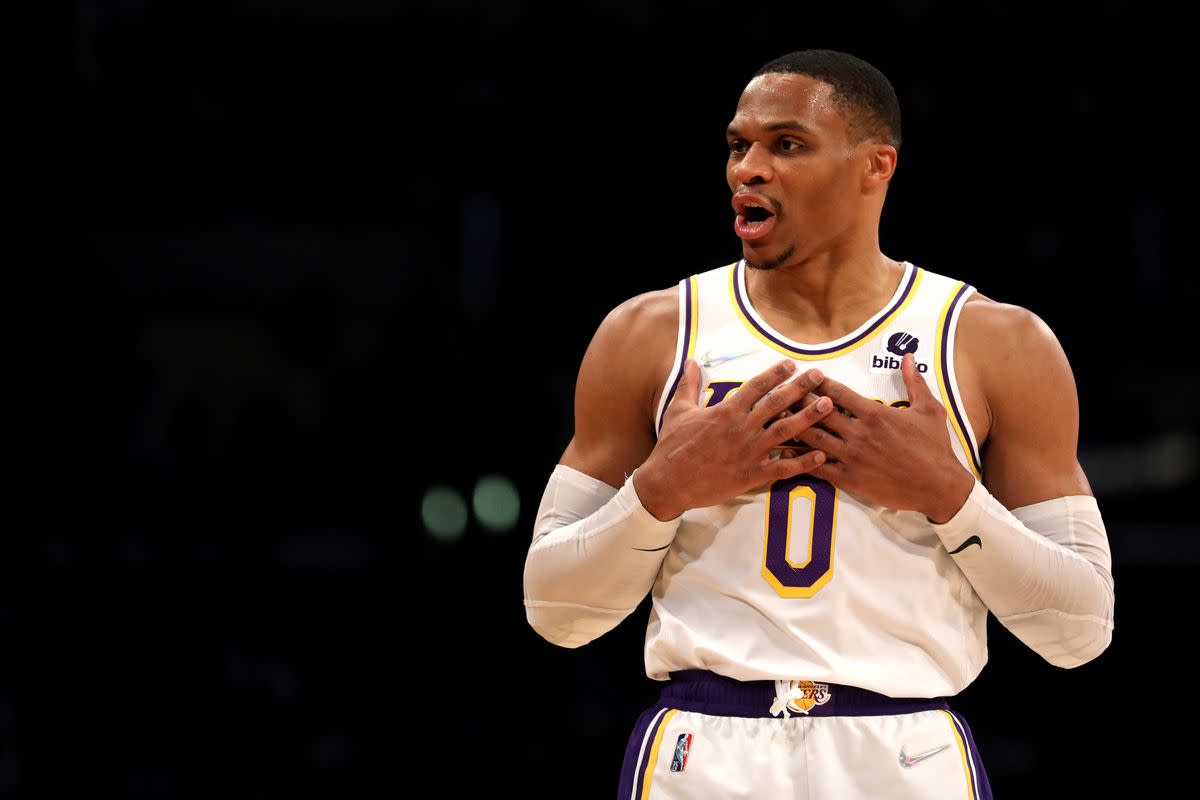 Credit: Silver Screen and Roll
Russell Westbrook has a pretty complicated history in the NBA. When it comes to personal stats and accolades, the guy has achieved more than most players could even imagine. He's a 9x All-Star, 2x Scoring Champ, MVP, and first-ballot Hall of Famer.
On the flip side, he's also got a string of failures that continue to haunt him today. Over 13 seasons, Russ has only made the Finals once despite having some exceptional talent by his side.
On ESPN's First Take Thursday morning, Stephen A. Smith went off on the Lakers star for his postseason failures, and how his struggles with the Lakers only add to a long list of failed ventures.
"If you're Russell Westbrook, these are your teammates: Kevin Durant, James Harden, Serge Ibaka, Reggie Jackson, Victor Oladipo, Paul George, James Harden again, Bradley Beal, LeBron James, and Anthony Davis. And you don't have one single title to show for it.

If you're Russell Westbrook and you got two or three big-time players in basketball, you are formidable. You are in the picture. Somewhere at some point in time, you're supposed to come over the hump. We are now at a point in time where Russell Westbrook, the only reason we would say he ain't getting traded is 'cause of his salary, that the Lakers would GIVE him away. He ain't even an All-Star this year.

We're gonna get to a point where we're saying 'all these guys you played with and not one championship to show for it.' People are gonna look at him, and he's gotta accept that."
In OKC, Westbrook enjoyed the company of guys like Kevin Durant, James Harden, Serge Ibaka, Victor Oladipo, and more. By the time he left in 2019, he had almost nothing to show for his time there.
During his season with the Rockets, playing with James Harden, things got even worse. Houston was wildly underwhelming during that stretch and it marked the final straw for Harden, who would force his way out months after their season ended.
With Bradley Beal and the Wizards, Russ failed to provide the boost most fans were expecting. Washington barely squeezed into the play-in and lost in five games to the 76ers in round 1.
Finally, in Los Angeles, Russ has essentially hit rock bottom. With half the season in the rearview mirror, he continues to struggle on both ends of the floor. Things reach a boiling point this week when head coach Frank Vogel benched him down the stretch of a close game.
If he can't turn things around this time, it could spell disaster for his future in the league. Already, people are wondering just what kind of impact he has on the floor.