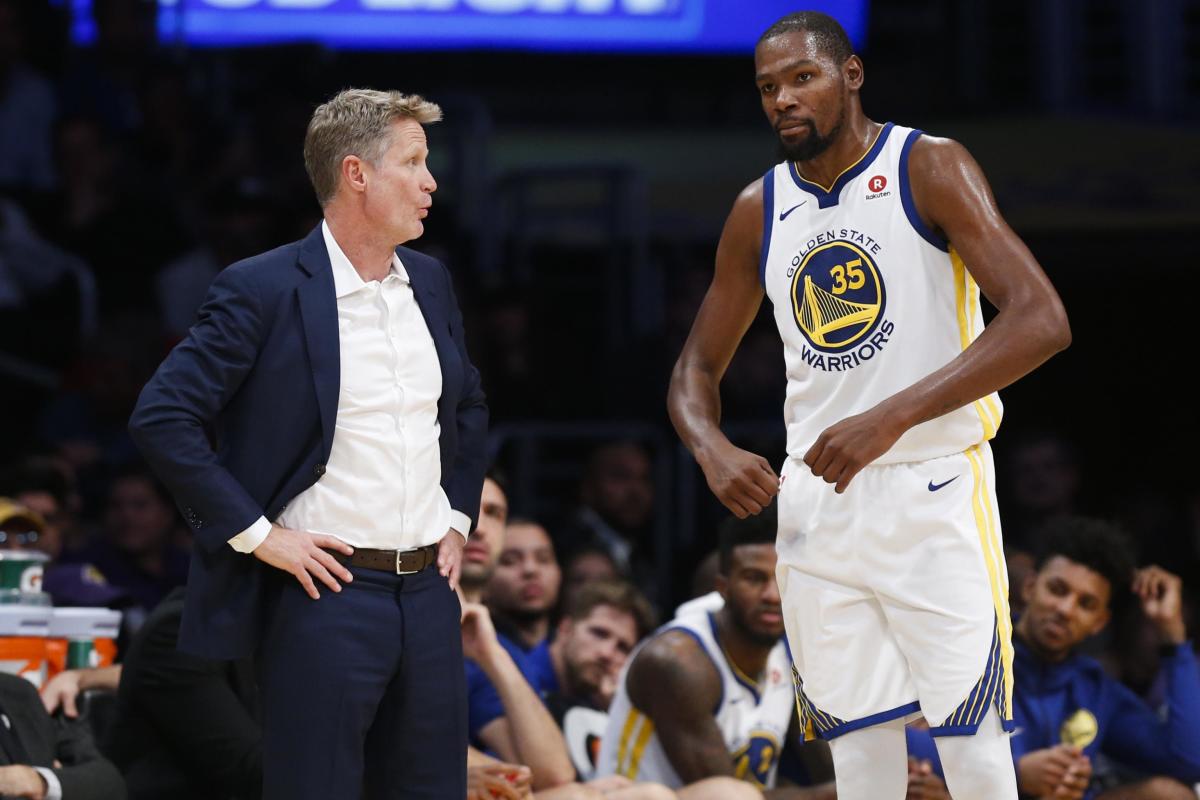 via AP
The Golden State Warriors had one of the most successful dynasties in NBA history, winning NBA championships during the 2015, 2017, and 2018 seasons. One of the reasons for their sustained success was Kevin Durant joining them in 2016 free agency, making them the undisputed best team in the league.
No run of success lasts forever though, and the Golden State Warriors were defeated by the Toronto Raptors during the 2019 Finals. Kevin Durant and Klay Thompson got injured during that series. Later on in free agency, Kevin Durant ended up leaving for the Nets via a sign-and-trade.
When speaking to Sam Amick of The Athletic coach Steve Kerr revealed that the 2018-19 season was particularly difficult for the team on a number of levels. He mentioned that "the players were exhausted" and added that they did lose "two guys to devastating injuries in the Finals". He also mentions that when you win "year after year" then it simply gets hard.
I think the fifth year was so difficult — physically, spiritually, emotionally — but mainly because it's just hard. And you can ask anybody from the Lakers and the Celtics in the 80s. You know, (ask) Phil Jackson or Gregg Popovich. When you do something year after year after year, it just gets to be (hard). And there's a different sense of energy from, say, the first year to the fifth that was going to be there regardless of our personnel. I think we were exhausted organizationally. I think the players were exhausted. We lost two guys to devastating injuries in the (2019) Finals (Thompson and Durant). You almost can't write a script like that, you know? And it was so brutal. But like I said, when you do something for that long, such a competitive emotional level — five years, and teams trying to knock you off and building their team to beat you, it's exhausting. And I think we were all just exhausted.
There is no question that staying at the top of the mountaintop as the best team in the NBA is an extraordinary task. We haven't seen a team repeat since those Warriors, and the 2019, 2020, and 2021 seasons all had different champions. It makes sense that the Warriors may have been worn out by going to 5 straight Finals.
The Golden State Warriors may have been out of contention for two years following their Finals defeat to the Toronto Raptors, but they are now back and are one of the two best teams in the Western Conference. They should be even scarier with Klay Thompson and James Wiseman back, and we'll see just how far they can go in the future.