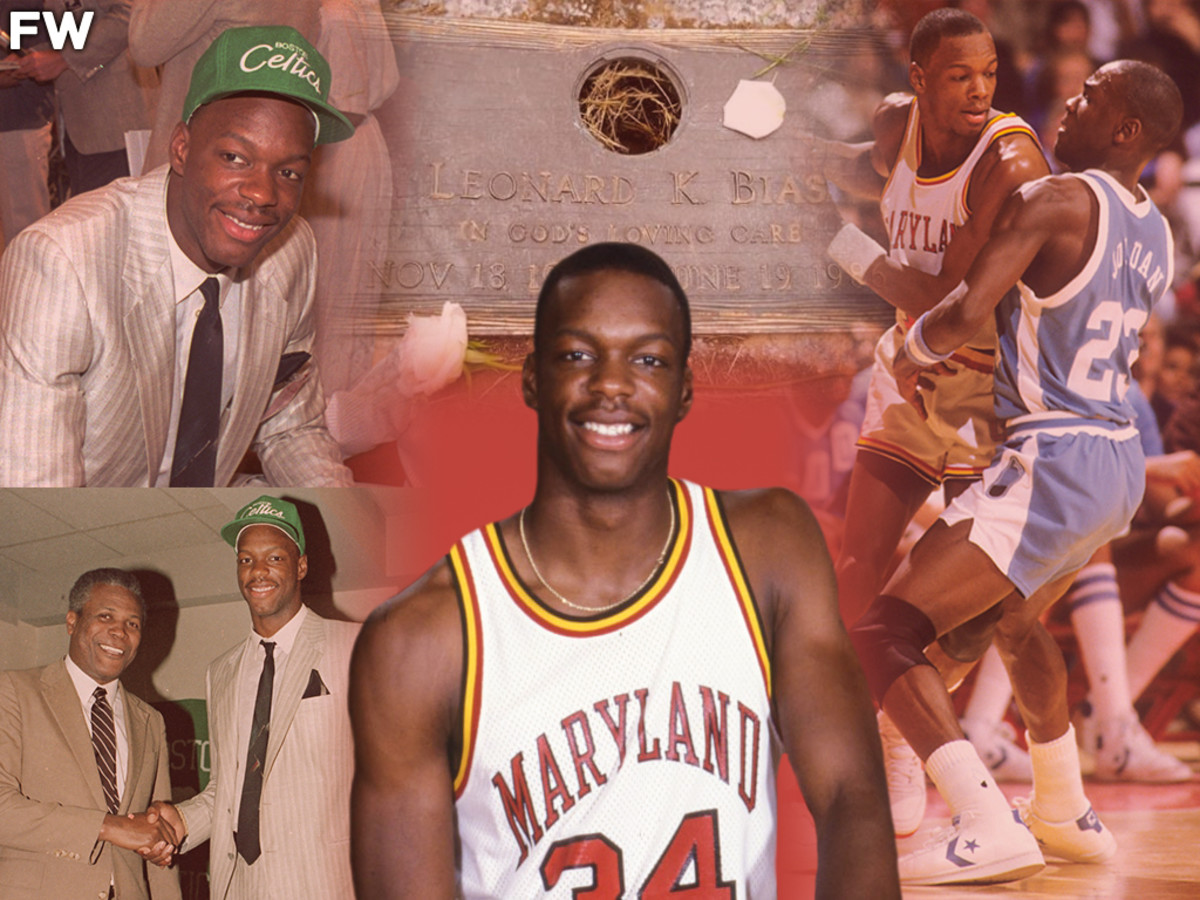 There have been plenty of "what ifs" in NBA history. What if Derrick Rose would've stayed healthy? Would he be in the discussion for the greatest point guard of all time?
Or what about Greg Oden? Many fans and analysts believed he'd be the next dominant big man in the game.
There was Penny Hardaway, Grant Hill, Brandon Roy, and many other players who had so much potential but in most cases, injuries ruined their careers.
What if I told you none of the above-mentioned players had a bigger upside than a certain college star who never played a single minute in the NBA?
The player I'm talking about was a man by the name of Leonard Kevin Bias… you may know him by the name, Len Bias.
Bias was born on November 18, 1963. He grew up in Landover, Maryland, a suburb of Washington, D.C.
Bias attended Northwestern High School, and he quickly became a high school star. In 1982, Bias led his team, the Wildcats, into the Maryland State AA Finals.
Bias averaged 20 points, 12 rebounds per game while shooting 68% from the floor. His sensational play earned him the Washington Post First Team All-Met choice.
Bias was also selected to the Capital All-Stars Team for the 9th Annual Capital Classic. In the Capital Classic, Bias scored 18 while grabbing 11 rebounds.
The Capital All-Stars won the big game 82-79 against the U.S. All-Stars. Bias, along with teammate, Johnny Dawkins, would be named co-MVPs for the game.
With high school out of his way, Bias now had his eyes set on playing college ball. Top schools around the nation wanted him to join their team, yet Bias decided to stay close to home.
The University of Maryland welcomed Len Bias to the school and the college team in 1982. After being a star player in high school, Bias intended to be a star in college.
Bias' first year at the University of Maryland didn't go quite the way he attended it too. He only played 22 minutes per game and scored 7.1 per game.
By his second year at the University of Maryland, Bias started to show everyone why there was so much hype around him coming out of high school.
Bias' scoring rose to 15.3, and he shot 56.7% from the field. It wasn't just the high percent he shot, it was the way he scored the basketball.
Len Bias attacked the rim like no other player of his size has ever done in college basketball. Bias, standing at 6'8 and weighing 210 pounds, attacked the hoop like Shawn Kemp.
He also had a sweet jump shot that Kemp never could develop himself. On top of his offense, Bias was a versatile defender.
Bias would continue to improve in his junior and senior years. He averaged 18.9 points on 52.8% shooting as a junior and 23.2 points on 54.4% shooting as a senior.
Bias' accolades include two ACC Player of the Year awards, two All-ACC First Team selections, and All-America honors in 1985 and 1986.
In an interview with Duke Blue Devils head coach, Mike Krzyzewski, he had this to say about the best players he's ever coached against:
"In the 40 years I've [coached] at Duke, the two opponents that were the most talented were Michael [Jordan] and Len Bias. They had the 'it'."
In the early 1980s, Michael Jordan was known as the best college basketball player in the country. Bias quickly made it known he was right up there with Jordan.
Some people even called Bias a "bigger Jordan" because of their similar playing style, yet Bias stood two inches taller.
All you need to do is to watch highlights of Bias to see the hype was legit. Bias was THAT GOOD.
Bias and Jordan played against each other four times in their careers. Even though Jordan's Tar Heels won three out of the four matchups, Bias showed he could "hang" with Jordan.
---
Len Bias vs. Michael Jordan
The first matchup between Bias and Jordan took place on January 12, 1983.
Jordan finished with 21 points, while Bias, who came off the bench, scored 11. North Carolina defeated Maryland 72-71.
The second meeting between the two would be played on February 16, 1983. Once again, Jordan would start for North Carolina, while Bias came off the bench for Maryland.
Jordan got off to an incredible start with 15 points in the first half. He looked unstoppable and Maryland's coach, Lefty Driesell, had a serious question for his team at halftime:
"Is there anybody in this room that can guard Michael Jordan?"
Bias' teammate, Herman Veal, raised his hand, ready to take on the challenge.
Veal's lockdown defense held Jordan scoreless for the first 14 minutes of the second half. But Veal wasn't the only one who clamped down on Jordan.
Bias also took a few possessions guarding Jordan, and he played him well.
Maryland defeated North Carolina, 106-94, which broke Maryland's six-game losing streak to North Carolina. It was also North Carolina's first loss in the ACC that year.
Jordan ended up with 25 points while Bias only scored 6, but he had an incredible alley-oop dunk over top of Brad Daugherty.
The third meeting and first of the 1983-84 season took place on January 12th, 1984.
North Carolina would take this game, winning 74-62. Jordan had another solid game with 21. Bias, even in defeat, showed the world he was developing into the next star player in NCAA basketball.
Bias scored 24 points, including 16 in the first half. He looked unstoppable at times, but Jordan would be ready for the next game.
The final meeting between the two occurred on February 19th, 1984. North Carolina easily defeated Maryland in this game, 78-63.
Jordan scored 25 points while shooting 71% from the field. Bias scored a quiet 15 points in this game.
Even with the lackluster performance in their fourth matchup, Bias showed Jordan and the world that he was on the up and up.
As mentioned earlier, Bias' skills would continue to develop in his last two years at Maryland, making him the best college player in the country.
---
1986 NBA Draft/Aftermath
Red Auerbach, the Boston Celtics' president, and general manager, had his eye on Bias for a few years.
So, in 1984, Auerbach traded guard Gerald Henderson and cash to the Seattle SuperSonics for their future pick in the 1986 NBA Draft.
The Celtics won their third title of the 80s in 1986 and were lucky enough to have the SuperSonics second pick of the 1986 NBA Draft.
After the Cleveland Cavaliers selected Brad Daugherty with the first pick, the Celtics proudly selected Bias with their pick.
The future looked bright, not only for Bias but for the Boston Celtics as a franchise.
The day after being drafted, Bias met with Rebook to discuss a massive shoe deal contract. Rebook witnessed what Jordan has done for Nike, and they knew Bias was their answer.
It was reported the deal Bias was going to get from Rebook was going to be a five-year endorsement package worth $1.6 million.
Bias was drafted on Tuesday, June 17, 1986. Two days later, the unthinkable happened…
At 6:30 in the morning of June 19, 1986, a call came into the 9-1-1 dispatch center from a man named Brian Tribble:
"This is Len Bias. You have to get him back to life. There's no way he can die."
Tribble, a longtime friend of Bias, met with him, and they decided they wanted to celebrate Bias' draft success.
They drove back to Bias' old dorm, where they met with a few of Bias Maryland teammates. What they decided to do next, would cost Bias his life.
Bias, his teammates, and Tribble all decided to snort lines of cocaine. It's believed that this night was the first time Bias ever tried cocaine.
Bias reportedly sat upon a bed, bent over a mirror, and called himself "a horse". This was a nickname his teammates had used for him because of his on-court grace and physical presence.
After his proclamation, Bias snorted one last line of cocaine. Bias got up to use the bathroom, stumbled, and fell back down on the bed. He then lapsed into a seizure.
After noticing Bias slipping into a seizure, one of his teammates, Terry Long, grabbed a pair of scissors, and he placed the handle in Bias' mouth to prevent him from biting his tongue.
Bias' other teammate, David Gregg, held Bias' legs as Tribble called 9-1-1.
Tribble's slurred 9-1-1 call would go down as one of the oddest 9-1-1 calls in history. From Tribble's repeatedly mentioning of Bias' name to the slur in his voice, to the rude operator.
The ambulance came and wheeled Bias' body out of the dorm room on a cart with a white sheet overtop.
At 8:51 that morning, Leonard Kevin Bias was pronounced dead. The official cause of death was cardiac arrhythmia, which the cocaine use caused.
The shining bright light Bias was, with all that potential, went out forever.
When Boston Celtic great, Larry Bird, heard about the news, he promptly had this to say:
"One of the cruelest things I've ever heard."
Four days after Bias died, more than 11,000 people attended the memorial service at the Cole Field House, the university recreation and student center where Bias played for Maryland.
---
Criminal Charges
July 25, 1986, Brian Tribble was charged for possession of cocaine and possession of cocaine with intent to distribute.
Bias' teammates, Terry Long and David Gregg were charged with possession of cocaine and obstruction of justice.
Long and Gregg were both suspended from the team. All three defendants entered not guilty pleas in August.
On October 20, 1986, prosecutors dropped all charges against Long and Gregg in exchange for their testimony against Tribble.
Then on October 30, the grand jury added three more indictments against Tribble: one count of conspiracy to obstruct justice and two counts of obstruction of justice.
On June 3, 1987, the grand jury acquitted Tribble of all charges. He escaped punishment for his involvement in Bias' death, but he'd soon find himself in more trouble.
In October 1990, Tribble agreed to a no-parole prison term of 10 years and one month, plus a five-year term of supervised release afterward. These were from drug charges that came from an undercover sting.
---
Len Bias Law
The 1980s saw a large increase in drug use and then president, Ronald Reagan, and his wife, Nancy Reagan, started the "war on drugs".
President Reagan used Len Bias' death as one of the main catalysis of passing his drug bill.
This included a mandatory minimum prison term of 20 years and a maximum life sentence, along with a fine of up to $2 million. This was for anyone found in possession of cocaine.
The drug bill was also known as "Len Bias Law" because of his high-profile case.
The University of Maryland went under investigation after Bias' death, and an investigation discovered that Bias was 21 credits short of the graduation requirement despite having attended the university for four full years.
In Bias' final semester, he earned no academic credits, including failing three courses and withdrawing from two others.
The controversy from Bias' death and the investigation prompted athletic director Dick Dull to resign on October 7, 1986.
---
Family Tragedy And Eventual Hall Of Fame
The Bias family, unfortunately, wouldn't see the last tragedy to hit their family.
On December 5, 1990, 20-year-old Jay Bias, Len's younger brother, was gunned down in a shopping mall parking lot, just a few miles from the University of Maryland.
It was said Jay was flirting with a jewelry store clerk when the clerk's husband saw and confronted him.
After being threatened, Jay laughed it off and left, believing the incident was over.
Then, outside in the parking lot, the husband of the clerk and another man drove up and shot into the car, hitting Jay twice in the back.
In a sad and twisted chance of fate, Jay would die in the same hospital that his brother, Len, died at four years earlier.
Len Bias has been honored before. First, back on June 24, 1986, The Boston Celtics presented Bias' mother, Lonise Bias, with a number 30 jersey with Bias' name on it.
On November 21, 2021, Len Bias received the ultimate honor of being selected into the College Basketball Hall of Fame.
This honor is well overdue for an incredible talent that could've been the greatest basketball player of all time. 
Next