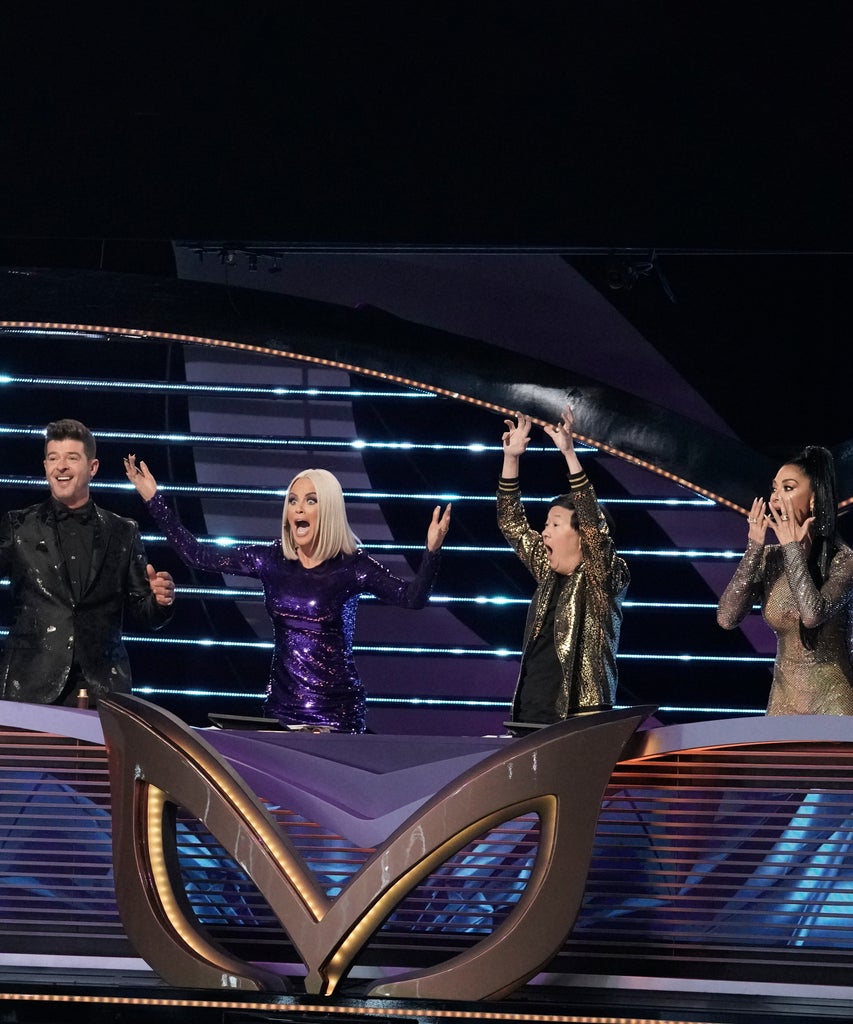 The Masked Singer opens every episode with host Nick Cannon donning an elaborately decorated mask that would not be doctor-approved during this pandemic. You might feel a little uneasy when the season 4 premiere of The Masked Singer begins with the presenter standing closer than six-feet to the show's secret service look-alikes before taking off his face covering. Well, be prepared to be completely dumbfounded when Cannon takes the stage and talks to what appears to an audience full of people not wearing masks. The show goes through extreme lengths to make you forget that a little thing called COVID-19 is still going around.  
The Fox competition series is hands down the kookiest program on television, but somehow they have managed to make the show more bonkers with this new audience trick. In between performances and feedback from the panel, the camera cuts to reaction shots from in-person audience members just past seasons. Executive producer Craig Plestis didn't explain exactly how The Masked Singer pulled this off, but he did confirm in a September interview with Yahoo that everything is not how it appears. 
"You'll see a lot of differences this season too with the virtual reality stuff, with the animation, with adding America's votes — since we couldn't have a full audience of 300 people, though we're utilizing some audience footage from past seasons to get that audience feel," he said. He added that sounds like clapping will be augmented similar to what professional sports are doing right now. Neither Cannon nor anyone else on the show acknowledges these changes or COVID-19 during the broadcast. 
There were fans at home who watched and voted for the performances live via Zoom, but all viewers will see when they watch the show is cheering from what appears to be a dimly lit in-person audience. "I think we're all exhausted being on Zooms every day and so is the average viewer," Plestis told Variety when previewing the fourth season. "The last thing they want to have is watch a TV show that looks like work." 
If you are hoping Cannon will confirm that what you're seeing isn't real, you're out of luck. The goal was to make things appear as normal as they possibly can on The Masked Singer. Fox Entertainment's President of Alternative Entertainment and Specials Rob Wade spoke with Deadline about how the show navigated COVID-19 challenges and admitted that it will appear as though they aren't following safety precautions. "You'll notice that the audience will feel like it's behind the judges. The one thing I'm expecting is for people to say is 'How come they're not COVID friendly? The audience aren't wearing masks.' Through various quarantining and various camera tricks, we've managed to do it." Deadline also reports that the audience was a small group of people that stood behind panelists Robin Thicke, Jenny McCarthy, Ken Jeong, and Nicole Scherzinger. 
It makes sense that the series kept audiences for the new season because it would be painfully awkward to watch these masked celebs perform in silence. Still, taking a quick moment to let the general audience know they're not actually risking spreading COVID-19 would be nice so we could accept that and then allow their camera tricks to wash over us.
Instead, everyone on The Masked Singer is pretending it's all okay, and like nothing out of the ordinary is going on — giving the whole affair major Hunger Games vibes. Look at these shiny outfits and do not think about the reality that people are dying! It's staggering, it's completely outside of reality, but then again, that's The Masked Singer.

Like what you see? How about some more R29 goodness, right here?