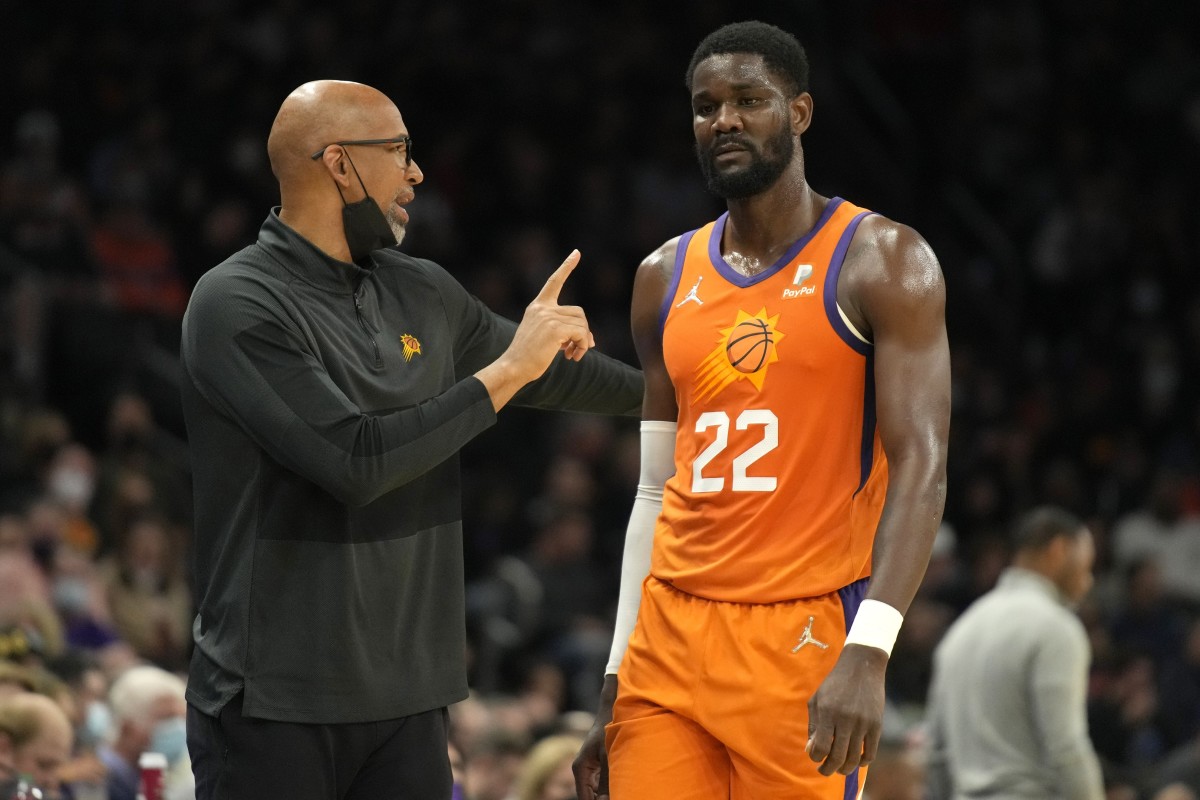 Credit: Rick Scuteri-USA TODAY Sports
The Phoenix Suns are still reeling from their collapse in the 2022 NBA playoffs. But as the free agency period looms, the front office has some important matters to consider.
At the top of the list is deciding what to do with young big man Deandre Ayton, whose future in Phoenix has become highly questionable. Ayton wants the max, and some would argue it's exactly what he's worth. In the Suns' eyes, however, Ayton is replaceable and the money might the better off in the hands of a more important and more impactful player.
(via Brian Windhorst):
"[The Suns] believe that they could find a number of other centers who can give them the type of production that Deandre Ayton can."
Ayton's future has been a theme of this summer. After contract talks fell apart months ago, it was widely believed that Ayton would look towards the open market for his money.
Ultimately, no matter what Ayton does, the decision falls on Phoenix to keep him around. As a restricted free agent, the Suns can match any offer that comes his way. But as things stand right now, neither side looks to be aiming for a reunion and there are several teams that could make a run for him next month.
"The Phoenix Suns are "increasingly expected to engage in serious sign-and-trade talks" regarding star center DeAndre Ayton, according to NBA insider Marc Stein. The San Antonio Spurs, Toronto Raptors, Portland Trail Blazers, Detroit Pistons and Atlanta Hawks as possible candidates to land Ayton. He added more teams could enter the mix if Phoenix signals its ready to move on from the 2018 No. 1 overall pick."
Ayton, 23, is a 6'11" big man who averaged 17.2 points and 10.2 rebounds per game this season. Not too long ago, he was thought to be a centerpiece for the Suns and a worthy co-star next to Devin Booker.
But his development as a player has slowed, and head coach Monty Williams apparently isn't his greatest fan. At this moment, all signs point to a mutually desired breakup.