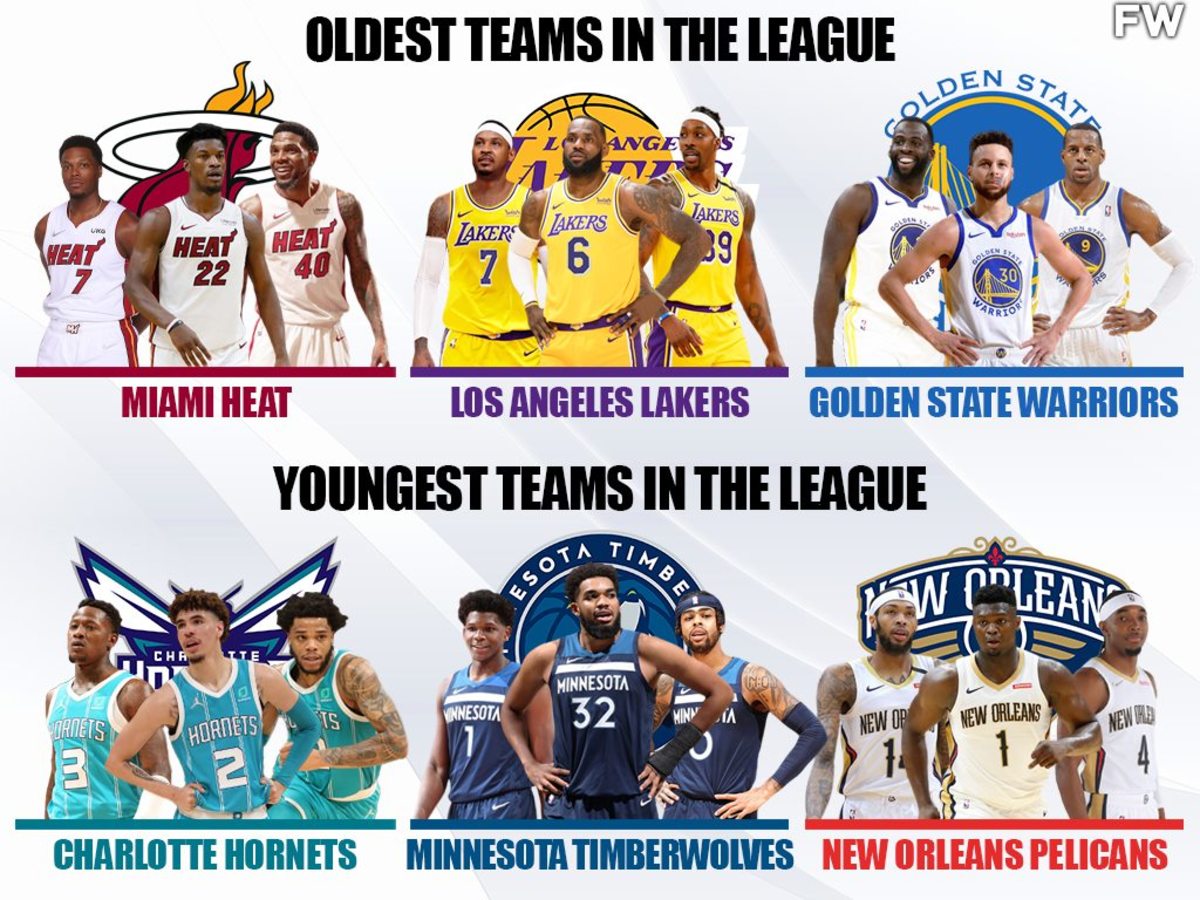 How often do we see the oldest or youngest team go all the way to the championship? It's been a long time since we have seen an old team win the title. The 1998 Chicago Bulls were once an older bunch, averaging an age of 29.2 years. With a slew of veterans teaming up to try and take their last shot of winning a title, there are some teams just a little more wise if you catch our drift.
For others, youth experience can be a great thing if you have the combination of the right talent. With that said, it's been a long time since the 2012 NBA Finals that saw a group of Kevin Durant, James Harden, and Russell Westbrook lead the Thunder at the younger side of age 20. Will we see an old or young team in the Finals? Will it be neither, but instead the perfect balance of youth and veteran experience?
Those teams won't show up on this list. Instead, take a look at the oldest and youngest teams for the upcoming season.
NOTE: Players were counted only if they had a guaranteed salary on the roster. Those who have non-guaranteed contracts were not calculated.
---
10 Oldest Teams In The NBA
---
10. Dallas Mavericks - 26.5
The Mavericks roster features a cluster of players that are all right around the same age. The oldest player is Boban Marjanovic at 33 years old. Reggie Bullock and Dwight Powell are both 30, while most everyone else is around the age 26-29. The only player that is considered young is the team's best player in 22-year old Luka Doncic.
Jalen Brunson is 25, Kristaps Porzingis is 26, Willie Cauley-Stein is 28, while both Tim Hardaway Jr. and Maxi Kleber are 29. This roster features quite a few veterans, so this team is not "kid-friendly." With the slew of age on the roster, maybe the team will find a way to get out of the first round of the playoffs.
---
9. Indiana Pacers - 26.6
The Pacers just barely slip into the rankings, but keep in mind that the oldest player with a guaranteed salary on the books is Justin Holiday at age 32. This remains a fairly young team that hovers around their average age. Key contributors such as Malcolm Brogdon and Caris LeVert are in their prime years, while Domantas Sabonis is just 25 years old.
Myles Turner is 25, while TJ Warren is 28. Torrey Craig is the only player 30 or older on the roster. The Pacers should not be worried about Father Time, but instead, find a way to keep a group of players in their prime years healthy. Barring any injuries, the Pacers are a playoff team, but only when their players stay on the court.
---
8. Los Angeles Clippers - 27.5
The average age of the roster is 27 years old, but these Clippers are an older and experienced team. The key contributors on this team are right around the age of 30. Even though Kawhi Leonard is out for most, if not all, of the season, let's say that he is playing right now. Leonard is 30 years old, while superstar teammate Paul George is 31. Off-season acquisition Eric Bledsoe is 31, Reggie Jackson is 31, Serge Ibaka is 32, and Nicolas Batum is 32.
The only reason this roster's average age is brought down is that Brandon Boston Jr. and Keon Johnson are both on the roster and they are 19 years old. If they weren't on the roster, the Clippers would be a top-3 old team in the league.
---
7. Phoenix Suns - 27.6
Anytime you have a 36-year old on your roster, your team might be getting up there in age. Established veterans JaVale McGee (33) and Jae Crowder (31) are experienced players in the league. Mix in a little bit of youth and you have the Western Conference representative in the NBA Finals last year.
Devin Booker has felt like he has been around forever, but he is just 24 years old. Deandre Ayton is 23, while Mikal Bridges is 25. The only player that is questionable moving forward is Ayton, whose contract talks stalled after Monday's deadline to complete a rookie scale extension. The rest of the roster hovers around between the ages of 25-27, making this an experienced and balanced group of players.
---
6. Golden State Warriors - 27.8
Just barely making the top-4 are the Warriors, whose core of Steph Curry, Klay Thompson, and Draymond Green have been around forever. These are no longer the loveable kids from 2015, who made a surprising run to their first NBA championship. These are grizzled veterans with long resumes and a future with their jersey up in Oracle Arena.
Both Thompson and Green are 31, while Curry is 33. Fan-favorite Andre Iguodala is back as well. At the age of 37, he is the second-oldest player in the league. There are also four players on the roster with the same age of 28, while Andrew Wiggins is 26. Jordan Poole is the youngest starter at age 22.
---
5. Brooklyn Nets - 27.8
You would think that the Nets would be one of the oldest teams in the league, but the Nets are just on the bottom tier of the rankings. There are a lot of recognizable names on the roster. That starts with 33-year old Kevin Durant and 32-year old James Harden. There are a pair of 36-year olds in LaMarcus Aldridge and Paul Millsap on the roster, as well as 32-year old Blake Griffin.
The amount of former All-Star talent makes the Nets championship contenders this year. Other veterans include 33-year old Patty Mills, 30-year old Joe Harris, and 29-year old Kyrie Irving. Bruce Brown is 25, while Nicolas Claxton is 22, but the primary players contributing are on the older side.
---
4. Milwaukee Bucks - 27.9
With PJ Tucker off the roster, the team got a little younger, but not by much. George Hill is the oldest player on the team at 35, while Brook Lopez is 33. Jrue Holiday is 21, while Khris Middleton joined the 30-year old club. The rest of the team hovers around the ages of 26-28.
Both Grayson Allen and Giannis Antetokounmpo are 26. Pat Connaughton is 28, while Thanasis Antetokounpmo and Rodney Hood are 29. Donte DiVencenzo is considered the young pup at 24. The Bucks aren't just experienced after winning the NBA championships. They are truly experienced with age.
---
3. Utah Jazz - 28.0
Donovan Mitchell is the youngest player in the starting lineup at 25. Outside of him, this lineup features a slew of veterans in the starting lineup and on the bench. Among starters, you have multiple 30-year old players. That includes Mike Conley Jr. (34) and Bojan Bogdanovic (32). Rudy Gobert is pushing it at the age of 29, while Royce O'Neal is right there at 28.
On the bench, the Jazz brought Rudy Gay (35) and Hassan Whiteside over (32) via free agency that brought the average up quite a bit. Don't forget that Joe Ingles is 34 years old despite his stellar play last year, while Sixth Man of the Year Jordan Clarkson is no stranger to the league. He is 29 years old. With all this veteran experience, the Jazz is hopeful to make a deeper run into the postseason this year.
---
2. Miami Heat - 28.8
Before you jump the gun and blame Udonis Haslem for this, take a step back. Haslem is the oldest player in the league at 42, but this is not his fault that the Heat are the second-oldest team in the league. The Heat brought in Markieff Morris (32), Kyle Lowry (35), and PJ Tucker (36) this offseason, which jumped the age up from last year. You also have Dewayne Dedmond and Jimmy Butler on the team, who are both 32.
Some younger guys will see playing time like Tyler Herro (21) and Bam Adebayo (24), but most of the pieces are older. Duncan Robinson is 27 even though he has played in the league just a few years, while Victor Oladipo, assuming he is healthy, is 29. Needless to say, this team was already going to be gritty. They are certainly not going to put up with anything from the young guys in the league.
---
1. Los Angeles Lakers - 30.9
The Lakers are old and they looked like it in their first game of the season. After the Lakers dropped their first game of the season, Charles Barkley said it best on Inside the NBA, that this team would be pretty great in 2010. Granted, this team is still pretty good on paper, but the Lakers are taking a risk primarily relying on players past their 30s.
Carmelo Anthony is the oldest player at 37, while LeBron James is right behind at 36. With that said, LeBron never plays like his age, evident by his 34 points against the Warriors. Other veterans include Trevor Ariza (36), Dwight Howard (35), Rajon Rondo (35), Wayne Ellington (33), DeAndre Jordan (33), and Kent Bazemore (32). Anthony Davis has been in the league since 2011 and will turn 29 years old this season. Even with age, the Lakers remain a title contender for this year.
---
10 Youngest Teams In The League
---
10. Chicago Bulls - 24.7
The Chicago Bulls are a younger team with some of their core players on the older side. DeMar DeRozan is 32, while Nikola Vucevic is 30. However, Zach LaVine is 26, Lonzo Ball is 23, and Patrick Williams is 20. This starting lineup feels like it has the perfect balance of old to new, while their bench brings the youth out.
Alex Caruso is 27 as he enters his prime seasons, but is the oldest key contributor. Derrick Jones Jr. is 24, Troy Brown Jr. is 22, Coby White is 21, while Ayo Dosunmu is 21. The team packaged their draft capital for the future to acquire some of these older players, but that was because there was quite a bit of youth on the roster and the team wanted to make a run to the playoffs.
---
9. Detroit Pistons - 25.1
The Pistons should be the youngest team on the floor, but they have three 30-year olds getting paid big dollars on the roster. Cory Joseph, Rodney McGruder, and Kelly Olynyk are all 30. All three were pickups that the Pistons overpaid. Joseph and Olynyk are going to be making close to a combined $25 million this season.
The true future of the team is young, which should excite fans in Detroit. No. 1 overall pick Cade Cunningham is 20, while point guard of the future Killian Hayes is the same age. Some interesting pieces are moving forward with Luka Garza (22), Isaiah Livers (23), Saddiq Bey (22), and Josh Jackson (24).
---
8. New Orleans Pelicans - 25.1
Speaking of youth, that is why the Pelicans made moves for some older players too. Jonas Valanciunas was a big pickup at 29, but this team's age is skewed because of Garrett Temple's age of 35. Temple is the only 30-year or higher player on the team. is,
Zion Williamson leads the train of youth at 21. Despite being in the league since 2016, Brandon Ingram remains 24. Other key players this season feature Jaxson Hayes (21), Nickeil Alexander-Walker (23), and Devonte' Graham (26). This team has suffered without Anthon Davis the last few years. Despite being young, Williamson and Co. believe they are good enough to make a playoff run.
---
7. Cleveland Cavaliers - 25.0
With 33-year old Kevin Love and 30-year old Ricky Rubio, the Cavaliers feature a fairly young roster. Moving forward, the team will depend on 23-year old Jarrett Allen after his new extension. Collin Sexton, 22, and Darius Garland, 21, will be waiting in the wings. Many eyes will be set on 2021 No. 3 overall pick Evan Mobley, who is 20 years old.
The Cavaliers could go up or down this list. The team has just 12 contracts with a guaranteed salary for this year. Also, Love has been subject to trade rumors for the last year and a half. If the Cavaliers can find a way out of his contract, the team will have some relief and be able to play with a younger team. We could see a situation similar to what happened with Andre Drummond this year with Love.
---
6. Houston Rockets - 25.0
This should come as no surprise at all given the current state of the Rockets. In the last few years, the team has traded away some big names in Chris Paul, Russell Westbrook, James Harden, Clint Capela, Victor Oladiipo, and PJ Tucker. That leaves Eric Gordon (32) and DJ Augustine (33) as the last man standing.
For now, John Wall (31) remains on the roster, but we are expecting to see him traded or released soon. Once the Rockets trade Gordon and Augustine this season or at least try to make a deal, the Rockets could shoot up to being the youngest team in the league. 2021 No. 2 overall pick Jalen Green is 19, while Kevin Porter Jr. is 21. Christian Wood is only 26, which would mean that Daniel Thies would likely be the old-timer with a young age of 29.
---
5. Minnesota Timberwolves - 24.9
Just because the Timberwolves added one veteran doesn't mean that the team isn't still fruitful of youth. Patrick Beverley is the oldest player on the team at 33. He is also the only player in his 30s on the roster. Headlined by 2020 No. 1 overall pick, Anthony Edwards (20), the team also boasts a combo of 25-year olds in Karl-Anthony Towns and D'Angelo Russell.
Malik Beasley is 24 and is coming off a season where he averaged 19.6 points. Beasley has to stay healthy though after playing just 37 games. With Beasley in the mix, the Timberwolves have potentially four legit 20-point scorers. The team is banking on Beverley being a leader for this young group that will have an uphill climb to contend for a playoff spot.
---
4. Charlotte Hornets - 24.3
Gordon Hayward is tied with new addition Mason Plumlee as the geezers of the team at the age of 31. With that said, Ish Smith is the true "grandpa" at age 33. Smith is older than Love, so the Hornets get the tiebreaker. Outside of these post-30-year olds, the Hornets feature a young and exciting lineup. The Hornets could be a darkhorse team to compete for a playoff spot in the Eastern Conference.
Led by youngster LaMelo Ball, age 20, the Hornets have some promise. When Ball recorded his first career triple-double last year, he was the youngest player to ever accomplish that feat. He is joined by PJ Washington and Miles Bridges, both 23. Terry Rozier has looked exceptional the last few years. He has plenty of prime seasons left and is just 27 years old.
---
3. Orlando Magic - 24.7
Naturally, the Magic made the list with the anticipation of having one of the worst teams in the league. This season, the team will likely look to find a new home for Terrence Ross and Michael Carter-Williams, who are both 30 years old. That could go the same for E'Twaun Moore (32) and the team's oldest player in 33-year old Robin Lopez.
Despite the slew of veterans that found their way onto this team, the Magic features a young, exciting starting rotation. Cole Anthony is 21, while Wendell Carter Jr. is 22. Both, when healthy, have a ton of promise. With that said, all eyes will be on the two lottery picks from the draft in 20-year olds Jalen Suggs and Franz Wagner. The future features these four players, so their development will be a hot topic in Orlando.
---
2. Memphis Grizzlies - 24.0
Let's just put into perspective how young the Grizzlies are. Steven Adams and Kyle Anderson are the oldest players on the team at age 28. Everyone else is younger. That is a super young team when you think about it. What should excite fans in Memphis is that the last two years the team has been a playoff contender, so the future is very bright.
That future all starts with the 2020 Rookie of the Year Ja Morant, who is 22 years old and entering his third season. Jaren Jackson Jr. recently signed a contract extension to stay in Memphis and he is the same age as Morant. With two foundational pieces moving forward at this young age, the Grizzlies have a lot of promise. Dillon Brooks is 25, Dasmond Bane is 23, Xavier Tillman is 22, while Zaire Williams is 20. The arrow is trending up in Memphis if some older players with playoff experience can come to town.
---
1. Oklahoma City Thunder - 23.5
Outside of the team having two "older" players, this team is going to boast the youngest team in the league. The Thunder have two 30-year-olds in Derrick Favors and Mike Muscala. Outside of those two players, this team is very young. The best player on the squad is Shai Gilgeous-Alexander, who is 23 years old. Luguentz Dort is 22, while the new addition to the team Josh Giddy is 19.
The rest of the team that makes up this roster are players you have potentially never heard mentioned. The team features three 20-year olds, two 21-year olds, one 22-year old, and two 23-year olds. The Thunder will likely be back in the lottery this year as the team continues their full teardown from a year ago. 
Next