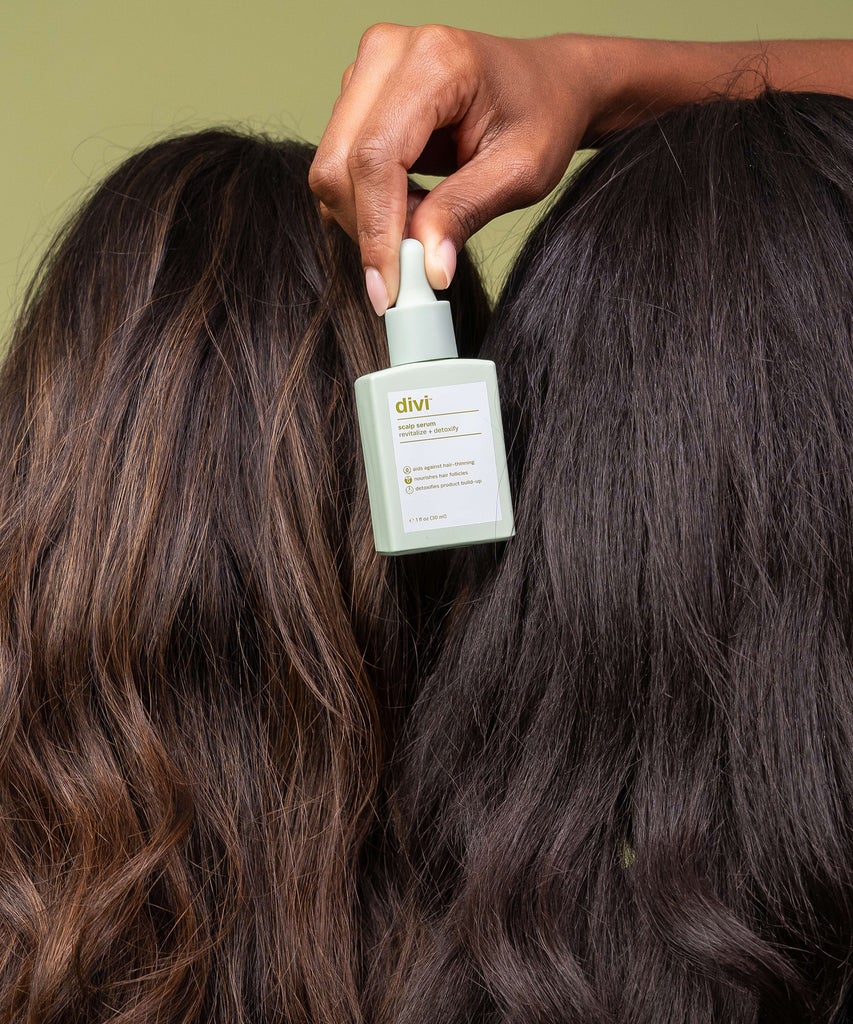 When Dallas-based lifestyle influencer/blogger Dani Austin Ramirez started experiencing hair loss, she not only adjusted her beauty routine to alleviate tress stress, but she also sought to get to the very root of the matter. Her extensive research led her to learn more about scalp health and what causes hair loss and breakage. Inspired by her findings, Ramirez then took it upon herself to develop her own scalp serum called Divi. (Though, to be sure, anyone who seeks a healthier scalp can use this serum — it's not exclusively for those experiencing hair loss!)
The lightweight, non-greasy formula consists of amino acids, peptides (aka proteins, which are known to repair and strengthen hair), and other science-backed ingredients that Divi describes as "clean-based." There is tea tree oil (to hydrate and control dandruff), eucalyptus oil (to reduce inflammation), caffeine (to stimulate growth), peppermint oil (to soothe and calm the scalp), and the micronutrient complex copper tripeptide-1 (to encourage collagen production). Consider Divi your go-to concoction for when you want to give your scalp the TLC it so deserves.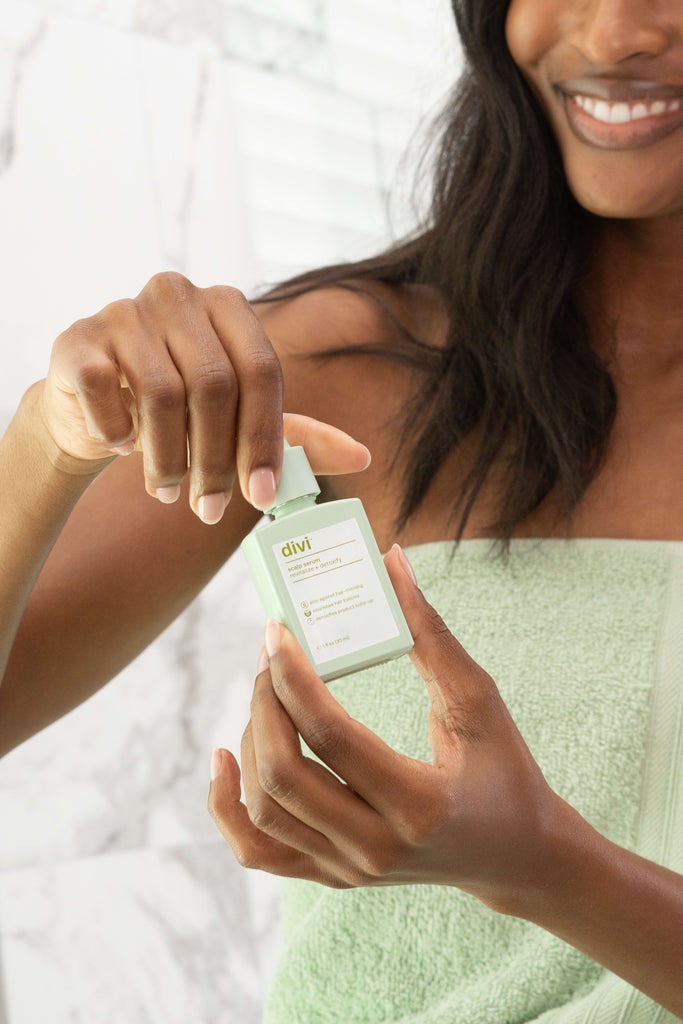 With an impressive rating of 4.6 out of 5 stars and 7,623 reviews on Divi's site, this scalp serum seems to be a godsend for anyone who feels alone in experiencing hair loss. Ramirez knows firsthand how isolating this experience can be. "Divi was born out of my own personal hair journey and my own struggle to find brands that really got to the root of hair loss," she wrote on the Divi site. "[I've created] Divi to be your guide to products and education on all the questions that naturally arise in your hair journey." Whether this product is used for postpartum hair loss or in the aftermath of an illness, Divi has gained quite a cult fanbase among Ramirez's 1.3 million Instagram followers and the brand's 162k followers.
The serum is easy to use and fairly low-maintenance. You apply it once a day to your dry scalp, wherever you want to see results. Just section off your hair to expose the scalp, give the dropper a gentle squeeze, and let the serum soak in and do its (tingly) thing. Though the product page doesn't specify how long it takes for the serum to be effective, reviewers say they're seeing results "just one month into using it." They report that the product smells pleasant, is neither oily nor goopy, and doesn't require a rinse afterward. "I began using Divi 6 months ago after considerable shedding caused by COVID sickness […] My hair is finally starting to thicken back up enough that I don't HAVE to wear only a ponytail to look normal," wrote another reviewer.
While there are so many factors that could lead to a person's hair loss — stress, trauma, pregnancy, illness, aging, etc. — a common goal for anyone dealing with hair issues is to maintain a healthier scalp. And taking good care of your scalp includes things like shampooing less frequently, using gentler hair-tying products, and not using super-hot blow-dryers. Needless to say, a fancy hair serum is not going to be the secret cure or a miracle product that's going to reverse hair loss — rather, it should be a product that's incorporated into your daily hair routine like skin care. This scalp serum just may be the encouragement your crown needs to get your mane in its best possible condition.
At Refinery29, we're here to help you navigate this overwhelming world of stuff. All of our market picks are independently selected and curated by the editorial team. All product details reflect the price and availability at the time of publication. If you buy or click on something we link to on our site, Refinery29 may earn commission.
Like what you see? How about some more R29 goodness, right here?
Olaplex's New No.9 Serum Saved My Frazzled Hair
The Internet's Favorite Scalp Treatment Is Back
Khloe Kardashian Talks Hair, COVID, & Collagen