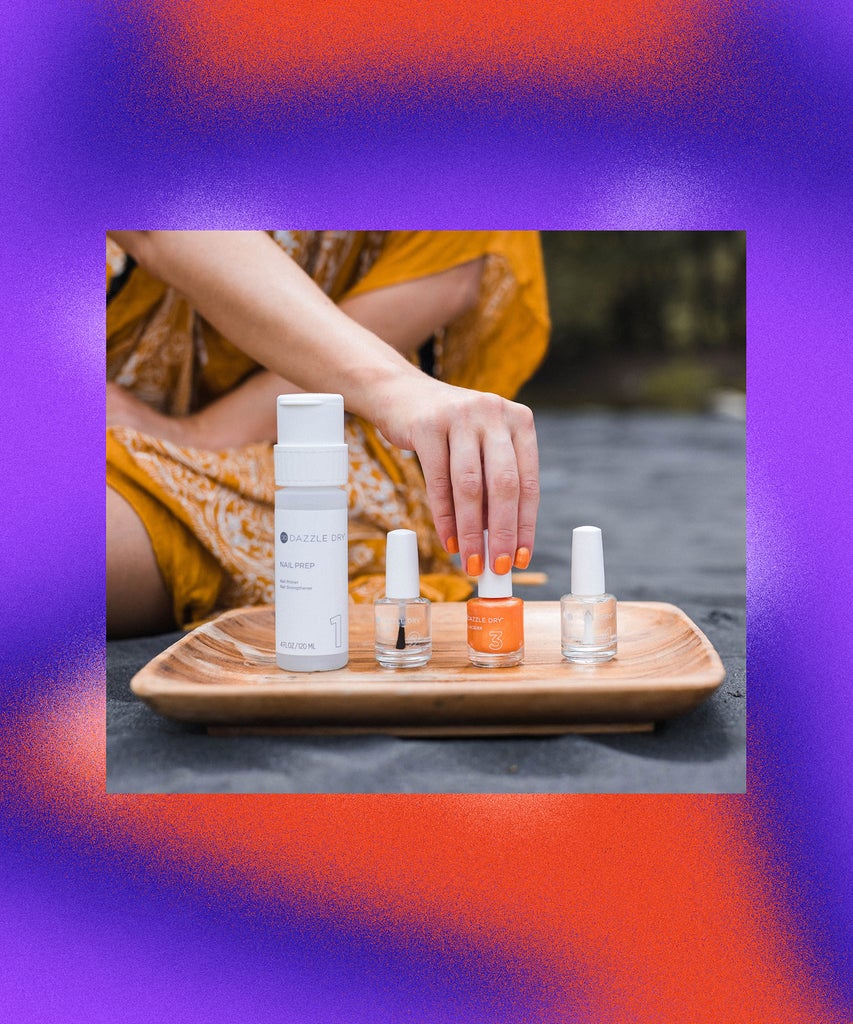 Super Sale Alert: Get 20% off sitewide at Dazzle Dry on Amazon (or the Dazzle Dry website) with our promo code R29DAZZLE, now through February 7.
As a person whose nails seem to practically repel regular nail polish, I have long been a devotee of anything that lets me have fancy-looking hands without having to resort to traditional paint-and-dry polishes. Cured gel strips? Absolutely. Press-ons? Sure, why not? Minx manicures? You bet your sweet ass. And of course, my greatest nail-oriented love of all: UV gel manicures. But, like everyone else who's shoved their hands into a tiny metallic box in pursuit of a longer-lasting manicure, I've had my doubts about the safety of curing my nails using UV light. (While experts have differing opinions on just how much UV light from a nail lamp is too much, the FDA says it "views nail curing lamps as low risk" when used according to the accompanying instructions, just FYI.)
So when I heard about the Dazzle Dry system, which promises gel-like wear for up to two weeks with no UV light required, I was intrigued, to say the least. And considering how deeply lazy I can be, I was especially thrilled to discover that a salon near me had Dazzle Dry available. 
The Application Process
To get my Dazzle Dry mani and pedi, I headed to my local GLOSSLAB (the salon offers Dazzle Dry at select locations) and sat down while nail artists Maria and Stephanie got to work. For my toes, I went with the Midnight Express polish; for my fingers, I chose Midnight Express with the exception of my ring fingers, which I had painted with Lunar Love (I love a flash nail!).
After my nails were shaped and my cuticles cut, Maria and Stephanie cleaned my fingernails and toenails. Next, two coats of clear base coat were applied, with the techs allowing for a few minutes of drying time between each one. This was followed by a layer of Transform, drying time, another layer of base coat, some more drying time, and two coats of the polish color I'd chosen, with a few minutes of drying time in between. This was finished off with a clear top coat and supposed five minutes of drying time that turned into ten or so minutes — the polish doesn't dry quite as fast as the system may claim.  By the end of the process, which took about an hour and a half in total, I had a finished manicure that was every bit as, ahem, polished-looking as my typical gels. 
The Look
So, how does a Dazzle Dry manicure look in the end? Glossy! Pretty! Basically the way my gel manicures have looked. The only difference? The gold color on my ring fingers wasn't as glossy as I'd hoped, but it still looked pretty great — at least initially. Even my hobbity little toes looked like a million bucks — and that's a genuine accomplishment, considering my IDGAF attitude toward the care of everything south of my ankles.
How It Held Up
Here's the deal: I'm not delicate with my nails. In the slightest. While I'm not, like, digging graves with my bare hands or anything, even an expensive manicure has never stood between me and opening a can or peeling the label off a package. So, to accurately test out my Dazzle Dry nails, I wasn't about to stop being an absolute gremlin with my new manicure. 
For the first few days, everything looked great. By day three, the black polish on my index finger had chipped, and a week in, the gold polish on my ring fingers looked like it had taken a serious beating. However, aside from that small hiccup, the black polish definitely held up as well by the one-week mark as any gel I've tried. And my pedicure? It still looks just as good as the day it was applied — and that's something, considering it's winter in New York, I never wear socks, and my feet are something of a nightmare to begin with.
The Final Verdict
All in all, my Dazzle Dry manicure and pedicure was a solid alternative to my usual gel polish. While I don't think the metallic gold polish is going to be my go-to going forward, I'm thrilled to have a non-UV alternative to gel polish that actually lasts (I see you, supposed drugstore dupes). And considering that you can get the whole Dazzle Dry system for $85, I think it's well worth it. Better yet, right now, R29 readers can score their own Dazzle Dry polishes or nail systems for 20% off using code R29DAZZLE at checkout through February 7, 2022.
At Refinery29, we're here to help you navigate this overwhelming world of stuff. All of our market picks are independently selected and curated by the editorial team. All product details reflect the price and availability at the time of publication. If you buy something we link to on our site, Refinery29 may earn commission.
For more can't-miss shopping stories delivered straight to your inbox, sign up for our Most Wanted newsletter.
Like what you see? How about some more R29 goodness, right here?