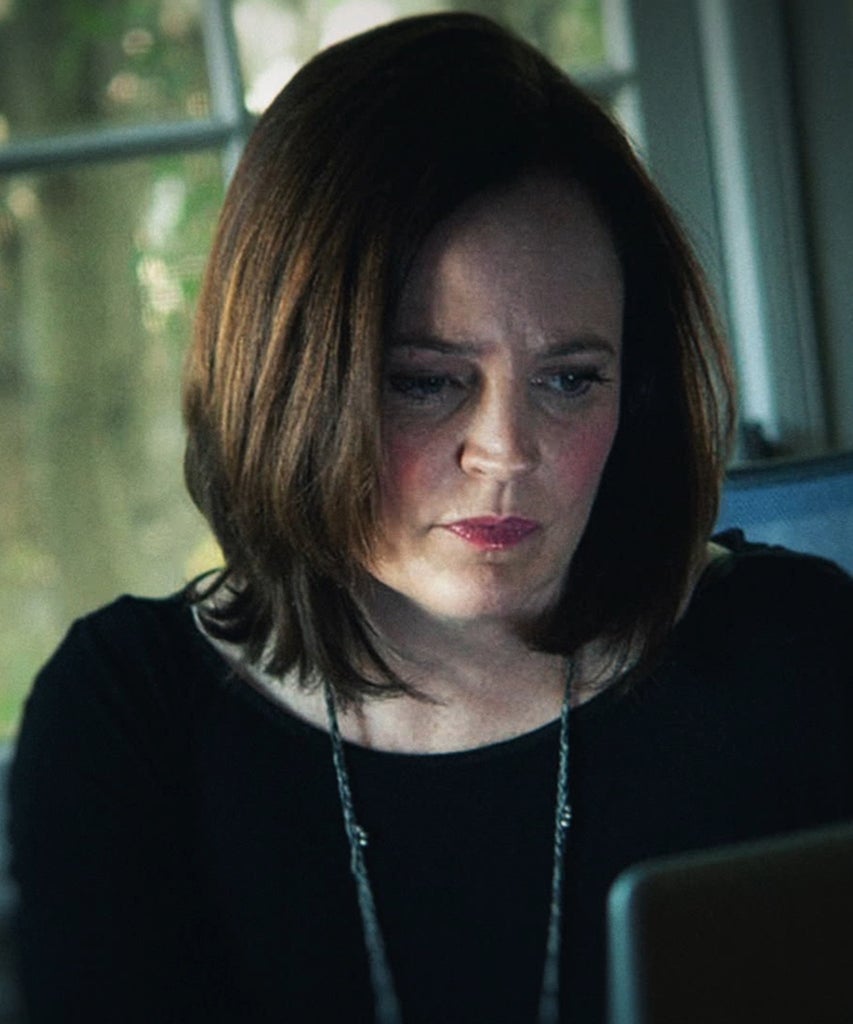 HBO's new docuseries I'll Be Gone In The Dark is more than a true crime show. While it does follow a cold case that took decades to solve, it simultaneously tells the story of Michelle McNamara, the author and "citizen detective" whose work helped authorities find the Golden State Killer after years of searching for his true identity.
McNamara ran a blog, True Crime Diary, where she reviewed and shared information with her readers about breaking news and unsolved cases. One night, she learned about the Golden State Killer (the name she originated for the East Area Rapist who committed multiple crimes in California in the 1970s and '80s) and later wrote an article for the LA Magazine about her findings so far. From there, McNamara landed a book deal and her true crime novel "I'll Be Gone in the Dark: One Woman's Obsessive Search for the Golden State Killer" is the basis for the HBO show. McNamara died in 2016, before her book was finished, due to a mixture of medications and an undiagnosed heart condition. The final chapters were completed after her widower, actor Patton Oswalt (who also serves as executive producer), contacted researcher Paul Haynes and writer Billy Jensen to put together McNamara's research.
I'll Be Gone In the Dark, from Emmy winning and Oscar-nominated director Liz Garbus (Lost Girls), includes McNamara's research, police files, archival footage, and never-before-seen interviews with survivors, detectives, and the killer's family members. Excerpts from her novel which are read by actor Amy Ryan, who starred in Garbus' Netflix film The Lost Girls.
McNamara worked for over 10 years to achieve justice for the survivors who were discouraged from speaking up at the time. Now, they have the opportunity to share their experiences in their own words. 
Across six episodes, I'll Be Gone In the Dark breaks down the police's investigation and how McNamara's writing brought much needed publicity to the cases. Read through the episode guide below and follow along with the show to learn exactly how McNamara's devotion to the unsolved case helped lead to the arrest of the Golden State Killer, just two months after her book was finally published. 
Episode 1: "Murder Habit"
Air date: June 28
McNamara is a writer, mother, and wife who spends her nights scouring the internet for information about her obsession — unsolved cases. One night, she learns about the "East Area Rapist" (EAR) who was behind 50 home invasion rapes and 12 murders in California between the 1970s and '80s. McNamara begins to refer to the unidentified man as the "Golden State Killer" and digs deeper online, with the help of other citizen detectives, to learn more about the cold case. 

Episode 2: "Reign of Terror"
Air date: July 5
The second episode travels back to the '70s as the local and citizen detectives involved with the "Golden State Killer" case (then called the EAR case) share details about the culture that kept victims quiet by discouraging them to speak out despite the growing serial rape cases in Northern California. Later on in the same decade, the Golden State Killer switches up his targeting pattern. Also, McNamara speaks about a crucial moment in her childhood during 1984 that she thinks led to her overwhelming interest in unsolved cases. 

Episode 3: "Rat in a Maze"
Air date: July 12

The end of the '70s brings about the period in the EAR's crime spree called "Original Night Stalker" series. The new horrific acts are occurring in the Santa Barbara area. The change in location causes the police to focus on a new suspect. In 2013, McNamara is still following the case and has written an LA Times article called "In the Footsteps of a Killer" which leads to a life-changing career opportunity — a book deal.  

Episode 4: "The Motherlode" 
Air date: July 19

McNamara works with her researcher named Paul Haynes to determine if there is a connection between multiple burglaries in the '70s and the EAR's crimes. As their investigation continues, McNamara also battles personal struggles. Her new career path is much more demanding than expected since it forces her to recall dark memories. Her work starts to negatively affect her personal life. 

Episode 5: "Monsters Recede but Never Vanish"
Air date: July 26

McNamara's family faces an unexpected tragedy. Following McNamara's death, actor and widower Patton Oswalt, researcher Paul Hayes, and true crime writer Billy Jensen examine McNamara's files and continue her work. McNamara's family also learn details about her death. On the investigation side, McNamara's curiosity in genealogy proves to be very helpful in tracing the killer's family line. 

Episode 6: "Walk Into the Light" 
Air date: August 2

The "Golden State Killer" is finally caught and arrested. The epilogue of McNamara's book reveals how invested she was in the case and what she predicted the outcome would be. Multiple survivors meet face-to-face and later speak to Oswalt, Jensen, Hayes, and another citizen detective, Melanie Barbeau. Also, relatives of the "Golden State Killer" are interviewed.

Related Content:
Like what you see? How about some more R29 goodness, right here?
Liz Garbus Explains Her Golden State Killer Doc
Golden State Killer's Wife Files For Divorce
Golden State Killer Suspect Charged In Cold Case