When you think of the hoity-toity world of luxury fragrance, the iconic perfume maisons in France may come to mind first. However, Glasshouse Fragrances is putting Australia on the map in a major way — and while I wasn't expecting it, I'm extremely here for it. 
The elevated fragrance brand launched in 2006 after founder Nicole Eckels left her hometown of NYC for Sydney. Rooted in the idea of scent as a powerful vehicle to conjure emotions, Glasshouse's core collection is inspired by various global destinations: Milan, Florence, Kyoto, and French Polynesia. As a fan of both travel and smelling good, I was definitely drawn to the idea of scents rooted in a particular milieu. It's a form of storytelling that seems so simple, yet so complex — how do you evoke a location with just a spritz of a bottle?
After perusing the scent profiles of each core fragrance, I settled with Midnight in Milan, a sensual blend of rose, moss, and saffron. While I've yet to actually experience a steamy Italian vacation (Spring Break in Roma with my college besties doesn't quite compare), I immediately felt transported as soon as I spritzed the scent onto my pulse points and hair. It was fresh and feminine, but not girly at all. The best way I can describe it — and I mean this as a glowing compliment — was that it felt like a grown-up version of the iconic Victoria's Secret PINK body mists. It was sexy yet sophisticated, and I felt like the hottest version of myself.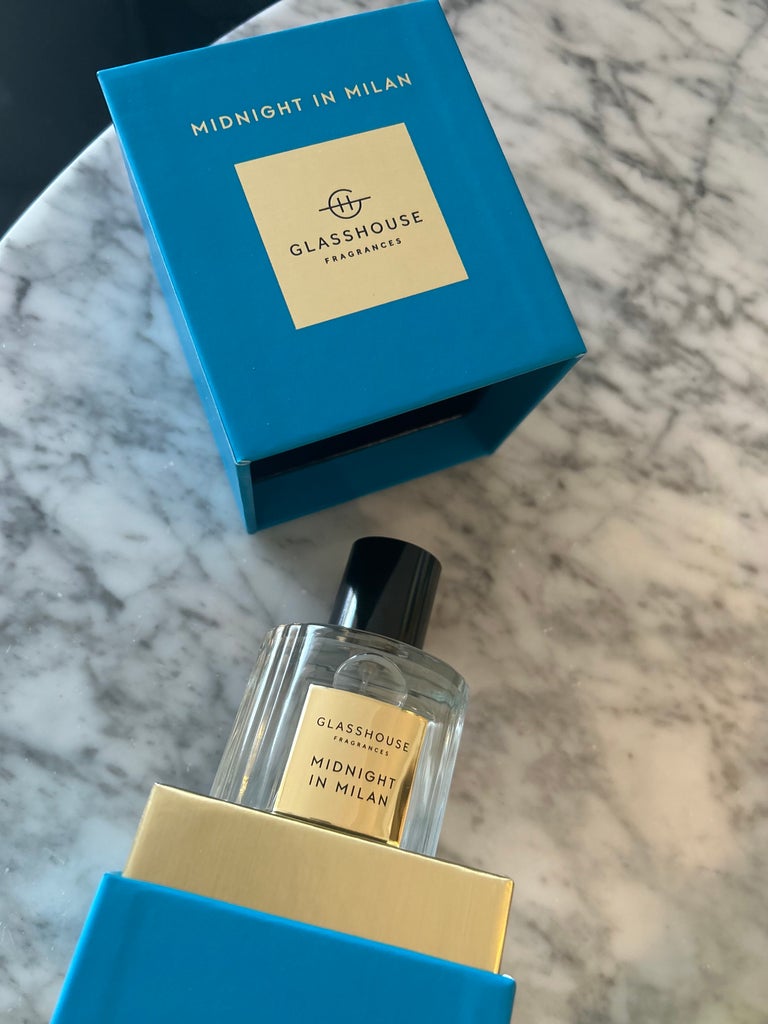 Another thing to note is the packaging. The glass bottles are absolutely gorgeous and feel incredibly posh. The label was minimal and chic, and I loved that Glasshouse's scents didn't feel specifically marketed towards women or men — and as anyone who's flipped through a fashion magazine knows, fragrance has historically been slow to not break out of the gender binary. (Anyone else remember those softcore Dolce & Gabbana Light Blue ads?)
In addition to offering fine fragrance colognes and body products, Glasshouse also makes everything you could ever want to transform your home into the most delicious-scented hotel lobby on the planet with a range of diffusers and candles that even the most bougie hostess will adore. At $100 for a one fluid-ounce bottle (or $140 for the 3.4 fl. oz one pictured above), it's in the luxury market to be sure — but not totally out-of-reach, given that bottles of the same size easily fetch double and triple that. (Never want to be without your signature scent? Refillable travel-sized sprays are also available.)
While I can only hope that more cities will join the Glasshouse family, this fragrance snob couldn't be more impressed with the brand. Next stop? Setting flight alerts for round-trip tickets to Milano…
At Refinery29, we're here to help you navigate this overwhelming world of stuff. All of our market picks are independently selected and curated by the editorial team. All product details reflect the price and availability at the time of publication. If you buy or click on something we link to on our site, Refinery29 may earn commission.
Like what you see? How about some more R29 goodness, right here?
9 Genderless Fragrances That Are Far From Boring
I'm Exclusively Drinking Orange Wine This Summer
This Latine Fragrance Is The Scent Of The Summer