As we all know, the time of the year when you can go on a shopping frenzy is almost here. Black Friday sale is the time of year when you can get a number of your favourite stuff ranging from television sets to gaming consoles and even streaming services. Many streaming platforms roll out Black Friday deals but can we expect streaming giants like Disney Plus to join in on Black Friday offers? 'Cause I would not mind at all having cheaper access to Mickey Mouse's house. So, in this article find out about Disney Plus Black Friday Sale.
When Will Disney Plus Black Friday Deals Go Live?
I'll admit that it would be as dope as it gets to get Disney Plus at a discounted price but there's a catch. Disney Plus doesn't really roll out Black Friday deals. You can quite literally find out only one instance when we got Disney Plus at a discounted price. This deal rolled out in 2021 when you could get Hulu along with Disney Plus for $4.98 per month for a year where you essentially got a premium subscription for Hulu along with…well, half of Disney Plus for "free". As of this year's Black Friday sale, if we do get a Disney Plus Black Friday Deal, we might see it go live sometime before the 24th of November and might stretch till the 27 November when we might get to see a Cyber Monday discount.
Disney Plus Black Friday deal 2023
If we talk about the pricing of Disney Plus, as of now Disney Plus is priced at $7.99/month for a premium with ads subscription for a year in the United States/ Canada Region. If you ask me this is not really a bad deal for the content catalog. However, we cannot count this deal as the best one out there in comparison to Hulu or Peacock who have cut their prices to as low as 99 cents!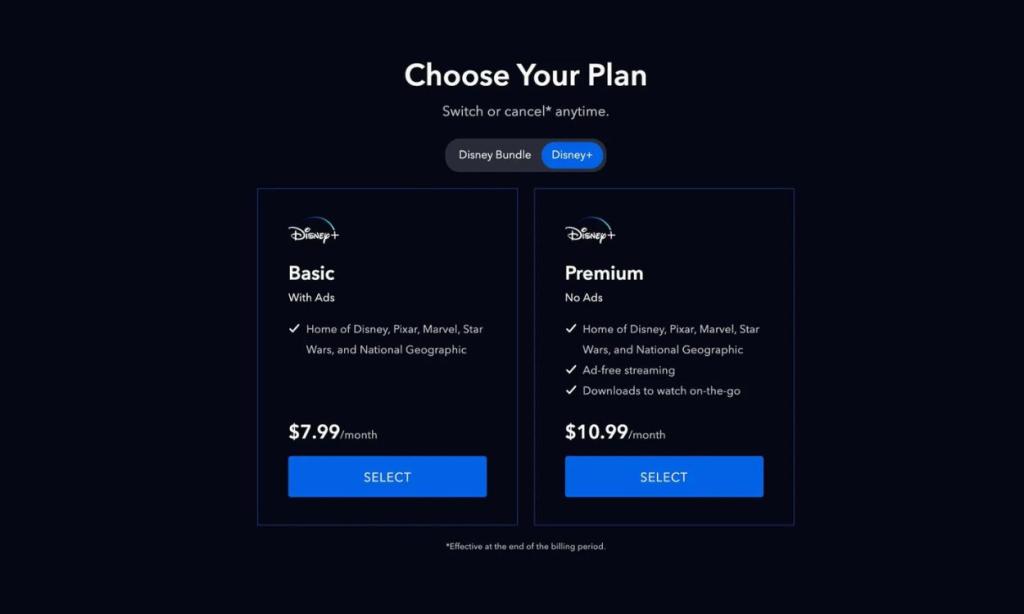 Now if Disney Plus decides to roll out a Black Friday deal, it might not cut down its prices but instead collaborate with other services like it did before. It might launch a joint venture with Hulu or Amazon like Disney did earlier and bring us an offer where we could get either a full or a partial subscription to Disney Plus along with a premium subscription to the other service.
However, I would not recommend you get your hopes up about Disney Plus giving out a Black Friday Deal. Disney has a track record of providing its services paired with either telecommunication services or other streaming platforms and it might do the same this time as well. And if it does, we will keep you updated on the Black Friday deal.
However, if you ask me, whether we get a Disney Plus Black Friday sale or not, this streaming platform should be a part of your other subscriptions as well, especially if you are a fan of Marvel and Star Wars content. In addition to these two franchises, you get plenty of content for all age groups as well. From animated, to horror, to superhero or just some family comedy movies and TV shows, Disney Plus's catalog is armed with anything you might need.
Frequently Asked Questions
Does Disney Plus have Black Friday deals?
Even though having a Disney Plus Black Friday deal would be totally awesome, sadly these deals on Disney Plus are extremely rare to come by and there is just one instance where we got the deal on Amazon that too indirectly.
How much will Disney Plus cost in 2023?
Disney+ Basic subscription with ads costs $7.99 a month or $79.99 a year while Disney+ Premium with no ads costs $13.99 a month or $139.99 a year.
Is there a free trial on Disney Plus in 2023?
Ans. No, Disney Plus does not offer a free trial in 2023.
Leave a comment
Thirteen years ago, detective thriller writer Alan Wake went missing at Bright Springs, a quaint town in Washington DC. And with it, a possible sequel to his novel Departure. Thirteen years later, his sequel to Departure finally launched in the […]
With the tablet market reaching saturation, there are not exactly a whole lot of reliable options to go for in the budget category. More so, if you are looking for a tablet that can provide a good multimedia experience, can […]
Intel has launched the 14th Gen Core i9-14900K, aimed to be one of the fastest processors available for desktop platforms. This brand new i9-14900K is the best processor Intel offers in its new lineup, and we took an exciting ride […]