If you often create grocery shopping lists on your iPhone, iOS 17 is going to make your life a lot easier. Among other best features, the latest iOS 17 brings a big improvement to the Reminders app, allowing you to create a grocery list on your iPhone for stress-free shopping. You can keep your items sorted in categories and set priority levels, so you don't miss out on anything when you visit a store. So, no more multiple visits to a bakery as your bread, pastries, cookies, and other similar items are grouped together. How convenient, right? Moreover, when you have an organized shopping list, you won't have to spend too much on things you don't even need. So, go ahead and follow this step-by-step guide on how to create grocery shopping lists in the Reminders app on an iPhone running on iOS 17.
How to Make a Grocery List on iPhone in iOS 17
It's pretty simple to create a grocery list in the Reminders app. You just have to add a list and populate it with your items. The app will automatically sort your items into categories, and you can even collaborate with your partner or flat buddy to list out what you need from a store. Here are the complete steps to do it:
Step 1: Create a Grocery List


On your iPhone running iOS 17, open the Reminders app.
To create a grocery list on your iPhone, tap on Add List from the bottom-right corner.
You'll now see a New List screen. You can set a name and icon for your list.
Next, tap on List type and choose Groceries. Make sure you do not skip this step, otherwise, the iOS 17 grocery list feature won't work for you.
Next up, tap on Done. A grocery list will be created in the Reminders app.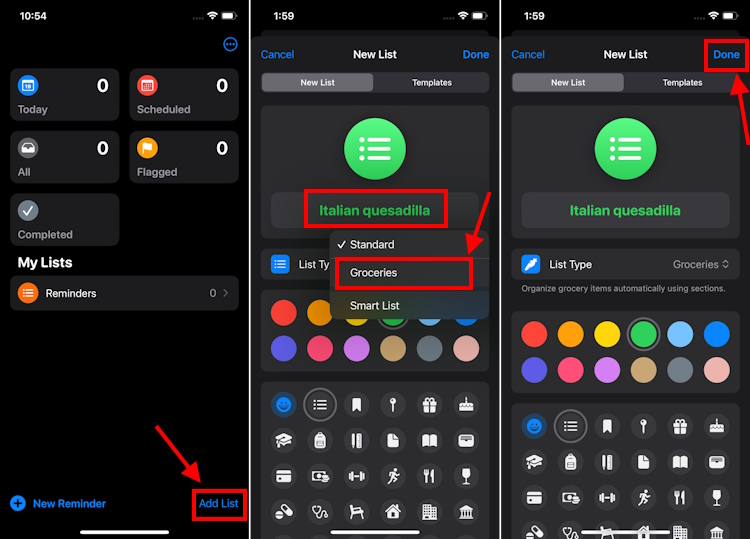 Step 2: Add items to the list


Once the list has been created, you can add items to the list.
Tap on New Item from the bottom-left corner and start adding the items. As you populate the list, the Reminders app will start sorting them into categories like Breads & Cereals, Dairy, Eggs & Cheese, and more.




You can also set a priority for your list item. For this, tap on the item and hit the "i" button. Then, tap on Priority and choose an option from the drop-down menu. When set to high priority, you'll see three exclamation symbols on the left of the item. For example, if you're really all out of cheese, mark it as a high priority.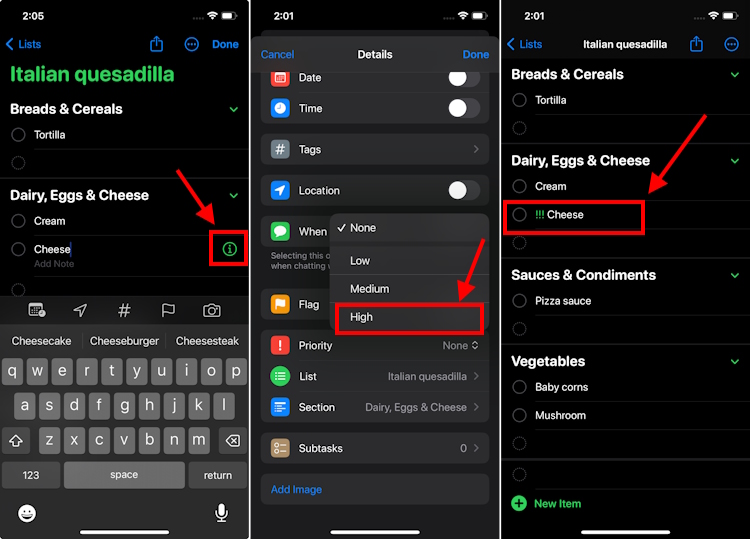 Step 3: Change or create your own category


Usually, the Reminders app does a pretty good job of placing the items under the categories. However, if you don't like where Reminders places an item, you can change the category or even create a customized one.
To change the item category, tap on the misplaced item and hit the "i" button. Then, tap on Section. You can choose from the available options in the Other Sections list. If you don't find the right category, tap on New Section with Selection and create a custom one.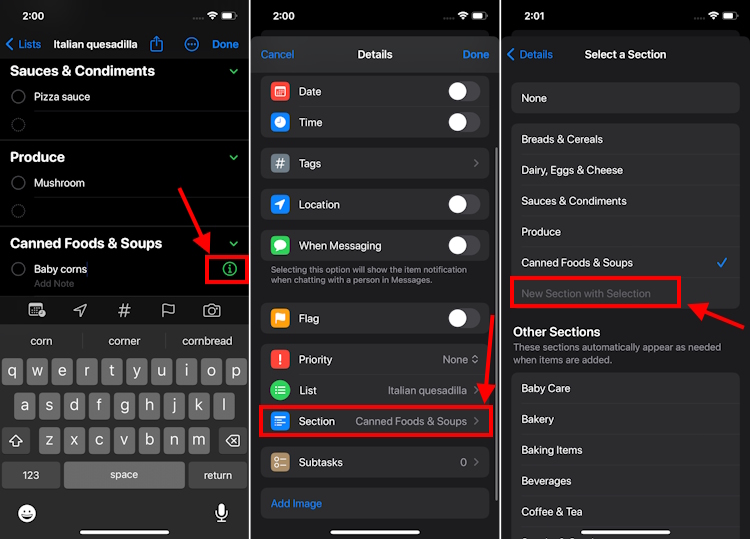 For instance, we've moved Baby corn from "Canned Foods & Soups" to a custom section named "Vegetables" and then dragged Mushrooms to this section to keep all veggies in one place.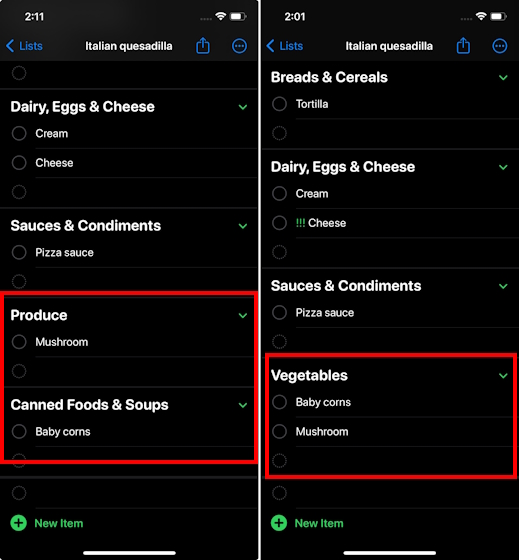 Step 4: Choose a layout


By default, your items will appear in a list. If you wish, you can view it as columns with all the sections appearing across the screen. It's helpful when you have a long list. Instead of scrolling down to the bottom, you can swipe to view the complete list.
For this, tap on the three-dots at the top left corner and choose View as Columns.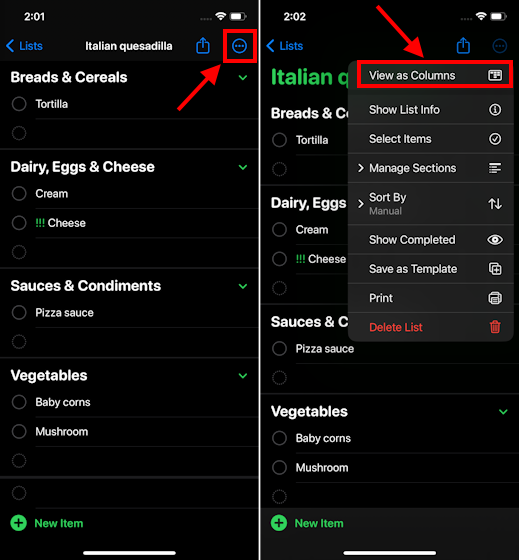 Step 5: Share your grocery shopping list


If you wish to share your grocery list with someone, say your roommate or spouse, you can quickly do that with a tap.
Just tap on the Share icon from the top of the screen and choose a contact.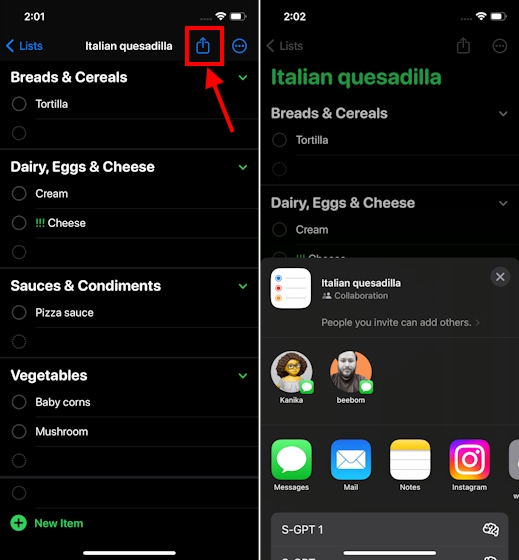 Tips to fix iOS 17 Grocery List not working on iPhone
There can be instances when the grocery list feature isn't working on your iPhone or you can't create shopping lists in Reminder apps in iOS 17. In case you're facing such issues, here are some productive ways to fix it:
1. Make sure you're using iOS 17
Since Groceries shopping list in the Reminders app is only available in iOS 17, you have to download and install iOS 17 on your iPhone to use this feature. Moreover, don't forget to check if your iPhone is compatible with iOS 17 or not. Here's a list of iOS 17 supported devices:


iPhone XR, XS, XS Max
iPhone 11 models
iPhone 12 models
iPhone 13 models
iPhone 14 models
iPhone SE (2nd gen or later)


All the models of the iPhone 15 lineup come with iOS 17 out-of-the-box.
2. Check the list type
Sometimes, you might not be able to use Groceries lists in iOS 17 on an iPhone because you didn't choose the correct list type. By default, the list type is set as Standard, and if you didn't change it to Groceries/Shopping, the Reminders app won't auto-sort your grocery shopping list into categories. To avoid any issues, you should check the list type. Here's how to do it:


Open your list and tap on the "three-dots" from the top-right corner.
Then, tap on Show List Info.
Here, check your List Type. If it's set to Standard, tap on it, and change it to Groceries/Shopping.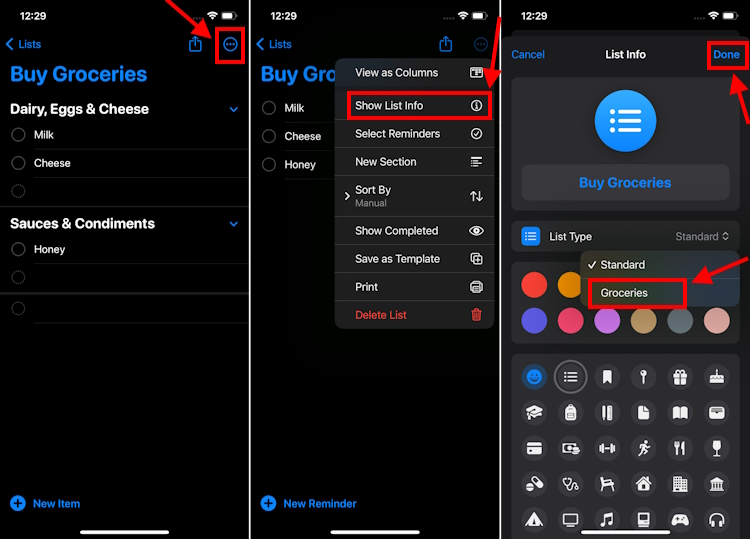 Once done, your list items will be automatically sorted into categories.


3. Force Restart your iPhone
Sometimes, software glitches might be responsible for Groceries shopping list not working issues. To fix this, you can perform a force restart on your iPhone. This will wipe off any minor iOS glitches and give a fresh start to your device. So, it's worth giving a try.
Here's how to force restart iPhone XR or later:


Quickly press and release the Volume Up button.
Immediately, press and release the Volume Down button.
Then, press and hold the Power/Side button until you see the Apple logo.
Once your iPhone boots up, head to the Reminders app and create groceries lists on your iPhone.


We appreciate iOS 17 for bringing several handy and useful features that can make your life easier. Of course, the Groceries Lists in the Apple Reminders app offers a great way to organize your grocery shopping without going for any third-party app. So, go ahead and plan your daily needs shopping in a much better way.
Leave a comment
The ROG Ally is unquestionably the biggest competitor to Valve's Steam Deck. We have already spent a good chunk of time with the Steam Deck but recently got a chance to test the ROG Ally to find out if this […]
One Piece is the best-selling manga of all time, and it's one of the greatest shonen anime in history. So when the announcement of Netflix's live-action adaptation broke, every anime fan was skeptical due to the looming curse of botched […]
Deck 13 is one of my guilty pleasure game developers and publisher. So when their next title Atlas Fallen was announced, it immediately grabbed my interest even though I have a mixed relationship with The Surge. While I am critical […]