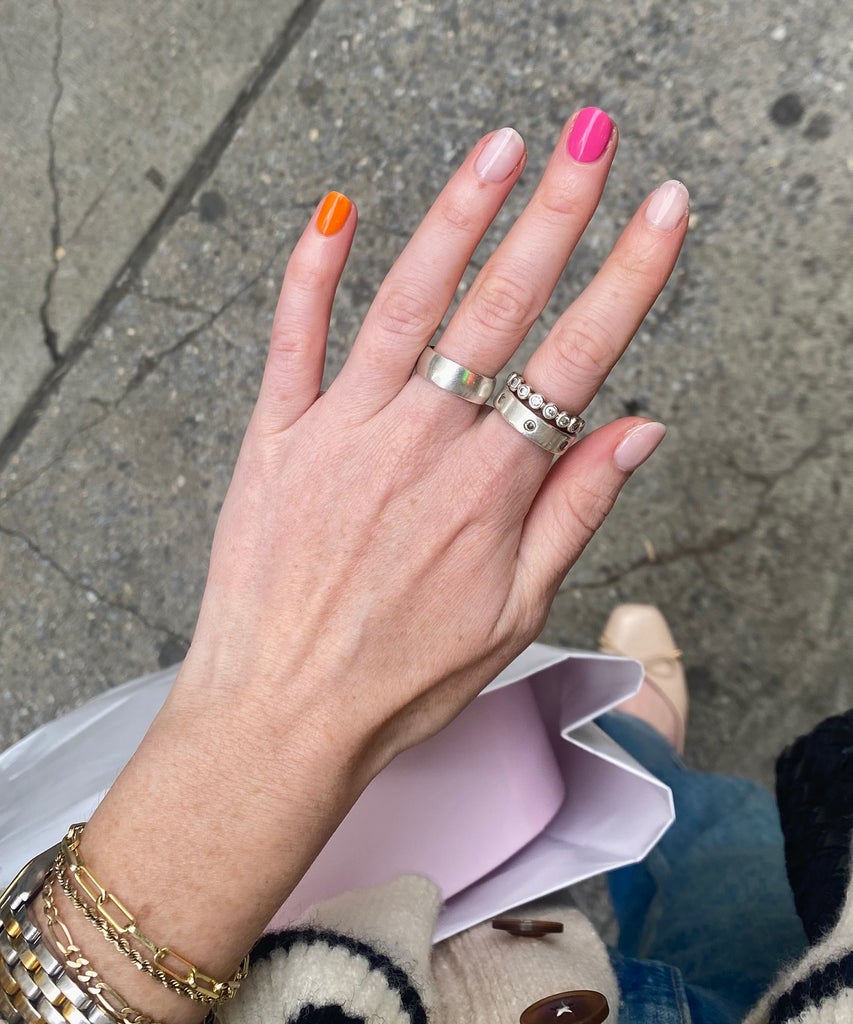 There's something fun about the low-stakes spontaneity of walking into the nail salon with the intention of getting a quick polish refresh and walking out with a manicure that feels more unique and personalized than the singular red or pink polish in your wheelhouse. In my most recent manicure, I baby stepped out of my comfort zone and threw a few colors into one manicure — and now I'm obsessed with the concept.
The multicolored manicure, which involves wearing different polish colors on each finger, is nothing new, but it was top of mind for me for a few reasons. First, Taylor Swift's Eras Tour nails: In an Instagram gallery celebrating the kickoff of her "Eras era," the star showed off a nail look with each fingernail a different color to symbolize each Era ("Lover" is pink, "Reputation" is black, "Red" is red, and so on). But beyond the manicure's Swiftie associations, it's just that spring is so close it's tempting me to add more color to my life.
Serendipitously, I found this image while scrolling Pinterest for inspiration. (I highly recommend making a dedicated Nail board on Pinterest because the inspiration the algorithm feeds me is so good I rarely source on IG anymore.) This caught my eye because the look, while multicolored, still feels minimalist and cohesive, not like a rainbow of jelly bean colors — similar to a gradient manicure but not so on the nose.
I booked in for a gel manicure at Glosslab in New York City. With my inspiration image at the ready, it was time to pick polishes. "Start with an analogous color theme," advised celebrity nail artist Julie Kandalec when I asked how to source polishes for a multicolored manicure before my appointment. "Analogous colors are ones that are next to each other on the color wheel — like pink, coral, and orange." I opted for three complementary shades from CND: Bouquet (sheer pink), Hot Pop Pink (raspberry magenta), and Gypsy (bright orange).
The key to this design, I found, was the grounding tone. Having a neutral on three out of five fingers (or six out of ten if we're talking on both hands) kept the manicure from feeling too all over the place. The exact tone, Bouquet, is actually my all-time favorite sheer, pale pink. I went for a light neutral, but Kandalec tells me that other tones work well, too. "Good grounding shades are white or dark neutrals: black, chocolate brown, or navy, depending on the season and the rest of the colors," she explains.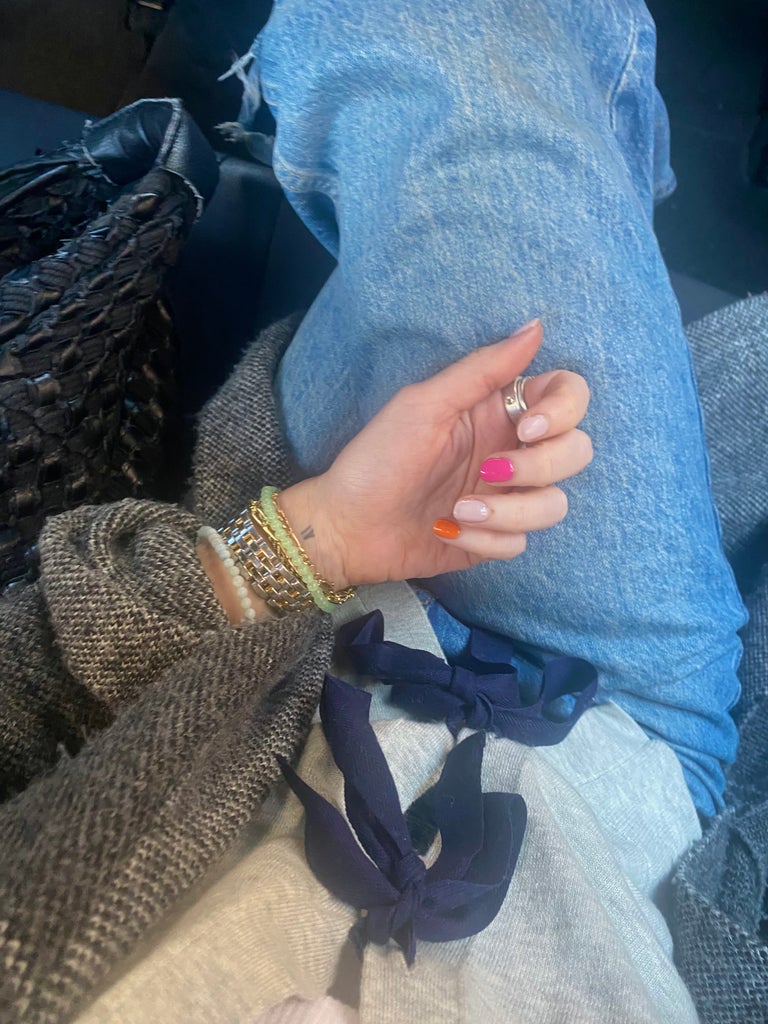 I followed the exact placement pattern from my inspiration image: sheer pink on my thumb, index, and ring finger; hot pink on my middle finger; and orange on my pinkie. The sweet spot, according to Kandalec, is three or four colors total. Recently, she's been into combos like lime green and teal, and pink, orange, and yellow.
Not only is this one of the most fun manicures I've ever worn (and I've literally worn shards of sea glass on my fingers), it's also one of the most replicable: Keep the pattern, switch the tones. Plus, because this isn't a nail art design, per se, it's fast, costs the same as a regular manicure at the salon, and you can easily recreate it at home with your own nail polish.
"If you're not sure what colors to pick, stick with choosing two to four shades from the same polish collection," offers Kandalec. "Each company puts them out at least twice a year — they're already designed to go together. You can also pick up my Nail Art Design Book, which has dozens of color combos in it, plus a color wheel."
I'm three days into this manicure and I've already taken seven pictures of it — ands have and three new multicolored designs in mind for next time.
At Refinery29, we're here to help you navigate this overwhelming world of stuff. All of our market picks are independently selected and curated by the editorial team. If you buy something we link to on our site, Refinery29 may earn commission.
Like what you see? How about some more R29 goodness, right here?
Digital Lavender Is The Nude Nail Of The Future
Is The "Dry" Manicure Better For Your Nails?
Everyone's Requesting The Milky French Manicure