The staff over at NYT continues to be merciful, as the Connections puzzle today was quite easy to solve. However, for those not used to it, this can get daunting quickly. If you're part of the new players out here, join us as we discuss all the hints, categories, and, finally, the answers for NYT Connections for November 20. So, let's begin!
Hint for Today's Connections Themes
We start by discussing a few subtle hints for the Connections themes today. So check them out below and see if you can guess some of them.


Yellow Category –Every religion needs leaders
Green Category – We evolved from them
Blue Category – Dips from India
Purple Category – Best form of flattery


We wish we could go into more detail in this section, but these hints are the best we can share. They are all related to the categories for the puzzle today, so think long and hard before you scroll below to see the exact names. Furthermore, today's Connections is quite easy, so we figure you don't need an additional hint. However, if you're still having trouble, then maybe trying these tricks to solve NYT Connections could work.
Spoiler Warning #1: While this section included hints for the categories, the next section names them directly. Make sure to proceed only if you're sure.
Today's Connections Category Names
If you are still stuck with the categories, then maybe it's better if we just spill the beans in this section.


Yellow – RELIGIOUS FIGURES
Green – PRIMATES
Blue – CHUTNEY VARIETIES
Purple – IMITATE


Spoiler Warning #2: We hope you can guess the words now. However, If you still can't, then it's time to scroll down. The next section includes the answer for today's puzzle; you will see all the answers in their categories. This is your final chance to solve it by yourself.
Connections Answer for November 20
Still can't solve the puzzle after all the help above? In that case, the answers to today's Connections puzzle are:


RELIGIOUS FIGURES – Cardinal, Lama, Monk, Pastor
PRIMATES – Baboon, Bonobo, Gibbon, Gorilla
CHUTNEY VARIETIES – Mango, Mint, Tamarind, Tomato
IMITATE – Ape, Mime, Mirror, Parrot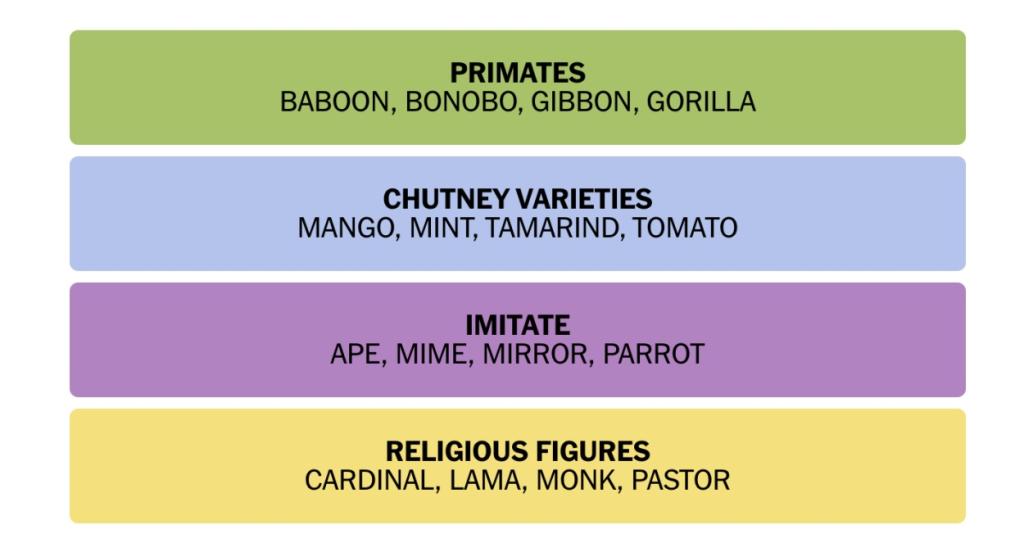 Solving today's Connections was actually relatively easy, as I could easily connect most of the words together. However, I took a step back and started with the simplest one. Once I connected all the primates together, I nailed down the Green category. The Blue category came naturally since, as an Indian, I love all of these chutneys except Mango.
I then actually solved the Purple category next, as mime and parrot were dead giveaways. Even though it was fairly obvious by now, I had already made the Yellow connection in my head. So I paired those words together and finally got my NYT Connections answer for November 20.
What about you? How was your experience with today's puzzle? Where did you get stuck if you did? Let us know in the comments below.
Leave a comment
Thirteen years ago, detective thriller writer Alan Wake went missing at Bright Springs, a quaint town in Washington DC. And with it, a possible sequel to his novel Departure. Thirteen years later, his sequel to Departure finally launched in the […]
With the tablet market reaching saturation, there are not exactly a whole lot of reliable options to go for in the budget category. More so, if you are looking for a tablet that can provide a good multimedia experience, can […]
Intel has launched the 14th Gen Core i9-14900K, aimed to be one of the fastest processors available for desktop platforms. This brand new i9-14900K is the best processor Intel offers in its new lineup, and we took an exciting ride […]