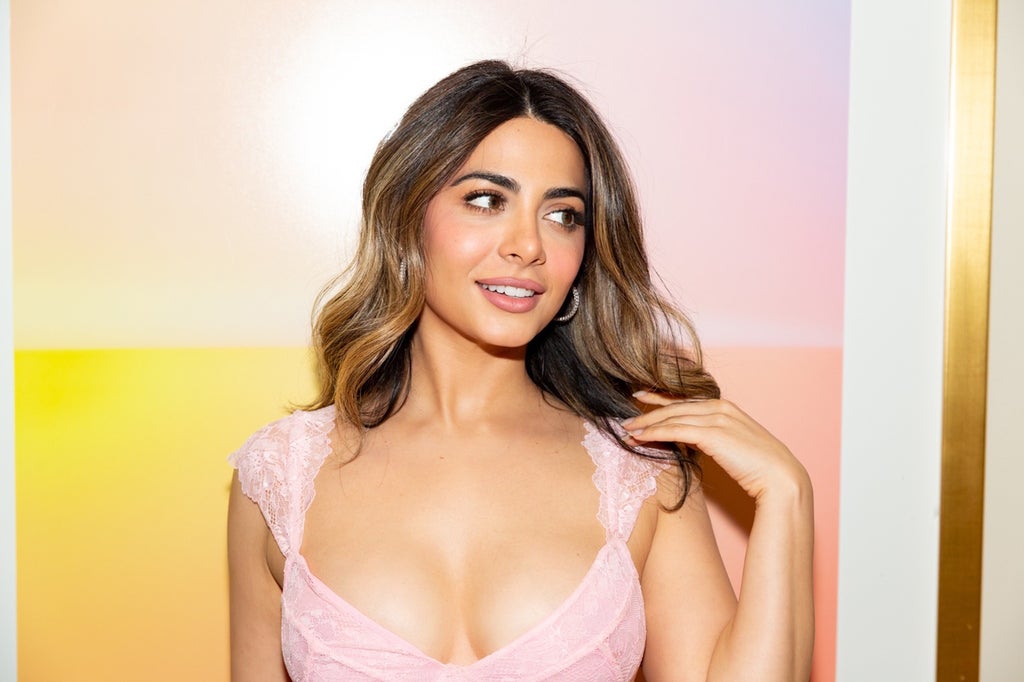 Just like her alter ego Lily Diaz on the Amazon Prime Video original series With Love, Emeraude Toubia knows a thing or two about seriously over-the-top holiday celebrations. 
"My grandma is the best Mexican chef ever, so I grew up spending all my summers and Christmases in Mexico," Toubia tells Refinery29 Somos. "I still do. It's a tradition to spend Christmas together. If you don't spend Christmas together with our family, you are banned. You're not allowed to come back." 
That degree of intensity around the holidays is on full display in the first season of With Love, which spans across five episodes that are each centered on a specific holiday: Nochebuena, New Year's Eve, Valentine's Day, Independence Day, and Día de Muertos. In the series premiere, viewers are introduced to the tight-knit, boisterous Diaz clan as they get together for Nochebuena. There's plenty of comida, chisme, and karaoke. 
The latter was something Toubia actually had minimal experience with. She had "never really done karaoke" before; she suspected that showrunner Gloria Calderón Kellett mistakenly thought she could sing.
"The first time I karaoked was on the show and then the moment they heard me sing, they were like, 'Oh, oh, nevermind,' everyone covered their ears," Toubia recalls, laughing. "That's the first and last time people are gonna hear me sing."
Season two, which is now streaming on Amazon Prime Video, may not have as many karaoke scenes, but it has plenty of other hilarious and heart-tugging moments. At the end of season one, Lily and Santiago (Rome Flynn) seem to be in a good place after much emotional upheaval. However, trouble in their little bubble of paradise could be brewing. 
"Lily is a little bit more messy than I am," she says. "Lily is a little hopeless romantic. Lily is still in this snow globe."
And with that cliffhanger looming — whose engagement ring was that at the end of season one? — viewers will finally learn which Diaz will be getting married. 
"This season, everyone's world gets turned upside down," Toubia says. "I feel all women are gonna identify with Lily because we're navigating love, which is not easy, navigating social expectations for women, navigating family expectations. So how do you find your own happiness without always wanting to please everyone else?" 
Season two, which has six episodes, takes the audience on Lily's journey of not only finding her happiness but also learning how to be present. "And yes, making some mistakes and being a little messy, but at the end of the day prioritizing herself," Toubia says. 
Of course, it wouldn't be a rom-com without multiple love interests. While Santiago seemed to have pulled ahead in the season one finale, Nick (Desmond Chiam) is very much still in the picture. Is there any way for Lily to peacefully manage this budding love triangle? 
"Oh my God, I mean, both men are just very sexy," Toubia says. "I was with them yesterday and I just couldn't take my eyes off them. The love interest that I want Lily to choose is herself, really. Team Lily all the way." 
Born in Montreal, Canada, Toubia spent most of her childhood and adolescence in the border town of Brownsville, Texas, with her Mexican mom and Lebanese dad. As she recalls it, looking back, she "never felt othered" in her predominantly Latine hometown. 
"It was such a great place to be because it was just so simple," Toubia says. "It was nice growing up with a little bit of Mexican culture and living in the U.S. In my household, my dad was a chef; he would make delicious Lebanese food."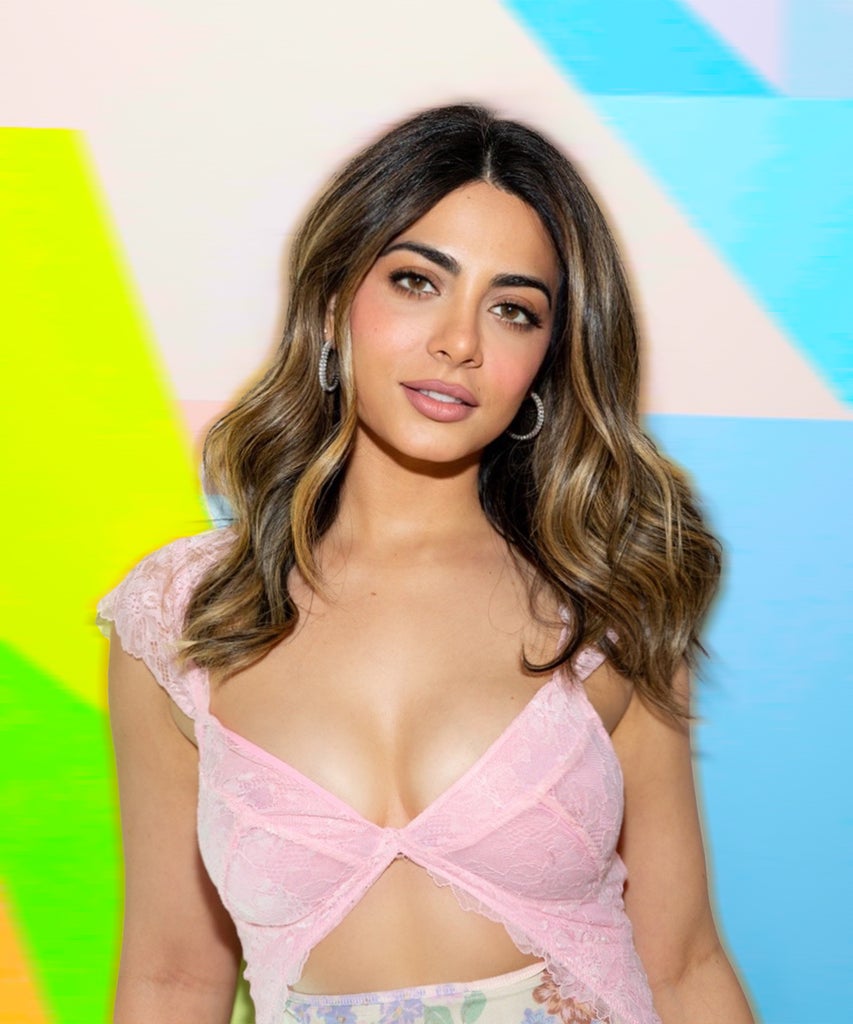 While she's an only child, her cousins were like siblings. "We always like to get together and do fun things," she says. "My grandparents raised cattle and that was a thing. So we kind of grew up on a ranch."
As a teenager, Toubia began making her way through the pageant circuit; she was crowned Miss South Texas, Miss Rio Grande Valley America, and Miss Teen Brownsville. Before long, she landed on the Univision beauty pageant series Nuestra Belleza Latina in 2008. 
"Each week, they would have a new challenge and one of them was acting," she says. "And I was like, 'I get to live so many other people's lives within my life. How cool is that?'" 
After the reality show, Toubia started taking acting classes in Miami. She soon booked roles on Spanish soap operas. Then a casting director in Los Angeles heard about her, tested her for a show, and the rest has led to, well, all of this.
"It's just been kind of nonstop ever since," she says. "I truly love that I can touch so many people in different ways with myself tapping into these characters." 
Though she's remaining mum about what season two has in store for Lily and co, she does reveal that fans can anticipate a "really fun, fun scene in episode two." 
"It's kind of a fantasy that gets fulfilled and it was super choreographed," Toubia says. "Like everyone had to be on set because we tried to do it in one camera movement. I don't know if that shot is the one that made the cut, but there was just this choreography of people coming in and out, sliding into warmer places, sliding out, appearing, maybe some shirts are off, maybe some clothes come off. It was a very sexy scene." 
Steamy romance aside, part of what drew Toubia to the role of Lily is not just who she is, but what she represents as a Latina leading lady who unapologetically loves out loud.
"With Love [is about] this very heartwarming, everyday, hopeless romantic kind of girl," she says. "But more than that, I feel With Love is putting people from traditionally marginalized communities and finally giving them a happy ending. And that is not something that is out there. And that's why I love the show so much."
Like what you see? How about some more R29 goodness, right here?